With only one Saturday off in nine months to go to a friend's wedding, Tom and Calista Hutchinson certainly put in the hard graft when renovating their first home together. The pair were eager to get on the property ladder as Calista had been renting in Leeds city center after finishing university and Tom was living with his parents in Huggate, near York.
'I'd done the city living thing and, although we hadn't been together very long, we were ready to settle down,' says Calista, who's originally from York. 'Tom came across a converted grain store for sale in his village, but I wanted to get a new job in the area before we committed. It had been on the market a while and luckily it was still available when I started work at a kitchen company a few months later.' The couple made the purchase and the renovation began.
Inspired to tackle your own project? We have masses of ideas and helpful advice on what to do and where to start in our feature on house renovation. For more real home transformations, head to our hub page.
Profile
The owners Calista Hutchinson Jones (@thebarnatmanorfarm), a marketing communications manager for Moore's Furniture Group lives here with partner Tom Bendell, 29, head of marketing and operations for Marble Building Products
The property A four bedroom semi detached barn conversion in Huggate, York
Project cost Around £43,000 (with trade discounts)
Built in 1884 as part of the old manor farm and originally owned by a Sheffield steelmaker, the building was converted into a house in 1995. 'We wanted a long term home so we stretched ourselves as far as we could,' says Calista. 'Fully renovated barn conversions were way out of our price range so it had to be a project. Thankfully Tom had the vision to reconfigure the space using a software app called Room Sketcher, which was a life saver. He'll have a go at anything, and figured a lot of things out with YouTube videos too.'
The key change was knocking through the kitchen, dining room and utility to make a sociable open-plan space that would fit a big island. Widening the off-center living room chimney breast was also a wise move to create symmetry with built-in alcove shelving on either side.
With only a couple of beams on show in the living room and kitchen, Calista and Tom wanted to make more of the building's heritage and uncovered many more beams that had been boxed in with plasterboard. Upstairs the master bedroom was enlarged by stealing space from the adjoining bedroom which became a smart dressing room, and the bathroom and en suite were given a makeover too.
Luckily the couple were able to live with Tom's parents while working on the house every evening and weekend. 'It was a horrible slog, especially in the winter months with no central heating, so it was great having them so close,' says Calista. 'Although we needed a builder to extend the fireplace, a plumber for the central heating, an electrician and a plasterer, we did everything else with help from Tom's parents and friends. Tom and his dad even fitted the kitchen themselves. It would've cost double if we'd used professionals for everything.'
Calista describes their style as the perfect hybrid of traditional and modern with inspiration coming from Neptune Home. 'I like cohesion and flow rather than having each room different,' she says. 'We used Neptune's pebble color palette on the walls and woodwork as it suits the country look and makes the house feel warm and homely. Our only blip was using the wrong color on the external window frames, which we realized early on when it didn't work against the brickwork.'
The house has been dressed with hand painted furniture paired with premium marble tops to create stylish yet personal pieces. 'We're so conscious of not modernizing too much and ensuring we protect the property's original features,' says Calista. 'I'm a big believer in doing things myself and making things look more expensive than they are. For instance, some of the candlesticks are just from Hobbycraft but I've painted them, or you can elevate an Ikea vase by adding really good fake flowers.'
Although they'd hoped to be in by Christmas, it was the following April before Calista and Tom could finally move in properly. 'We ended up going around 30 per cent over our original budget, mostly due to the kitchen cost and investing in good quality sofas,' explains Calista. 'But we managed to save money with our staff discounts, as well as buying ex display beds for the spare bedrooms and making some of the furniture.'
Having done such a good job of future proofing the house by adding ample storage and creating a timeless look, Calista and Tom reckon their first home could possibly be their forever home. 'The only thing we might want in future is a bigger garden – but I don't think we'll ever find anything like this again,' Calista says. 'Going from having everything on your doorstep to not being able to get a phone signal is a bit of a lifestyle change, but I love country living now. We're so grateful for what we've got and wouldn't do anything differently – but looking back, we were crazy to do what we did!'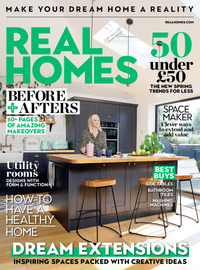 Subscribe to Real Homes magazine
Want even more great ideas for your home from the expert team at Real Homes magazine? Subscribe to Real Homes magazine and get great content delivered straight to your door. From inspiring completed projects to the latest decorating trends and expert advice, you'll find everything you need to create your dream home inside each issue.