With the patter of tiny feet – four furry ones, to be exact – on the horizon, Robyn Donaldson and her husband Jamie Watts needed a dog-friendly house with a garden. But, living in south-east London, it was proving an expensive impossibility – until Robyn spotted this Brockley mid-terrace close to their ex-local authority flat. Before they had a chance to bid, though, it dropped off the market. Unable to get it out of their heads, when the property was re-marketed nine months later, the couple wasted no time in closing the deal.
See how they turned it into a bright, character-filled space, and read about how others have transformed their homes with colour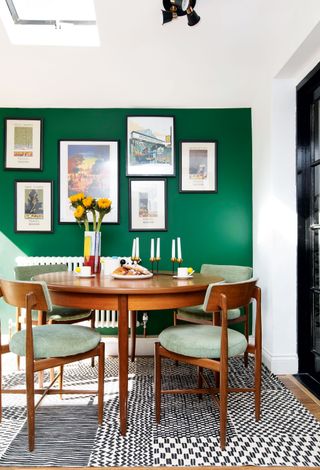 The profile
The owners
Robyn Donaldson, a project manager at the Orwell Foundation and Sunday Times Short Story Award, lives with her partner Jamie Watts, operations director at Bedales Wines, and their Bedlington terrier, Cilla.
The property
A three-bedroom 1960s terrace in Brockley, south-east London project.
Cost
£25,000.
'We couldn't believe we'd found a whole house in our price range in London,' says Robyn. 'The flat was great but it wasn't big enough to have our friends over as often as we'd have liked and of course, because we wanted a dog, we needed a garden.
'Jamie wasn't convinced about the house, and his mum was even less enamoured. It was basically a characterless magnolia box with a downstairs bathroom, a long lounge and dark bedrooms. But it had that extra bedroom, a little garden for us
to potter in, lots of wall space for all my art – and plenty of potential.'
'Before we started work on the house, it had to be signed off by Building Regulations,' reveals Jamie. 'I project managed as we had a tight budget and that saved us some money – though Robyn "helped" too! I'd always tackled work in our old flat myself, but the scale of what was needed on the house meant we'd have to have help, which was very new for us. We used a plumber to move the boiler, a builder to remove the wall, a handyman to put in the French doors, and a decorator for the posh paper.'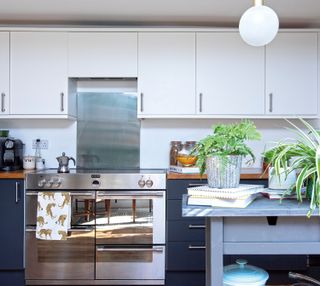 'Our plans for the place were pretty radical. We wanted to make the tiny dining room and miserable galley kitchen next to it into a single open space,' says Robyn. 'The boiler had been mysteriously placed in the dining room so we wanted to move that and put in new French doors from here into the garden – the cheap way, we reckoned, of getting that glass box extension effect. The lounge had two doors, so we blocked the second up to create the feeling it was meant to be one space.'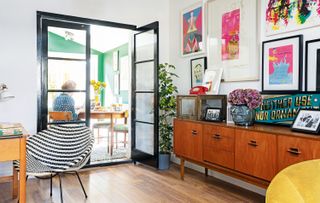 'As with most projects, we soon discovered that previous owners had taken shortcuts,' reveals Jamie. 'They'd plumbed the bathroom basin to drain directly under the house, which meant replacing the bathroom completely, ripping up the garden to redirect the pipework, installing proper draining and then reinstating everything. We also wanted new lighting over the island but discovered that the kitchen lights had been wired directly into the main circuit, so that had to be made safe.'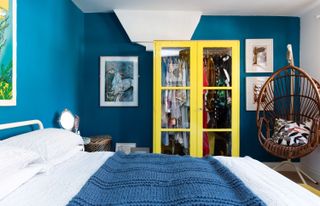 'Colour is important to me, as is surrounding myself with things I love,' explains Robyn. 'I'd describe the house now as chaotic and colourful. I want it to feel like a museum of curiosities – a welcoming space where you always find something exciting, just like I remembered my nana's house!
'When I'm designing a room, I start with the furniture to make sure there's room for the essentials, then I decide where the art will go and what colours to choose – usually with Jamie trying to keep me from painting the whole room in something too intense.'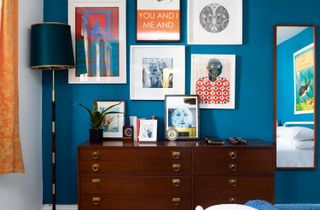 'We had planned to move the bathroom upstairs, however, it would have been too expensive and cost us a bedroom,' says Jamie. 'We didn't damp-proof either, though we definitely have some damp – it wasn't an immediate problem so we've put it on the back-burner for now. Because of the unexpected expenses, we had to make cuts elsewhere – like painting the existing kitchen and just fitting new worktops.'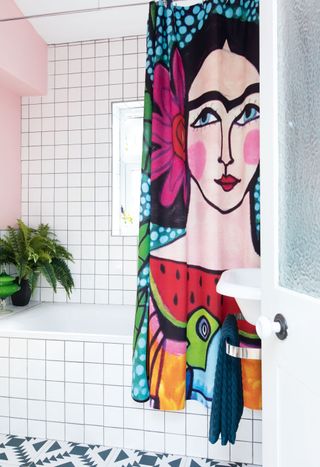 Get more Real Homes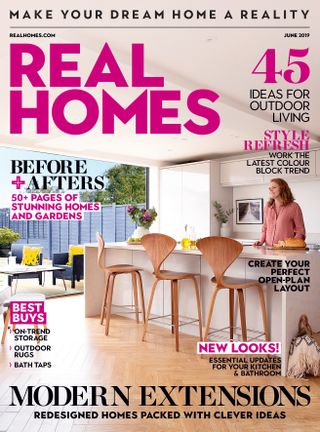 Have ideas, inspiration and advice delivered to your door every month with a magazine subscription
'Jamie was good too at keeping an eye on the budget and making sure I didn't go mad,' Robyn explains. 'We had spreadsheets so nothing sneaked in or got overlooked. We had high points and low ones. The best day was when the wall between the dining room and kitchen came down and the space was flooded with light. Finding out we needed to replace the bathroom, on the other hand, was a downer. It was worth it, though, to stay in an area we loved – and to be able to welcome Cilla into our family.'
'Hindsight's a great thing and if we were doing it again, we'd leave the work until spring,' says Jamie. 'We moved in the day we completed and got stuck in right away – despite it being November. We were lucky things went smoothly – the boiler was moved and up and working in a day, but if anything had gone wrong we'd have been out in the cold.
'I wasn't convinced about the house before we bought it but I trusted Robyn's vision and it's all worked out.'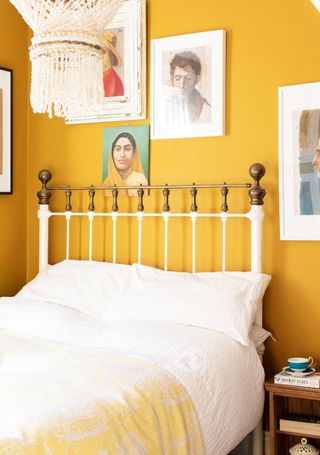 Contacts
More ideas and advice