Each morning, when Joanne Coe gets home from dropping her daughter Evie off at school, she puts a pot of coffee on the hob and sets up her laptop on the table in her extended kitchen. Just like that, Jo's stylish and individual three-bedroom home in a leafy part of Hitchin, Hertfordshire, is transformed into the office and showroom of her small design business, Living Room, which she set up two years ago after 20 years of working as a commercial furniture buyer.
Inspired to transform your home with an extension, just like Jo and Peter have? Go to our guide extending your home for plenty of advice on how to do it. And don't miss the rest of our real home transformations – they're all on our hub page.
Profile
The owners Joanne Coe, who runs furniture design business Living Room (livingroom.uk.com), lives here with her husband, Pete, head of school at a north London adult education college, and their daughter, Evie
The property An extended three-bedroom Victorian semi in Hitchin, Hertfordshire
Project cost £127,000
This narrow Victorian property, originally a worker's cottage, has been extended at the back to create a long, seamless, open-plan kitchen-diner and living space, where the family spend most of their time, and which at the far end incorporates a roof lantern and bi-fold doors to the garden. Jo's signature style – a fresh, modern simplicity with a nod to mid-century design – is everywhere to be seen, as are the fruits of her labour – a collection of Living Room-brand upholstered furniture and solid wood cabinetry that's strongly contemporary while also hinting at her and Pete's passion for vintage.
'The house is the brand's muse,' she says. 'It influences the designs because in living with my own products, I'm aware of how I want things to function.'
Pete, Jo and Evie moved into the house in October 2011, having left a two-bedroom flat in London's Finsbury Park in search of a better quality of life and good schools. With a shortage of three-bedroom properties in the area and Hitchin's larger four-beds out of their price range, the challenge was to find a two-bed that could be extended. After three months of looking, the estate agent turned up a turn-of-the-century two-bed with an unusually long garden. 'What ticked the boxes were location and scope,' says Jo. 'As soon as we went into the back garden we knew it would be easy planning-wise because there were other properties in the row that'd been extended.'
They found an architect and family-run building firm on recommendations from neighbours and, six months after moving in, moved out to a rented two-bed flat across the road. As well as extending the ground floor at the back, upstairs they gained a main bathroom (previously downstairs) and a third bedroom, with the second-storey extension stretching as far as the new roof lantern. 'Being across the road, we were close to the build and every morning I'd pop in to answer questions before dropping my daughter at nursery and going to work,' says Jo. 'Moving out meant they were able to tackle it on all fronts, and within four months it was done.'
The couple ran out of money before they started the kitchen, so they decided on Ikea. 'We invested a lot in the bi-folds, the stone flooring and the underfloor heating, and that felt more important,' says Jo. 'Having worked in commercial retail, I know Ikea kitchens are hard-wearing and a decent specification for the price. We spent extra money putting in solid oak tops to pimp it up a bit, and we've been really happy with it.'
Jo and Pete chose dark grey slate to lay over the underfloor heating for its heat-conducting properties, and because it allowed them to extend the same flooring out to the patio, creating a true indoor-outdoor space for the warmer months when the bi-folds are open. Jo settled on a Dulux white Potter's Clay, to maximise light, adding metro tiles in the kitchen in her favourite colour – green. 'The minute you walk into the kitchen you are hit with views of the garden, so green was already a dominant colour,' she says.
The green-grey-white theme with added pops of colour continues throughout the house. 'The look is a combination of respect for the period of the property and our own taste,' says Jo. 'Pete and I have always been passionate about design from the 1950s and 1960s and are huge fans of Mid-century modern. We've always owned vintage, and I think Victorian properties are quite sympathetic to that look. We get a lot of customers visiting us here because they like to see Living Room in a home environment. When they come here and look around, it makes complete sense to them. They really get what we're trying to do.'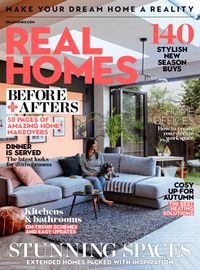 Subscribe to Real Homes magazine
Want even more great ideas for your home from the expert team at Real Homes magazine? Subscribe to Real Homes magazine and get great content delivered straight to your door. From inspiring completed projects to the latest decorating trends and expert advice, you'll find everything you need to create your dream home inside each issue.
More reading: