After three years of renting, Nicola Brunton and Barry Dodsworth were desperate to banish all traces of magnolia when they bought a tired 1920s semi in Darlington. The couple had sold their home in Heighington village, County Durham, three years prior to buy the pub they'd been leasing in Darlington. Since they didn't want to live above the business, they had rented a stone farmhouse half an hour's drive away in Barnard Castle.
Selling the pub in 2017 gave them the funds they needed, and they continued living in their rented farmhouse for six months while working as labourers on the renovation project. The hard graft was worth it in the end, though: the couple and their three children now have a much larger open-plan kitchen-diner with a rustic industrial vibe and an extra bedroom and bathroom in the loft. Here the couple talk build details, lessons learned and how teamwork got them through the stressful moments.
If you are planning on extending your house to create the space you need, we have lots of ideas and helpful advice on what to do and where to start. For more real home transformations, head to our hub page.
Profile
The owners Nicola Brunton, a process analyst and home stager (@darlington_home_staging (opens in new tab)), her partner, Barry Dodsworth, a driver, children Joe, Kizzy and Wilf, and cats Rosie and Michael
The property A 1920s four-bed semi in Darlington, County Durham
Project cost £85,000
'We were rattling round in a big rented house in the middle of nowhere when we decided to look for a doer upper in Darlington,' says Nicola. 'I didn't really enjoy living in the sticks and wanted to be closer to family and friends, with a good school nearby.
'We didn't plan to view this house, but we saw the owners outside and Barry, being cheeky, got chatting and asked if we could look around. It didn't have much kerb appeal but I got a nice feeling about it. I loved the high ceilings and felt the south-facing garden had scope for an extension.'
'This project was our biggest so far but we've learnt a lot from it,' reveals Barry. 'Because we'd sold our business, we could be on site every day, which helped move things along. I'd advise not living among the mess if you can, especially if the roof needs to come off.
'We definitely underestimated the work involved, particularly with the loft conversion. The bathroom was supposed to be an en suite but the stair company designed each stair slightly deeper, which reduced the size of the landing. However, we prefer how the layout's worked out – the stairs are a normal size instead of the small ones you sometimes see in loft conversions.'
'As well as rewiring, new central heating and replastering, we knocked down the poky extension spanning half the width of the house, then built out four metres across the full width with a higher sloping ceiling,' says Nicola. 'Converting the loft for Kizzy's bedroom and bathroom involved installing a dormer window for more head height on the stairs.
'Having already done up a couple of properties before, we knew lots of tradespeople and we both mucked in, doing things like cutting up EcoTherm insulation for the extension and pointing the brick-slip wall in the dining room. I project managed and sourced materials while Barry dug foundations, filled skips and collected the materials. When the wooden beams were lifted onto the scaffolding for the loft conversion, Barry acted as ballast to counter balance it at the top. How we did it without a crane I'll never know! He also drove to the Cotswolds to pick up our kitchen, saving us £500 on the delivery charge.'
'When it comes to splitting tasks, I'm the brawn and Nicola's the brains,' Barry admits. 'Her dad was a project manager so she gets that from him, and she has good spacial awareness. I'm the one covered in dirt filling skips with a wheelbarrow. Nicola has a flair for design. I'd never have thought of a bold floral wallpaper in the family room – I'd probably have it plain as I like things to look neat – but we have similar tastes. Around 99 per cent of the time we don't disagree, but if we did, we'd find a compromise.
'I insisted on taking the ceilings down. Nicola thought we could get away with plastering over some of them as she didn't want the mess, but since two of them fell down during the build, I didn't want to take any chances.'
'There were a few disasters along the way, though. I miscalculated how much oak flooring we needed, which cost us an extra £600,' Nicola admits. 'It wasn't in stock anywhere locally so Barry ended up driving to Wales at 3am so it could be aired for 48 hours before it was laid. Painting the kitchen walls pink was also a mistake – it looked awful!
'When it comes to design, Barry is happy with my ideas and is really easy going. He's a good egg – a proper grafter who never complains. My style is a mishmash of new, vintage, recycled, salvaged, homemade and whatever catches my eye when I'm out and about. In the future, I'd love to take on an older Victorian or Georgian property, but it would definitely need a full renovation.'
'My favourite aspect is the brick wall in the kitchen-diner,' says Barry. 'and I think the wooden floor was my idea, too. It helps the open-plan space flow nicely. And Kizzy's loft room is perfect as she becomes a teenager. I'm not into flash cars or an extravagant lifestyle, I'm into the family having a lovely home. We have the same mindset – it gives us the most pleasure.'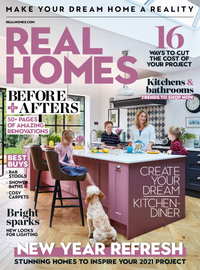 (opens in new tab)
Subscribe to Real Homes magazine (opens in new tab)
Want even more great ideas for your home from the expert team at Real Homes magazine? Subscribe to Real Homes magazine and get great content delivered straight to your door. From inspiring completed projects to the latest decorating trends and expert advice, you'll find everything you need to create your dream home inside each issue.