After 10 years of living in a flat without a garden near a busy road in north London, Veerusha Diah and her husband, Yogesh Bhoola, decided it was time to move to a quieter neighbourhood. The South African couple longed for a home with space and light for themselves and eight-year-old son Hishal, and found this dated 1930s semi-detached nearby that was ripe for renovation. The couple planned to extend and convert the loft, and a kitchen-dining-living extension with garden connection was a priority. Veerusha explains how they brought the wow factor to their ordinary semi.
If you're planning your own extension, we have masses of ideas and helpful advice on what to do and where to start in our feature on extending a house. For more real home transformations, head to our hub page.
Profile
The owners Veerusha Diah, a dentist, her husband, Yogesh Bhoola, an IT service manager, and their son, Hishal
The property An extended five-bedroom 1930s semi in Woodford Green, east London
Project cost £260,000

'South African homes are airy spaces with lots of light that link to huge gardens,' says Veerusha. 'I visualised a wall of glazing across the back of the house with unobstructed views all the way through from the front door. I wanted to be able to slide open the doors and step straight into the garden, but when we first came here, we weren't sure if it would be possible. Access was through a side kitchen door, down steep steps and around to the back – the level change was big, about 1.5m. Luckily, we discovered there was a basement and incorporated this into the kitchen-living-dining extension to make the new floor flush with a new terrace. We also extended to the side to fit in a utility.'
'I found our designer, Nasim Köerting, after a chance conversation with her as she's one of my patients! Yogesh and I looked at her work and thought her design approach was just brilliant. We told Nasim about our concept, and how we wanted to step down from the rest of the ground floor that remains at street level. Our biggest concern was that the drop in levels would make the extension feel too cavernous and empty. Nasim showed us a 3D visualisation of the room. We immediately loved the industrial feel – particularly the wood-clad ceiling and bespoke shelving that runs along the entire wall on one side of the house. It's such a clever idea and brings the whole of downstairs together.'
'It was tricky to find a company who could make the doors to the garden tall enough for the high ceilings so we could maximise the view. Yogesh found German-brand Schueco's slimline doors online and they put us in touch with UK suppliers – though quotes varied by up to £20,000! A structural engineer and architect put the detailed drawings together for planning and building regulations, but they were wary about us having such big doors. They wanted to put a supporting wall in the middle but this defeated the purpose of our design concept. We ended up having a lot of supporting steel and submitted our plans in June 2017. They were approved without question three months later.'
'Soon after we moved into a one-bedroom flat nearby and stayed there for a year. Friends recommended a building contractor and they began the project from the bottom up. They had to get the extension structure in place before converting the loft. The builder project-managed as Yogesh and I work full-time. It was stressful at times – the micro-cement floor and cement patio were expensive, and the oak staircase isn't exactly the design I wanted. It was impossible to keep on top of everything when we were out at work all day, and we got to a point where we let things go because we just wanted the project finished. In hindsight, I should have asked Nasim to stay on to keep a close eye on the finishes.'
'Nasim designed two kitchen layouts – one against the wall and this one with a large island facing the garden, which is ideal for me as I love cooking. I had a painted blue kitchen in mind at first and Nasim showed me visuals with contrasting plywood. I wasn't keen, but then began to see the clean simplicity of the finish, especially with a thin white quartz worktop. I sourced a kitchen cabinetmaker online, who we also commissioned to make Nasim's bespoke shelving wall. Now we're finished it's such a peaceful space to come home to and relax. We love entertaining, too. It's funny to see the slightly shocked look on people's faces when they first walk in – you'd never know how dramatically different our house looks from outside.'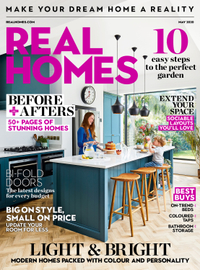 Subscribe to Real Homes magazine Want even more great ideas for your home from the expert team at Real Homes magazine? Subscribe to Real Homes magazine and get great content delivered straight to your door. From inspiring completed projects to the latest decorating trends and expert advice, you'll find everything you need to create your dream home inside each issue.
More reading: