Just as their garden is beginning to show the first signs of summer colour, and the lavender lining the path hints at deep blue, Avril and Colin start to wonder how they can find extra space inside their Regency home for more ceramics and artworks. Yet somehow every year they manage it, as ceramicist Avril has been involved with Warwickshire Open Studios since 2017, allowing visitors into her home to see, handle and buy the work of local artists and craftspeople, as part of Summer Art Weeks at a network of studios and homes in the county.
'It is a pleasure to share the house with other artists for Art Weeks and I enjoy watching people looking at details of the house as well as the art works on display,' says Avril. 'So many people who know about art and architecture do the arts trail so the conversations are fascinating,'
This year, with the social distancing restrictions and limits on gatherings, artists' homes and studios are unable to open for visitors, so Warwickshire Open Studios has become Art Weeks From Home. From 20 June to 5 July 2020, makers' and artists' homes and studios are welcoming online visitors instead, allowing them to share their work and display spaces remotely. Read on to find out how Avril and Colin renovated their home to create the perfect backdrop for Avril's ceramics.
To tour more real homes to inspire your own project, visit our hub page.
The Story
Owners Avril Leigh, a ceramicist and former education adviser, and her husband Colin Cohen, who used to work in printing and publishing, live here; they have three grown-up children and six grandchildren between them. The couple open their home for warwickshireopenstudios.org
Property A semi-detached Grade II*-listed Regency townhouse in Leamington Spa, Warwickshire. It's part of a circus of 17 villas designed by William Thomas and built in 1835, around a shared central garden. The four-storey house has four bedrooms
What they did The couple repaired the roof and renovated the windows and French windows. They tackled the damp in the basement, dividing up the space to create room for an office and boiler room, alongside the kitchen where they fitted new units
Finding room to display and enjoy special things has become something of a recurring theme with this house. Seven years ago when Avril and Colin married there were several lifetimes of treasured collections to accommodate in their new home, along with three children and six grandchildren between them, who like to visit when they can.
'It was so difficult going through our things from our previous homes and items we had each inherited, choosing what to keep and what to get rid of,' recalls Avril. 'But we did it in the end and I can't imagine living anywhere else now.'
Indeed, there's no hint of overcrowding or clashing tastes in the four-storey Regency villa, where the couple eventually brought their remaining possessions together. The overall impression is spacious, elegant, calm and above all interesting, with something unusual to catch the eye in every room, along with the home's charming original architectural features.
It has taken a lot of effort to create that impression. Not just the couple's big clear-out, but the building itself required careful attention and renovation. Colin and Avril had been keen to buy a Regency period property, and looked in a wide area.
When they found this pretty villa they loved the fact that it was tucked away in a quiet part of town, not too far from Avril's grandchildren, and that it shared a communal garden besides having its own very attractive front and back gardens.
However, it needed roof repairs, replacement windows and work to remedy damp in the basement. All that was before they could begin to think about updating the décor, which was striking but not to their taste.
The couple came up with a plan to make the basement layout work better for them. They opened up the stairs again and repaired the plasterwork in the ground floor hall that had been damaged when doors had been added in the 1960s.
Alongside a new fitted kitchen, they created an office for Avril, and a separate boiler room. Previously the central heating boiler and its tangle of pipes had been a rather unsightly focal point in the kitchen.
Next Avril and Colin turned their attention to the windows. 'They really are the defining features in homes of this period,' says Avril 'Ours was the only house in the whole circus where the front French windows didn't match so replacing them has made a huge difference.'
A fresh coat of paint for the outside walls of the house and introducing a calmer palette inside has created a smarter, more sophisticated look. 'I know these aren't Regency shades – they would have had much more colour,' says Avril, 'but somehow these light greys and creams seem to fit with the whole lightness of the circus and the style of the architecture.'
Even with a neutral backdrop the various artworks, ceramics and many family treasures dotted about add plenty of interest and individuality.
As the renovations neared completion, a date was set for a housewarming and wedding party to take place in the house and newly cleared garden. 'It certainly helped to concentrate the minds of the builders. They knew they had to finish in time as they were all invited to the party!' says Avril.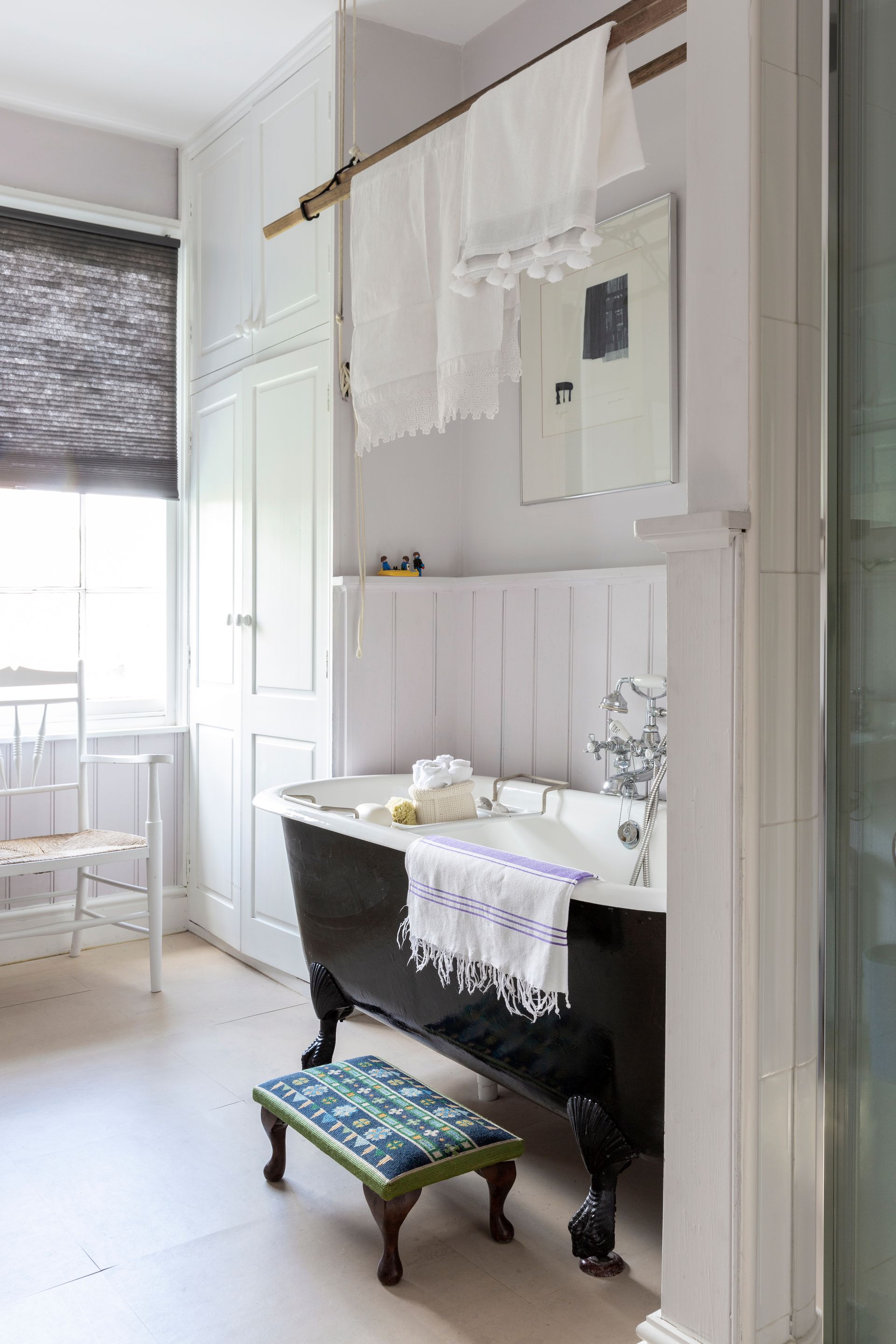 Avril is taking part in Warwickshire Open Studios Summer Arts Weeks From Home, from 20 June to 5 July 2020. You'll be able to see and buy Avril's work and pieces by many of the county's other talented artists and makers. There's also a full programme of online demonstrations and workshops to enjoy. Visit warwickshireopenstudios.org for details.
Styling Pippa Blenkinsop. Styling assistant Holly Reaney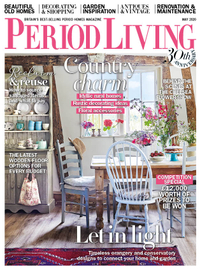 Subscribe to Period Living for more inspiration
A subscription to Period Living provides you with all you need to know about caring for and improving a traditional garden – and also how to decorate, renovate and maintain a period home.
More townhouse inspiration