Diving into a project like extending a house is no easy feat, especially when it's your first time on the property ladder. Luckily, you can learn from the wisdom of those who've gone before you thanks to the internet. We love nothing more than picking up tips from the amazing renovators we speak to every day – and Louise and Calum Todd are no exception, offering plenty of advice for anyone getting started on a project of their own.
The couple bought their two bedroom lower villa on a quiet street in Edinburgh's Corstorphine area after six years of saving. With its own front and back doors, the property felt less like a flat and more like a bungalow. Four years after their initial renovation, the pair embarked on a single-storey extension off the kitchen to unlock even more potential and create an open-plan living/dining room connecting to the previously underused garden. The result is a bright, colourful and character-filled home that's bursting with ideas – pencils at the ready…
1. Have a contingency plan
Profile
The owners Louise Todd, a graphic designer, her husband Calum, a quality support manager, and their cats Merry and Pippin
The property A two-bedroom extended 1930s lower villa in Corstorphine, Edinburgh
Project cost £74,000
Louise and Calum found themselves exceeding their budget early on. 'The initial work was definitely more time-consuming than we'd anticipated and cost more than our £10,000 budget,' says Calum. 'As well as organising rewiring and replumbing, we reinstated the cornicing and picture rails, painted the stained wooden skirting boards and window surrounds, stripped and repainted all the doors and replaced all the light switches and plug sockets.
'Luckily the walls had lining paper in place and were ready to repaint, but the ceiling needed four coats. Unfortunately the boiler died weeks after we moved in, so as well as having no heating or hot water, it meant the paint took ages to dry.'
2. Make the most of essential works
'Our parents advised us to tackle one room at a time, but we attacked everything at once, ripping up the bedroom carpets too,' says Louise. Despite the upheaval, upgrading to a new combi boiler – a fairly unexciting task – gave the couple the idea to change the layout.
'There were two cupboards off the hall and living room housing the old water tanks, which we knocked through to make a more sociable kitchen,' explains Louise. 'This meant removing a chimney breast, so we needed a structural engineer and building regulations in case it affected our upstairs neighbour's property.'
3. Thinking of moving? Consider extending instead
'In 2019 we wanted more space, but it would've cost far too much to buy a house in the area so we opted for an extension instead,' says Calum. 'The architect and builder were both fantastic. In the end, the expected 12-week project only took nine, even with adding integral bookcases and a patio – we realised it would have been a nightmare to landscape later, as the shared access path would be ruined again.'
'We'd been thinking about extending for years, but when a neighbour gained planning permission for something similar, we realised it was feasible,' adds Louise. 'Calum had a new job and I got promoted, so we both had bigger salaries to afford the build. We'd only move if someone noisy moved in above, but luckily we have lovely neighbours, and the extension's given us the space we need. We hardly use the old front living room now – we love the open-plan feel in here, and you don't have to pause the TV if you get a drink!'
4. Use your skills to save money – and prepare to compromise
'Being a graphic designer I drew rough plans myself, but we hired an architect to create proper plans that would meet building standards,' says Louise. The couple took measures to shave off the pounds wherever they could.
'We kept the kitchen in the same place and added an extra run of units,' Louise adds. 'I got a good deal on the kitchen units from Howdens and saved money by doing without a dishwasher and only having one pull-out carousel, which meant we could afford the £900 Karndean parquet flooring.'
5. Glazing is a worthwhile investment
Knowing where to spend and where to save is one of the most valuable skills in a renovation, and Louise and Calum are pleased they splurged on one purchase in particular. 'The new aluminium bi-fold doors are my favourite addition,' says Calum. 'We went for the biggest opening – as close to a giant window as possible. The patio becomes part of the room. Before, we only used the garden a few weeks a year, but now it's used all the time; it gets the sun from about 11am till 8pm in the summer.'
6. Don't be afraid to mix and match
Louise's creative eye means she's adept at pulling a scheme together from seemingly mismatched pieces – and her home demonstrates how beautiful a space filled with vintage and upcycled treasures can be. The lesson? Matchy-matchy isn't always best.
'At art college I was inspired by 1950s architecture, which I've mixed with contemporary pieces,' she says. 'I love the colour and richness of teak wood, so much of our furniture is from Gumtree and vintage shops. We hope our home feels cosy and welcoming as well as visually interesting.'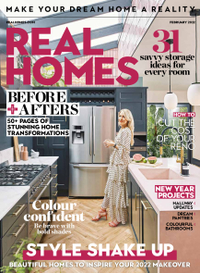 Subscribe to Real Homes magazine
Want even more great ideas for your home from the expert team at Real Homes magazine? Subscribe to Real Homes magazine and get great content delivered straight to your door. From inspiring completed projects to the latest decorating trends and expert advice, you'll find everything you need to create your dream home inside each issue.