When Emma and Karim first viewed this house, it was in its original 1958 state, complete with vintage Hygena kitchen and primrose yellow bathroom suite. They both loved the clean lines and simplicity of the mid-century design and were attracted to it as a 'project' that would also be a forever home for them and their sons.
Inspired by architects such as Frank Lloyd Wright, they decided to add a wrap-around double extension to the side and back, creating two extra bedrooms as well as a large open-plan area and office downstairs. Emma and Karim had gathered a mix of second-hand, auction and salvaged 20th-century pieces over the years, many of them Scandinavian classics. The result is a beautiful and unique family house that feels both stylish and homely.
Are you extending a house? We have all the information and expert guidance on how to do it. And don't miss the rest of our real home transformations – they're all on our hub page
Profile
The owners Emma Westbury and Karim Karanouh, buyers/specialists in mid-century era furniture
(@revolverliving), live here with their teenage sons, Kai and Jude, and dogs, Remi, a whippet, and Sneaky, a rescue greyhound
The property A three-bedroom mid-century townhouse in the suburbs of Colchester
Project cost £275,000
'Karim and I have worked together for years so we really know how each other's minds work. I'd say the design, DIY ideas and doing was probably a 50/50 split,' says Emma. 'The first big change was when we opened up the rear of the house, putting in a wall of sliding glass doors at the back looking onto the garden. We used lots of natural materials including cedar wood panelling, oak engineered floor and a large granite hearth to create warmth and texture. We then fitted a large Scandinavian woodburning stove as a focal point. Lights fitted behind teak strips on the ceiling in the living area define this space.'
'We replaced all the windows with triple-glazed versions. We mainly used a warm neutral colour palette, with a strong colour in the kitchen. The dark khaki green sat well with the wooden floor and we wanted the teak splashback to mirror the cladded wall behind the stove at the far end to keep it cohesive and give the room warmth.'
'The white Corian worktops make it look crisp and modern. We found the sliding barn-style doors that divide the office and the kitchen at a local reclamation yard. Although we love Scandinavian design, we have an eclectic mix of furniture throughout the house – mainly second-hand and repurposed. That's what we feel gives the house its character and soul.'
Karim admits the project was daunting at first: 'But once we started to research and get into the nuts and bolts of it, it started to become really exciting and began to have a life of its own. We had a vision as soon as we saw the house, and the fact that we had been given the opportunity to create something special here has been fulfilling. Achieving a cosy, happy space and watching the family living here has been all so worthwhile.'
'Emma and I have been working together for 30 years – we run a vintage clothes and furniture business together – so while at some points during the renovating process it did get tough, we know each other so well that we could work through any problems. We've always been open and honest with each other, which really helps.
'Design-wise, we split everything we do and we mostly have the same taste. We agreed on probably 80 per cent of the decisions we had to make. For the other 20 per cent, we discussed it – and then, obviously, we went with whatever Emma said.'
I personally love challenges. I like problem solving. There were always unexpected problems thrown up and it felt good when we overcame them. One of the only really hairy moments that I can remember is when we were having our families around for Christmas and we had a delay with our sliding doors. They were here just in time but we thought we'd be eating turkey open to the elements. Our funniest moment was the look on the builders' faces when the olive green kitchen cabinets arrived. They thought we'd ordered the wrong colour!'
'Now that we're here, the snagging is all done and we're living in the space, it feels like home,' he adds. 'I find the connection to the garden really relaxing and the open-plan living area is special – it's the heart of the house.'
'During the project, I learned that my husband has the patience of a saint, says Emma. 'He kept such a clear head all the way through the renovation. A house build will test even the steeliest of nerves and he really wasn't ever shaken.
'Living here is wonderful. Though it's a large open-plan space, it's warm and homely. When we moved back in after renting, Jude said it felt like being on holiday, except we never had to go home. I knew exactly what he meant.'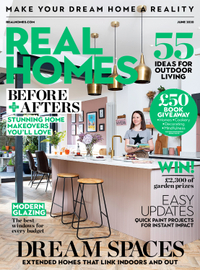 Subscribe to Real Homes magazine
Want even more great ideas for your home from the expert team at Real Homes magazine? Subscribe to Real Homes magazine and get great content delivered straight to your door. From inspiring completed projects to the latest decorating trends and expert advice, you'll find everything you need to create your dream home inside each issue.
More reading