Moving from a newly built house to a 250-year-old cottage gave January Grundy the perfect opportunity to indulge her passion for collecting antiques and vintage treasures. Read on to find out how she curates her finds and turns them into the real stars of her interior schemes, and see how they often spill out into her pretty cottage garden, too, creating talking points inside and outside the home.
Are you passionate about preserving historic homes and collecting antiques and vintage items? Perhaps you are planning your own renovation and redecoration of a period property. We have masses of ideas and helpful advice on what to do and where to start in our feature on house renovation.
THE STORY
Owners: January Grundy, a GP's secretary, lives here with her husband Howard, a driving instructor, their son, Jonny, 14, and Clarence the collie. Their daughters, Holly, 27, and Poppy, 25, live nearby
Property: An 18th-century cottage near Diss, Norfolk. The three-bedroom property includes a small extension
added in the 20th century
What they did: The couple replaced the kitchen, and upgraded the bathroom. The décor has been updated with easy-on-the-eye colours and a sympathetic mix of Scandi, rustic and decorative French-style pieces
Settled with her family in Buckinghamshire, January Grundy never imagined she'd find herself moving house and changing jobs. A change in circumstances, however, gave her and husband Howard the chance to reshape their lives and they decided to grasp the opportunity and fulfil a long-held dream. Howard retrained for a different career, and the couple relocated with the children to a newly built house in Norfolk.
'We'd holidayed in the county for years and loved the peace, the coastline and the big skies,' says January. 'It's a wonderful part of the world, but I've always preferred older properties and I never really settled in the new house we chose. It just didn't quite feel like home to me.'
January kept her eye on the local housing market for some years until, in 2014, a 250-year-old cottage in a rural setting caught her attention. The couple went to view it, and January had a positive feeling before she even stepped inside. 'It was tucked down a little lane, in a gorgeous position,' she says. 'There wasn't much in the garden, but it was a good size, and had masses of potential.'
Inside, the cottage was tired and unloved, with a makeshift kitchen, old floor coverings and dingy décor. However, January was taken by its well-proportioned rooms, quirky layout and classic country cottage character.
January and Howard agreed to go ahead and moved into the cottage with their son Jonny. Daughters Holly and Poppy were living independently by this time. 'I loved the ceiling beams, the living room fireplace and the thick, bumpy walls with their soft, rounded corners,' January says. 'I didn't want to change any of that.' The first job was to pull up the worn carpets and paint all the rooms white. Since then, January has put her own personal stamp on the interiors as she and Howard have gradually refreshed and updated each room.
'The cosy, rustic look is definitely me, but my style is a bit of a mix,' she says, 'I'm a fan of clean, whites and simple, Scandi-inspired interiors, and I like painted French-style decorative touches too.'
Alterations to the cottage have ranged from simple redecoration to a bathroom refurbishment including new sanitaryware, tiles and flooring. The living room walls were repainted in a deep, rich cream shade, while the guest room has recently been transformed with a dramatic dark grey. 'I'd seen similar schemes in magazines,' says January. 'Just changing the colour has made a big difference and has really given the room its own identity.'
By far the biggest transformation was in the kitchen, as January explains: 'It was very basic, just some old cupboards, an electric cooker and a stainless-steel sink, but we lived with it for nearly three years. I always knew exactly what I wanted in its place, though.'
What she had in mind was a solid, country-style kitchen with wooden worktops and cabinets, a chunky range cooker and a big, farmhouse-type ceramic sink. Armed with pictures torn from magazines to illustrate her ideas, she tracked down a local carpenter who was able to interpret her vision accurately.
'He really understood what I was asking for, and it's turned out just as I wanted,' she says. 'The wall cupboard was an afterthought, added later, because I wanted somewhere to display china. As the room is not that big, I was concerned it might feel cluttered, but I think it's worked well.'
The move from a spacious new-build to a quirky period property required a few adjustments and compromises. January and Howard brought larger furniture items, like sofas and beds, from their previous home, although they had to let go of a much-loved dresser that was too bulky for the dining area. Fortunately, the couple's bed could be dismantled to fit up the narrow stairs. January also brought various mirrors, tables, glassware and unusual accessories, including her treasured collection of vintage enamel signs.
'I've always liked collecting old, pre-loved things that have a past and a story,' she says. 'I'm very happy browsing at brocantes and antiques fairs, and I prefer local independent antiques and interiors shops to the high street.'
It may have taken January and Howard a while to find the right place to settle, but they have brought the cottage back to life and turned it into a true family home. 'Moving here was the best thing we ever did,' says January, 'I love going to visit friends and family in other parts of the country, but I'm always glad to come home.'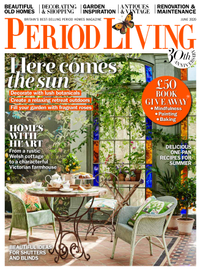 Subscribe to Period Living for more inspiration
A subscription to Period Living provides you with all you need to know about caring for and improving a traditional garden – and also how to decorate, renovate and maintain a period home.
MORE INSPIRATION FROM PERIOD LIVING: