House hunting can be a time consuming and stressful task, particularly if you have a list of criteria that need to be met. That was the case in Darran and Eoin's hunt for their ideal property. 'We spent hours online trawling through different properties,' Darran says. 'Our main considerations were the location and budget. We were living on the outskirts of Dublin and really wanted to be in town, ideally in a period property.' The couple were also keen to take on a renovation project. 'This involved a bit of imagination – we had to look past the dodgy décor and try to imagine ourselves drinking coffee in our dream kitchen,' laughs Darran.
Now that Darran and Eoin can consider their home a completed project they are enjoying all the coffee they want, in their dream kitchen. We take a look at how they got there...
Want more advice for your own makeover project? Find more about extending a house in our dedicated feature and check out our guide on how to renovate a Victorian home.
Profile
The owners Darran Heaney (@oldvictoriannew), a project manager at Dublin City University, and Eoin Callaghan, a clinical specialist at St Vincent's Hospital
The property A restored and extended two-bedroom terraced house in Dublin
Project cost £130,000
Darran admits they had trouble agreeing. 'In the end, we had to select a few properties, write their names on a piece of paper and rate them one to five and then compare our results.' They finally settled on a terraced house in Phibsborough, Dublin. 'It had been a rental for over 20 years so it was very dated but we fell in love with the sitting room, with its original features and lovely high ceiling, and instantly saw the development potential,' he explains.
The property needed a complete overhaul, including re-wiring, re-plumbing, insulation and a new roof. Working within a tight budget, the couple lived off site until the shell of the house was finished, then moved back while the final works were being carried out. 'We camped out in the only bedroom that the house had at the time,' Darran says. 'The water wasn't connected, so we had to shower at work, and there was no kitchen. It was tough going but it didn't deter us.'
Keen to be clever at maximising their use of space, the couple turned to architects John Langton & Associates, who came up with an innovative design that would marry old with new. 'My brother Niall, of NH Construction, with help from my father, Declan, took on the task of building and project managing the whole thing,' says Darran.
'We knocked down an old, narrow extension that was tacked onto the back of the house and replaced it with a new, light-filled one, creating a large open-plan kitchen-dining-living area. We also renovated the existing house, keeping the original, more formal reception at the front.'
One of the key elements in the design of the new addition is the large rooflight and floor-to-ceiling sliding doors, which flood the new space with natural light. The interior finishes are crisp and contemporary with modern glazing and polished concrete flooring. The streamlined handleless kitchen and exposed brickwork give the space a distinctly modern and industrial look.
The project wasn't all plain sailing, though. Halfway into the build, issues arose with the roof. The builders spotted woodworm in the timbers, which meant the whole structure had to be replaced, doubling the couple's budget. Although extremely stressful, the episode worked to their advantage, allowing them to raise the roof slightly and incorporate a second bedroom. 'We hadn't even considered that space, Darran says. 'We had to find ways of raising the extra funds, which meant digging into savings, borrowing extra money from the bank and turning to our families to help out, but it was a blessing in disguise. It's added value to the property and given us an extra bedroom and bathroom.'
After eight months, the house was ready for the finishing touches. Inspired by Instagram, Pinterest and hotels that they have stayed in, Darran and Eoin knew what they wanted from the décor. 'We decided on opulent velvet fabrics with blue hues for key accessories,' Darran says. 'We kept the décor relatively neutral, introducing pops of colour like the striking blue kitchen. Our families and friends were wonderful with helping out, particularly with the painting, so we did all this ourselves.'
The whole project has been a huge learning experience for Darran and Eoin, and they're overjoyed with the end result. 'As with any renovation, there were a few hiccups along the way,' Darran says. 'We were really lucky to have such supportive families and friends throughout our journey. We now have such a wonderful home that's great for entertaining – and it's the perfect mix of old and new.'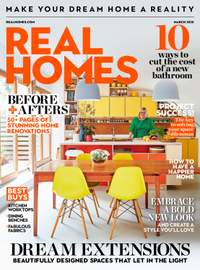 (opens in new tab)
Subscribe to Real Homes magazine (opens in new tab)
Want even more great ideas for your home from the expert team at Real Homes magazine? Subscribe to Real Homes magazine and get great content delivered straight to your door. From inspiring completed projects to the latest decorating trends and expert advice, you'll find everything you need to create your dream home inside each issue.
More reading: