Finding a period house that hasn't been renovated within an inch of its life is becoming increasingly difficult. However, this didn't put off Binh and Thomas Allen, who, despite having no experience in property development, forged ahead with a project that took them on a three-year refurbishment journey that might have made the most seasoned renovator wobble.
The couple found that holy grail of properties – a London Victorian terrace untouched for 30 years with many original features intact. The layout was the same as when it was built at the start of the 1900s and they fell in love with its charm. Binh, who grew up in an apartment block in Vietnam, and Thomas, who is Swiss and lived in a modern home, have married together the original features of their Victorian home with mid-century furniture and ultra-modern furnishings.
If you have a house project that you want to tackle and make your own, just like Binh and Thomas, we have masses of ideas and advice on what to do and where to start in our feature on house renovation. For more real home transformations, head to our hub page.
Profile
The owners Binh Allen, a manager for a financial technology start up, and her husband, Thomas, a private equity fund investor
The property A five-bedroom Victorian terrace in West Dulwich, south London
Project cost £210,000
No renovation project runs smoothly and set backs occurred, but the couple never once stopped believing that they could achieve their dream. Choosing to live in the house when their roof was lifted to create their new master suite was nothing short of heroic. The couple shared their house with builders for six days out of seven, and lived with unrelenting layers of dust – even waking up to birds that had flown in through the open roof into their bedroom. They project managed and sourced all the materials and furnishings themselves, keeping a tight rein on their budget thanks to Thomas' eye for detail and a supersized spreadsheet.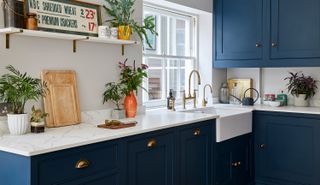 'Buying a doer-upper allowed us to get more for our money,' says Binh. 'We began work immediately on essential jobs, such as installing a new boiler and ripping out thick-pile 1980s carpet. Budget was always a constraint, but in year two we'd saved enough money to update the bathrooms and by year three, we tackled the two biggest jobs – the loft conversion and the kitchen. A tip we learnt is to go to local house sale open days to pick up ideas and find out if there's a precedent for loft conversions or extensions in your area – it helps when applying for planning permission.'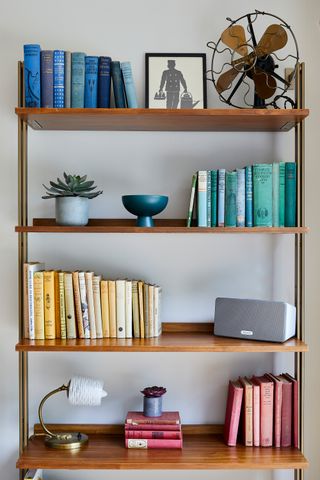 'We employed a builder with the understanding that we would source and buy all the materials required. Although it was time consuming, it made a 20 per cent saving on the overall job, and we learnt to haggle for everything. Although the work we did was permitted development, we employed an architect and applied for planning permission for the loft conversion.
'When the roof was taken off, we decided to have a tin hat above the house, which was crucial for when it rained – it even snowed in April, which meant the entire house was freezing cold! Scaffolding is expensive, so I recommend taking the opportunity to repaint all upstairs windows and do all the jobs you put off, like repointing, installing solar panels and repairing any exterior damage. It's true that you can contract specialist loft companies, but an architect maximised the space available creatively and gave us the premium finish we wanted.'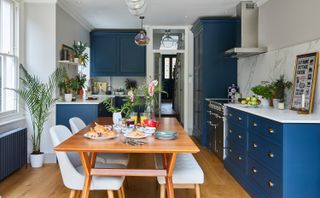 'Our new kitchen involved removing a chimney breast to make space for a run of units, taking out the back wall and fitting Crittall doors. We laid long and wide timber floorboards to give the illusion of space, and a Shaker-style kitchen with brass details gave us the urban country kitchen we wanted. We saved money by choosing a marble-inspired matt worktop made from natural, recyclable products. We also used an offcut to create a feature shelf with brass fittings. Thomas kept the money under control with a spreadsheet.'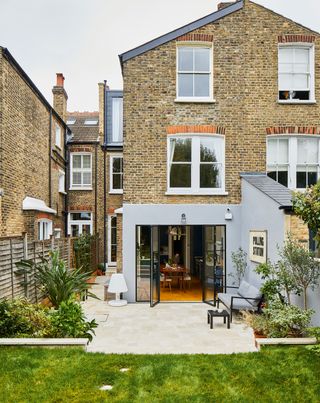 'While on holiday in Israel, we saw lots of travertine tiles and we loved how creamy and warm they looked. It was the perfect choice for the minimal, Mediterranean feel we wanted on the patio. Keeping the space quite minimalist was important to make it feel spacious. We often move the kitchen table outside on warmer days or evenings for alfresco dining. Instead of opting for traditional white, we gave the rear of the house a contemporary grey paint finish, which is both soothing and sculptural in appearance. Thomas bought the Polling Station sign, which was from the June 2016 Brexit referendum.'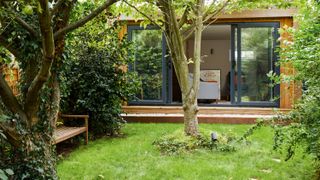 'We decided to build a structure at the end of the garden, which Thomas uses as his home office, although I like to call it his man cave. It's developed into a home cinema room as we don't have a TV in the house, with a sofa and soft furnishings, so it's really a multifunctional space. It's a little retreat, surrounded by plants and greenery – it's not like being in London at all.'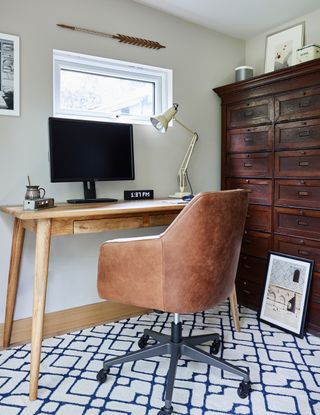 'The dividing wall between the dining and sitting rooms had already been opened up and we love the feeling of space that it created. To continue the visual flow we chose a blue and white palette for both rooms, which creates a soft, soothing colour scheme throughout. We restored the Victorian cornices and ceiling roses, but chose a modern stainless steel painted light fitting for contrast. To add a sense of cohesiveness, the dining and coffee table are from the same supplier and are made of Indonesian teak rough wood. We preferred not to have a TV in the house and we've filled the shelves with our collection of books.'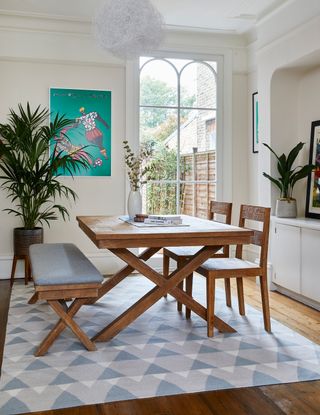 'We were blown away by the beauty of the original Victorian tiles in the entrance hall and we managed to replace the broken ones with matching imitation tiles. Taking away furnishing distractions helps to make the narrow hall look bigger, which we achieved by adding a slimline console and painting the walls white. We replaced the 1980s frosted glass in the front door with stained glass windows in a colour palette inspired by the floor tiles, which is more sympathetic to a Victorian house. I'll always remember Thomas single-handedly restoring the staircase every day after work for four months. I didn't know my husband was so good at DIY and I was really impressed.'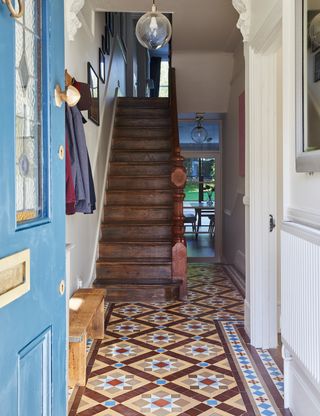 'Thomas and I have different tastes when it comes to furnishings – he loves to buy from antique shops and markets whereas I'm inclined to be more minimalist – so we complement each other. We joke that he tends to be a bit of a hoarder and I rein him in so we don't end up living in clutter. We restored the timber floorboards and added cosy rugs in a modern style. The brushed linen sofas are in a mid-century style, with squashy cushions that invite you to curl up and read a good book. We've really mixed and matched furnishing styles and eras, which adds character without being too traditional.'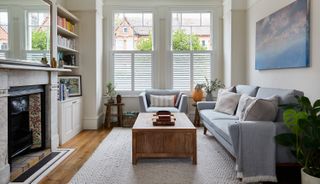 'We found a supplier who sources period tiles from old villas in Spain. We love the faded red tiles we chose for the bathroom – they're over 100 years old, and they create a feature floor without dominating. As a muted contrast we went for white wall tiles and paint. We've maximised the space to accommodate a large shower and freestanding bath.'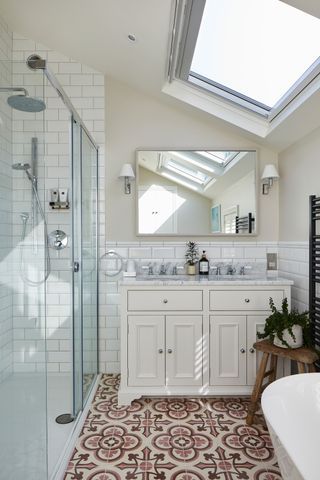 'Some companies told us that a loft conversion would involve installing steel beams across the floor of the room, but we would have lost some of the wonderful ceiling height. We found an architect who specialised in period properties and who designed a master suite without the loss of height by strengthening the existing ceiling joists and adding new joists in between.'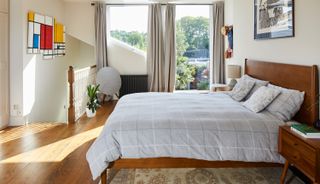 'We added loft windows to the original Victorian front dormer to create a bright space for my dressing table. The floor-to-ceiling windows were made in Lithuania. It's like sleeping in the treetops. The conversion was almost half our budget, but it's worth every penny.'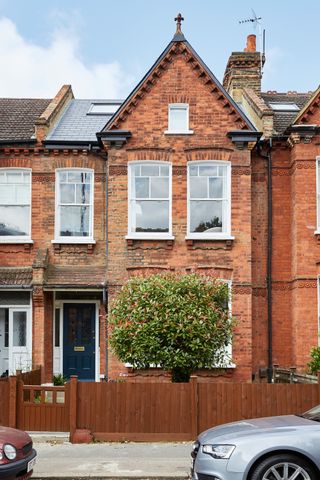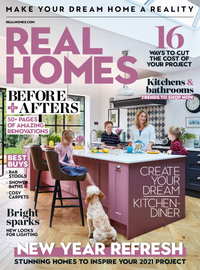 Subscribe to Real Homes magazine
Want even more great ideas for your home from the expert team at Real Homes magazine? Subscribe to Real Homes magazine and get great content delivered straight to your door. From inspiring completed projects to the latest decorating trends and expert advice, you'll find everything you need to create your dream home inside each issue.
More reading: