Until you've done it yourself, it's hard to overestimate just how much time, energy and love goes into a renovation project – and how good it feels when it's finished. Whether you're redecorating or embarking on a sizable extension project, there will be stress and tears, but there will also be laughter (once you've got over the aforementioned stress) and excitement. That's why it's called a labour of love: you put a lot of yourself in it.
That was certainly true for Niamh and her husband Brian, who took on their Victorian terrace and soon discovered the extent of the work they had to do. It's not their forever home – Niamh says that herself – but it's a project they took on during an important time in their life, when Niamh had stepped away from her job as a law firm partner to pursue a career in writing and styling. Doing up this house was her first creative project, and she's rightly proud of the stylish, cosy and quirky home she's created.
If you are keen to tackle a home makeover, just like Niamh and Brian have, there are lots of ideas and helpful advice on what to do and where to start in our feature on house renovation. For more real home transformations, head to our hub page.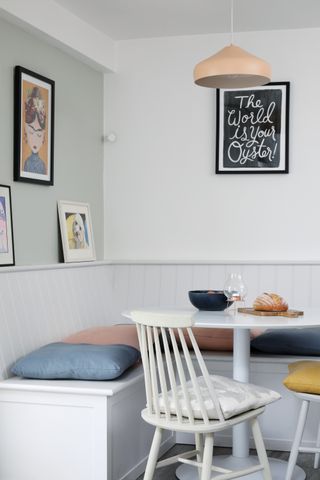 Profile
The owners Niamh Dennehy-Mayer (@homeontherye), a consultant lawyer, her husband Brian, also a lawyer, and their cockapoo, Coco
The property A three-bed Victorian end-of-terrace in East Dulwich
Project cost £85,000
'It's been such a great project and a lovely house to work on. From our first viewing it had such a nice feel to it. The previous owners had a similar colour scheme with the dark wood accents, and it was styled quite nicely, but it needed a bit of work. We only realised the full extent of that work when we moved in. The kitchen was in need of a facelift – it was dark and the cabinetry wasn't in the best condition – and they hadn't done anything with the garden. The bathroom had lovely proportions and a layout that worked. The whole house had the potential to be improved and modernised, but we knew we'd keep key features, like some of the exposed brick walls.'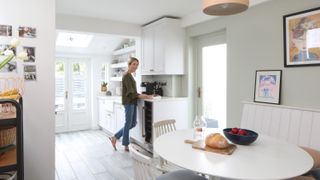 'This is the room that's changed the most,' says Niamh. 'Harvey Jones added so much storage to the kitchen layout and the design creates the illusion of more space. We ummed and ahhed over whether to get patterned flooring, but in the end we decided on plain flooring and some brightly coloured splashback tiles'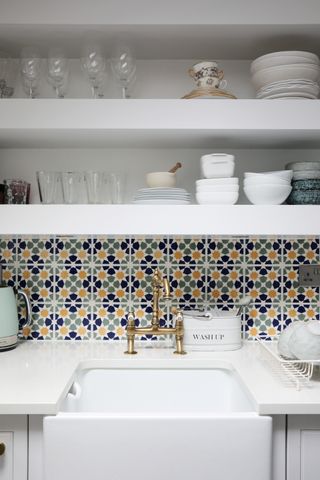 'I fell in love with the dining room when we viewed the house. We did think about knocking it through to make it open plan with the kitchen, but when we spoke to builders about it, it quickly became apparent that we'd need to move out during the works – and the thought of doing that so soon after moving in wasn't appealing! If we were planning to stay here for the next 20 or 30 years, we might have decided differently, but we knew it wouldn't be a wasted room so we kept it as it is. The kitchen is more of a breakfast room, whereas we eat in the dining room at weekends, which feels special, and host friends in there for dinner parties.'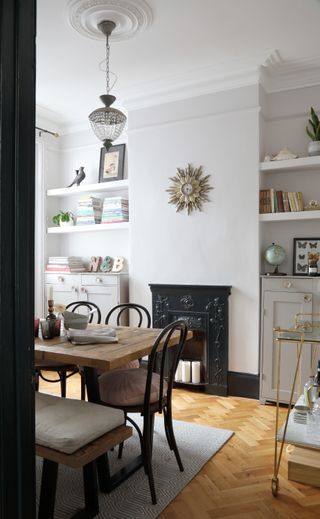 'We didn't do anything for the first year because we were so busy with our jobs and, to be honest, we were a little overwhelmed with it all. We were also getting to know this part of south-east London, and had just welcomed a very energetic Coco into the fold – it was a busy time. Once we'd moved in and the previous owners had taken all their nicely styled bits away, we realised just how much there was to do.'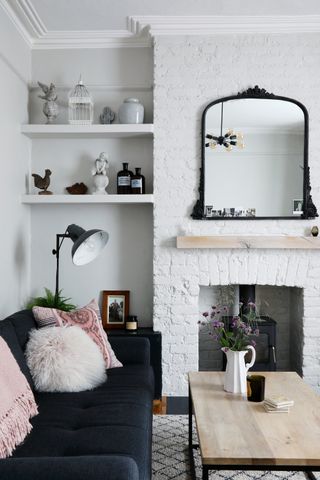 'The first thing we tackled was the storage, or the lack of it. We've tried to use local suppliers as much as we can, and we found an excellent carpenter who built storage in the bedrooms and the loft. After that, we replaced and updated our bathroom, which gave us our colour scheme for the rest of the house.
'Just under a year later, we took on the kitchen, which was the biggest job of the lot. We replaced everything – the cabinets, appliances, flooring, tiles, lighting. We didn't venture out into the garden for two years because we weren't sure whether we were going to extend, but eventually we tackled the front and back and updated the exterior, smoothing the pebbledash finish at the front of the house and landscaping the gardens.'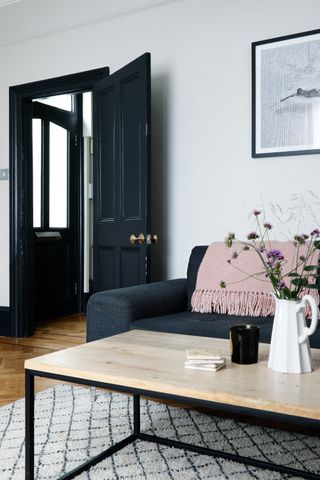 'I'd describe my style as modern vintage, I think. I'm drawn to older things – since I moved to London 13 years ago, I've always lived in lovely period properties, and I love vintage clothes and accessories. My idea of a fun day out is scouring flea markets! I like keeping the character of older houses, but enjoy bringing in modern elements to update them. Brian and I also love to travel, so we've picked up a few things from different places that have a home here now, too.'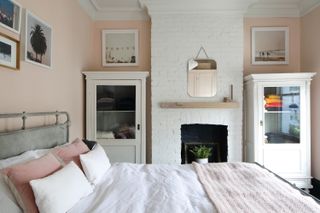 'My favourite room in the house is the bathroom, and we put a lot of thought into it because it's our only one, so it needed to be special. Only having one bathroom does bring challenges, though. When we were doing up the kitchen, the builder mentioned a space under the staircase that could fit a WC, but with everything going on, we decided against it. We realised afterwards that it would have been handy, but doing more work would have meant undoing pipework and ripping up new flooring. We just did it the wrong way round. It would've been a useful thing to have – so we've learned a lesson there!'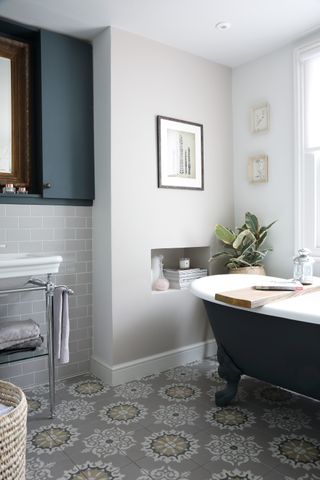 'This house has been a very personal project – I'd even say it's been transformative. Most of the work we undertook was done at a time when I'd stopped working as a partner in a law firm because it was proving difficult to juggle it with the fertility treatment I'd been undergoing. Overnight, I had all this extra time on my hands, and the house project gave me exactly the creative outlet I needed.
'Ultimately, the treatment didn't work out for us, but our home became a labour of love unto itself, and kick-started a whole new chapter of my life. I'll always be grateful for that, so even if we're not here forever, this house has a special place in my heart.
'It's been wonderful to work on and we've learned so much along the way. Eventually we may move on – maybe to take on a bigger project, or somewhere with that second bathroom – but we plan to enjoy the fruits of our labour for a while first, so we're not in any rush at all.'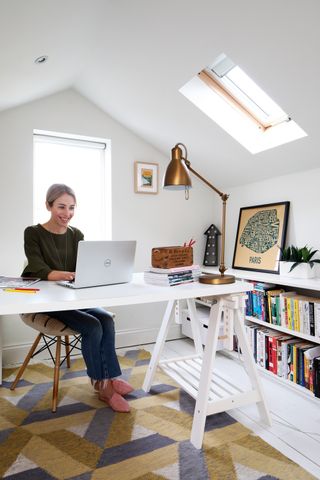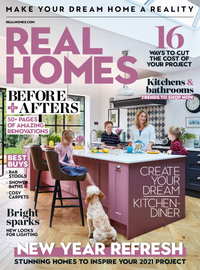 Subscribe to Real Homes magazine
Want even more great ideas for your home from the expert team at Real Homes magazine? Subscribe to Real Homes magazine and get great content delivered straight to your door. From inspiring completed projects to the latest decorating trends and expert advice, you'll find everything you need to create your dream home inside each issue.