Living in a pretty double-fronted Victorian house in the middle of a charming Fife village, Emma and Carl Morenikeji had no intention of moving their young family, until one day Emma saw a nearby Georgian manse up for sale. 'I had often passed it and thought how lovely it was sitting in a copse of trees, surrounded by fields, and I began to think how wonderful it would be to bring our children up in a house like that,' says Emma, so the couple made an appointment to look around the house.
Read on to be inspired by this colourful creation, then browse more real home transformations. Then take a look around these 14 incredibly colourful period homes.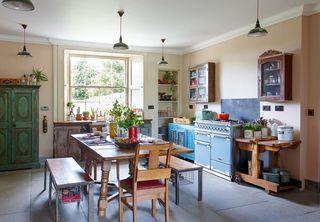 The Story
Owners Emma and Carl Morenikeji, who own
vintage furnishings company Scaramanga, live
here with their two children Joshua, seven, and
Ella, six, and Smokey the cat.
Property A five-bedroom Georgian manse built in 1792 and set in seven acres of land, plus an additional one acre of garden.
What they did Although it was structurally sound, with a good roof and strong walls, the home was in a state of disrepair. It required rewiring, replumbing, central heating, a new kitchen and bathrooms, and decorating throughout. Two rooms were knocked into one to create
a large open-plan family kitchen-diner.
'I was immediately disappointed, however, when I saw the interior,' she recalls. 'Carl, on the other hand, was smitten.' Although the house was beautiful from the outside, it was tired and run-down inside. 'It had been not been touched since the 1960s and everything was damp and crumbling,' she says.
Emma and Carl, who run an online vintage and retro furniture business, are not averse to hard work and frequently travel the world for unique and interesting furniture to bring back home; however, they had never tackled a renovation before. 'We had made some cosmetic changes to our previous home but that is very different from rewiring and replumbing,' explains Emma.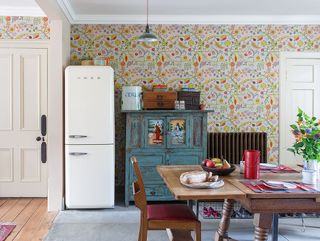 Although daunted, the couple could see the enormous potential of this lovely house with its light, spacious rooms, wonderful outbuildings and large walled garden. They were also excited at the prospect of renovating something their way and putting their own creative stamp on it.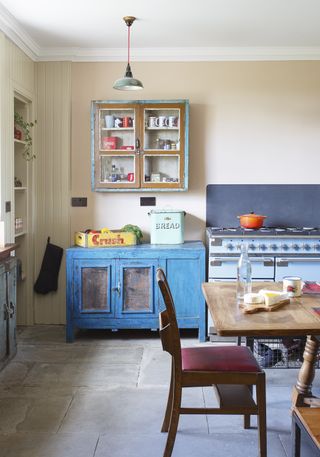 By then, though, there was no going back, so Emma and Carl got to work stripping the walls and pulling up carpets. 'Our first idea was to take down the wall between the dark, poky kitchen at the back of the house and the dining room at the front to create a large, light open-plan kitchen and living area, so we got Studio Baird Architects to draw up some plans for us,' says Emma. 'We also wanted to install two new bathrooms – one in the loft and an en suite for us.'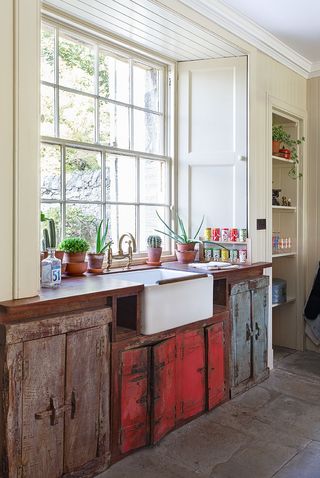 By October the workmen arrived and the house became a veritable building site with a full team of electricians, plumbers and builders on the scene. 'For weeks we washed the children once a week at the swimming baths after their lessons and Carl and I took it in turns to nip over to friends twice a week for a quick shower,' says Emma.
'We all got very used to living in chaos; however, a real low point was when there was nowhere for Ella and me to eat our lunch and we ended up sitting in the downstairs loo to eat our picnic.'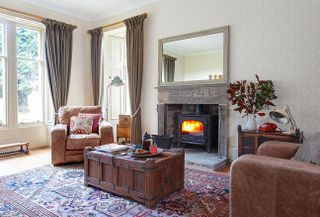 Despite the obvious difficulty of living in the house while renovating, especially with two small children, Emma and Carl were keen for the job to be done properly. 'We had one chance to get this right,' she says. 'We were determined to restore the property to what it once was, preserving the wooden and flagstone flooring, the lovely old doors, the cornicing and the working shutters. We wanted the house to look like it once would have been but with a contemporary edge.'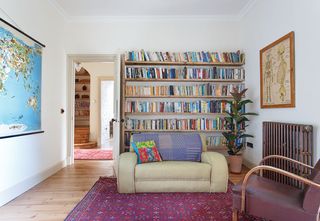 As Emma project-managed the build, keeping herself and her lists one step ahead of the builders, Carl researched and sourced vintage lighting and Bakelite switches before travelling to India to buy pieces for the business and for their new home. 'We'd used antique Indian cupboards and shutter doors to create a kitchen in our old house and it worked really well, so we decided to do the same thing here,' she says.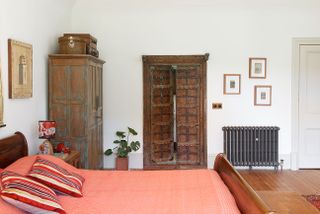 Carl found a 200-year-old door from Rajasthan in north-east India on his travels, and the couple have used it to great effect between the master bedroom and their new en suite shower room. 'The doorway had to be made to size and new hinges fitted, but they give the room instant character,' says Emma.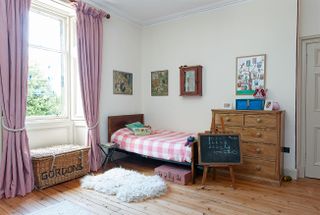 More from period living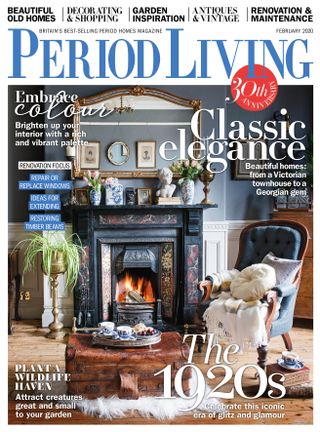 Get the best period home inspiration, ideas and advice straight to your door every month with a subscription to Period Living magazine
After a year of building work, the couple were finally able to start decorating and putting the finishing touches to their home. Walls were kept plain and painted to offset the colourful furniture from India and artwork, masks, and carvings from the couple's trips to Africa and Australia. Rich-coloured curtains frame shuttered windows, while sanded wooden floors are warmed with bright woven rugs.
For Joshua and Ella's bedrooms, Emma chose fun wallpaper to complement the vintage furniture and cheery bedlinen. 'Colour features heavily in everything we buy for our business, so it was inevitable that we'd fill this home with colour, too,' she says.
The old manse has come a long way since the Morenikejis first laid eyes on it – from the tired, run-down house that first caught Emma's attention to the beautiful, quirky home that this artistic couple have created.
'We feel so lucky – first being able to find such a jewel of a house, and second to find different furniture and fittings to transform it into a comfortable home for us and our children,' says Emma. 'After all the hard work we have all invested, I imagine we will be here for ever.'
More colourful homes: