Welcome to our new Real Costs series, where we're diving into people's remodels to unveil exactly what they spend on their makeovers – big and small. Don't pretend you're not curious, to know if you're saving and splashing the cash in the right places, whether those tiles could have come cheaper or if people actually choose custom made designs...
The key to keeping bathroom remodel costs low is often as simple as thinking outside the box and not being overly precious with your design. By combining new necessary materials with more eclectic ones – that may be on sale – and by keeping existing features as well as including just a few custom-made pieces, you will be en route to design success.
To prove our point, this week, we're diving into Sara Simon's gorgeous black tile and terrazzo bathroom remodel where she has masterfully taken a fairly small and uninspiring space and turned it into one that channels all of the most contemporary and cosmopolitan vibes – without going over budget.
'I LOVE to travel. It's definitely where I get all my inspiration from. I am always ready to book my next trip. Currently, at this very moment, I am in NY, attempting to find an apartment. I was bi coastal for the 2 years prior to COVID and gave up my apartment when the pandemic began. So I have been LA based since then but looking to get back on the east coast. This bathroom is the spare bathroom in my LA home.'
Of course, the know-how that comes with the profession means that Sara has a knack for transforming bland spaces to beautiful, with more ease than for most. But, she was able to create an incredible space, at a surprisingly low total cost.
What inspired you to create this look?
'This bathroom was a long time coming. I knew I wanted it to be simple tile and wanted it black. I have been playing alot lately with grout lines and wanted to create a fun pattern but keep it clean looking and not break the bank. I wanted to feel like I was at a cool little boutique hotel.'
Space enhancing black tile wrap around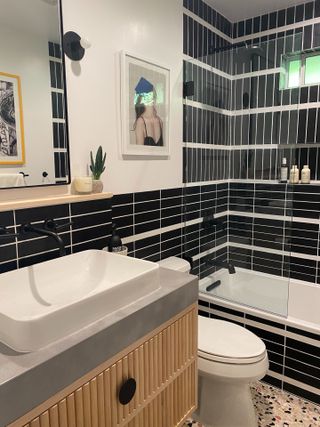 Black bathrooms are a hot trend and Sara has really pulled this off showing full well how it doesn't need to overpower a space, let alone bring any gloomy vibes. The skinny black wall/shower tiles cost $5/sq ft (around $600 total) and were from Arizona Tile .
We mentioned how this space wasn't enormous, but by tiling the shower enclosure both vertically and horizontally, it tricks the eye to make the space appear taller. While the wrap around horizontal tile around the tub and the wall helps expand the space further.
Selective custom made finishes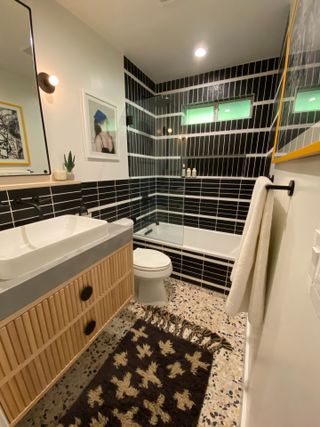 As mentioned, Sara channels her love of travel into many of her room designs and this maple vanity unit and shelf (created by her local carpenter for $1500) brings more softness and some beach vibes to the bathroom. Making the design that bit more cozy and a dream to be in.
By including, even just a few, custom made fittings, it allows you to add your own stamp and part of your story to a space as Sara's done – without overspending or overdoing it style-wise.
Cohesive and clashing materials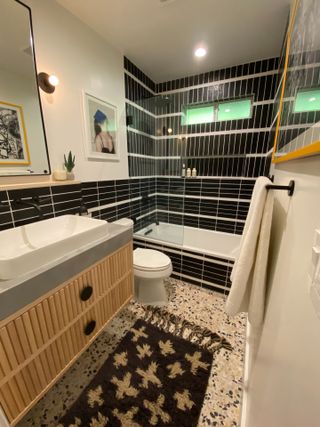 Sara paired that slick black shower/wall tile with more playful terrazzo floor tiles, coming in at $12/sq ft (on sale) from Concrete Collaborative. Bold choices like this make the difference between a standard makeover, and one that's created with artistic flair for a designer finish. It's worth noting the sale section is often where you'll find those materials that you might not have been looking for in the first place.
'Plan it out in advance and don't design on the fly! Get all your materials in advance and have them ready to go once construction starts so it's a smooth process. Check tile places for sales and second shelf items. Same goes for finding a slab. Always ask to see their remnants. This can be huge cost savings! Also basic tile can be fun if you create a fun design or play with grout lines. It doesn't have to be expensive tile to look expensive.' Recommends Sara.
Expressive wall art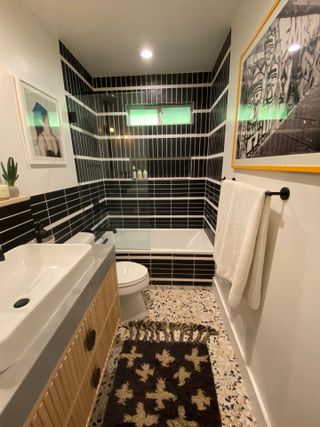 Sara included some artwork she already owned in the bathroom which is one of the most budget-friendly wall decor ideas around, of course, but it also helps make the space more unique and personal. That pop of yellow from the frame brings the perfect amount of color on board, while the white from the other frame complements the bright white basin, tub and tiling detail.
Towels are Parachute Home and Rug is from Anthropologie.
'This home has been a work in progress. We initially moved in only looking to stay a year and fast forward 6 years and here we are. There is still so much that needs to be done but it's not our forever home so trying to scale back. So I will say art is a big part of our home and can be found throughout so that was why we tied in the art pieces that we did to jazz it up.' Adds Sara.
Real Costs: a complete breakdown of the material costs
Total – around $6,500