Digital home service marketplaces publish cost estimates for many types of projects. They interview building professionals across the country to get average prices for everything from a small bump-out to a full-blown home addition. But their published price ranges can vary as much as $10,000 or more, depending on all the variables.
When you have a strict budget, you want to know what your home remodeling project will cost before you start tearing out the plumbing. So, Real Homes has partnered with a few homeowners and their contractors to present a series of home remodeling projects and their actual costs. If you want to know actual bathroom remodel costs, this one will interest you.
This project: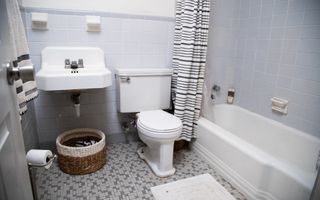 What: Master bathroom update
Location: Mobile, Alabama
Total cost: $1,081.63
Logan and Hannah Vinson knew soon after moving into their home that the small master bath needed some improvements. They chose the home for the community and its vintage charm.
"I've always loved the charm of an older house," says Hannah. "Just the character that comes with an older home that you can't get with new homes."
But 18 months in, they partnered with Danny Lipford and his daughter Chelsea Lipford Wolf of Today's Homeowner to bring their master bathroom into the 21st century and make it more functional.
Today's Homeowner works with homeowners, teaching them to remodel and maintain their homes for themselves. Therefore, labor costs are omitted from this project. Since most of the work is DIY-friendly, though, you can do this.
Bathroom remodel for $1000
Here's how the duo went about remodeling their bathroom on a budget.
Start with a wishlist
The Vinsons knew what their bathroom needed from the start. "It's a small little shoebox that we've made work," says Hannah. But according to Lipford, there was no room on any side of the bathroom to enlarge. So, since adding square footage wasn't an option, they moved on to the rest of their wishlist of items to make it more stylish and functional. Their list included:
Updating the tile and overall look
Replacing the old-style medicine cabinet
Adding storage
Installing an additional electrical outlet
Replacing the exhaust fan with a quieter one
Deciding what stays
Since the existing tub and wall tiles were in good condition, the Vinsons chose to keep them. They also kept the louvered door from the linen closet. And, saving on demolition, they chose to install the new tile flooring over the existing tile." It was in great shape and a very suitable surface for the new floor," says Lipford. "Plus the transition from the bathroom to the hall was very slight."
Making it more functional
Since the Vinsons weren't getting any additional square footage from this remodel, they needed to get as much storage and functionality as possible. The first thing they did was replace the wall-hung sink with a cabinet vanity. But, that didn't come without challenges.
To make room for the vanity, they needed to replace their vintage toilet with a slimmer model and move it slightly closer to the tub. Adding an offset flange under the toilet made this possible without tearing out the existing plumbing.
Also, because the bathroom's only electrical outlet was by the door, they added a GFCI outlet by the sink. Now, when Hannah is blow-drying her hair, she doesn't need to stretch the cord from one end of the room to the other.
Making it more stylish
No doubt about it, the design of the Vinson's bathroom was dated. But Chelsea had great ideas to make it look more modern.
First, she added beadboard to the side of the new vanity cabinet to match its front. They also covered the louvers in the existing linen closet door with beadboard to match. Adding modern, gold hardware to both gave these storage cabinets a sleek look Hannah loved.
Thankfully, the existing wall tile is a neutral shade that made choosing a paint color easy. Chelsea recommended Modern Mocha. It wasn't exactly what Hannah envisioned but she went with it and was very happy.
"Painting the trim, and the ceiling, and the walls [the same color], seems like the new, in thing, so the fact that she wanted to do that got me really excited," says Hannah.
Since the tub stayed, they swapped the dated trim around the fixtures for new and installed a new curtain rod.
Finally, they installed new ceramic tile on the floor. The pattern of the old flooring, with tiny squares, left both Hannah and Logan speechless.
"Putting down a tile that has a bigger size to it and adding a little bit of light," says Lipford, "you'll feel like we added on." And he was right. The newly remodeled bathroom feels bigger than before.
How did they do this for $1k?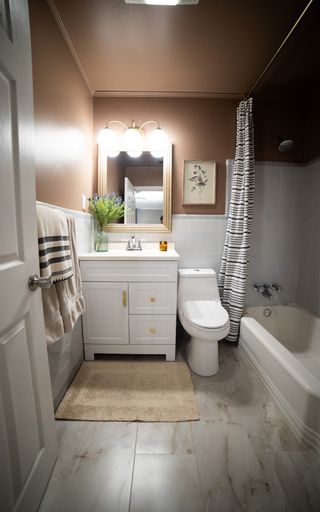 Adding new water shut-off valves under the sink was the only part of this remodel project that might require more than average DIY skill. If you can do the rest yourself, there's no reason you can't remodel your master bath on a modest budget. Here's the breakdown of the costs for the Vinsons:
Vanity- $300
Beadboard- $19.57
Knobs and pulls- $20
Toilet- $169
Toilet flange- $10.62
Shower head- $24.98
Bathroom trim kit- $60
Shower arm and flange- $11.98
Shower curtain and rod- $55
Tile- $160
Pro-lite thinset- $28.48
Mirror- $90
Light fixtures- $120
Picture- $12
Total= $1081.63