Planning a family bathroom can feel like a constant push and pull between practicality and style. Can you have wallpaper when you've got kids who just love splashing about in the bath? Is it possible to ever control the sheer amount of stuff that finds its way into the room, from body lotions to bath toys?
Emma Coulthurst's bathroom remodel is proof that yes, you can have a space that looks good and works for adults and children alike – with a bit of planning. Together with her husband Martin, she's turned a dated '80s-style room into a beautiful sanctuary with hidden functionality, like the splash-proof panelling and easy-access storage. We spoke to her to find out how she pulled the space together.
The before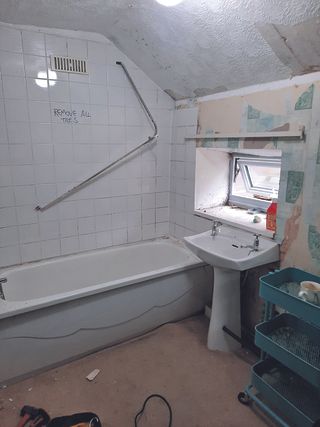 Profile
The owners Emma Coulthurst (@theoldfarmhouseproject), a TV producer and owner of a holiday let company, her husband, Martin, a construction manager, their children Edie, five, and Arlo, three, dog Cookie and cat Jindy
The property A four-bed 18th-century farmhouse in Glossop, Derbyshire
Project cost £6,300
'There were layers of tiles and wallpaper on top of each other in this room and it was even carpeted! The property used to be a B&B back in the 1980s and the bathroom and toilet were in separate rooms. We were downstairs getting a drink when we noticed water coming through the ceiling into the kitchen, where the fuse board is. It went through the side wall into our son's bedroom, too, which we'd just had plastered and painted. The entire house was a bit of a disaster!'
Bold ideas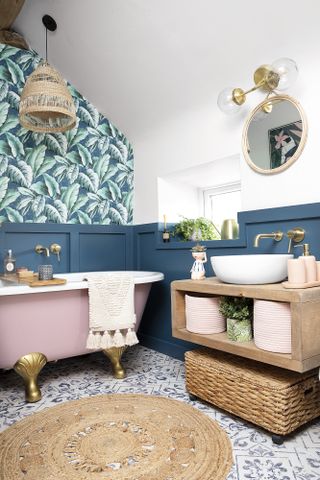 'We took on a few other rooms before the bathroom, so we'd fallen into a good system by that point and I felt really sure about what I was after. I'd never really gone "out there" with colour before, but since this is our forever home, I felt I could be a bit braver. Instagram gave me loads of inspiration. I wanted it to be a bright and bold room – it's small, so why not go for it? We don't spend all day in here anyway, so I felt it could take a more confident design.'
Adding colour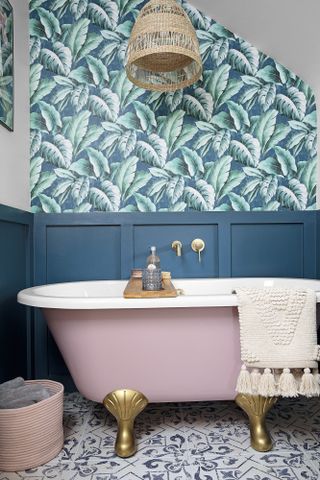 Costs & contacts
Sanitaryware and vanity £2,000
Tiling £1,800 (including labour)
Joinery, plumbing and plastering £1,500
Misc materials £500
Build materials £400
Décor £100
Joinery/plumbing Ladygate Construction, 01663 745562
Tiling Commercial Tiling Solutions
'I saw a pink bathroom online, which sparked the idea for this. My husband thinks it's hilarious how much I deliberate over shades of pink. The room width was a worry, but I was adamant I'd have a roll-top bath and found a space-saving design that fit, spray-painting the legs to work with the brass fittings. We planned the space meticulously – I had five different mood boards on PowerPoint.'
Cutting the cost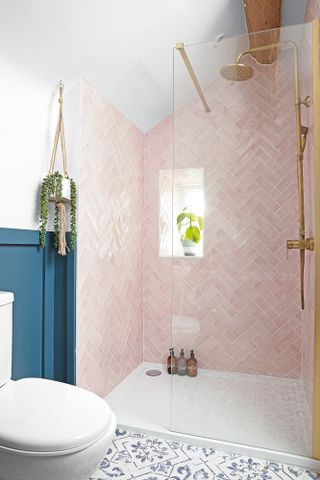 'Instagram was a huge help when it came to keeping costs down. I got a discount on the bath, and the vanity too because I was a repeat customer. I won a voucher for the wallpaper and colour-matched the paint using Valspar. A friend of Martin's tiled the shower. He was like an artist: at one point he took them off and started again because they weren't perfect. He questioned the combination of pink and herringbone at first, but thought it was amazing once he saw the result.'
Family planning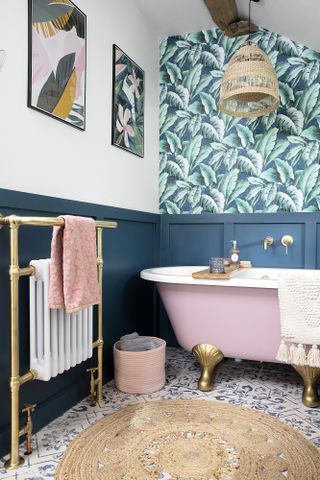 'To be honest, we threw practicality out of the window with this room. But the wallpaper's high enough that it doesn't get splashed too often, the panelling is coated with a water-resistant sealant and the room is well ventilated. The kids love it – they call it the pink bathroom. I really care about our home and it's rubbed off on them. There were probably many times when Martin questioned my design choices, but he's learned to go with it. He knows he'll like it in the end! My advice to anyone taking on a bathroom renovation is to plan, plan, plan, and be sure of what you want – then don't hold back.'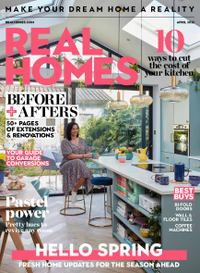 Subscribe to Real Homes magazine
Want even more great ideas for your home from the expert team at Real Homes magazine? Subscribe to Real Homes magazine and get great content delivered straight to your door. From inspiring completed projects to the latest decorating trends and expert advice, you'll find everything you need to create your dream home inside each issue.