Accidental renovators Sophie Hannah and her husband, Robin, certainly weren't looking for a project. "We'd outgrown our little two-bed and wanted somewhere near transport links that had plenty of space, especially as I work from home as a content creator," explains Sophie. "Ideally, we wanted a four-bedroom house in the Colchester area, but couldn't find one that had more than two double bedrooms."
Profile
The owners Sophie Hannah Stanford, a content creator (@sophiehannah; @sophiehannahhome), and her husband, Robin Stanford, an editor, live here with their two French bulldogs, Luna and Shadow
The property A four-bed Victorian semi-detached townhouse in Colchester, Essex
Project cost £150,000 (includes gifts and PR discounts)
"When this house came up it was very affordable because it needed renovating,
but it had three double bedrooms and a big single bedroom."
They knew they'd want to decorate, whatever house they bought – but it wasn't until they got the keys on moving day that they realised how big of a project the house was. "And I had no idea how stressful renovating a house can be," says Sophie.
Before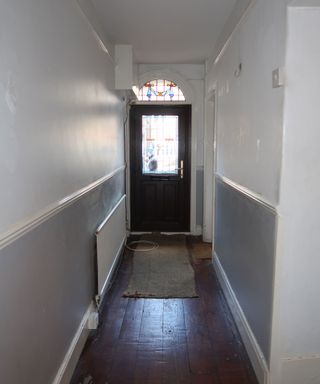 After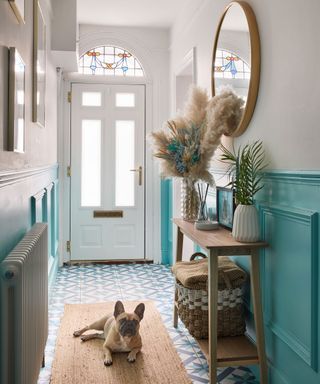 The couple had no intention of starting the project immediately, but their new home forced their hand — on the day they were handed the keys they discovered rats nesting in the kitchen roof. "Luckily we'd managed to keep our little two-bed house so we lived there while we renovated," Sophie explains. "It was difficult as we hadn't planned on paying two mortgages at the same time."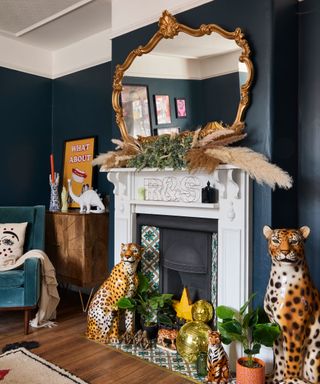 "Planning permission for the kitchen extension took three or four months, but it took an excruciating eight months to switch from oil to gas — that was a nightmare and I'd never do it again!" They hired an architect for the extension as they needed planning permission, but Sophie designed the rest of the house herself. "I created mock ups of every room on Photoshop so I could envision exactly how it was all going to come together."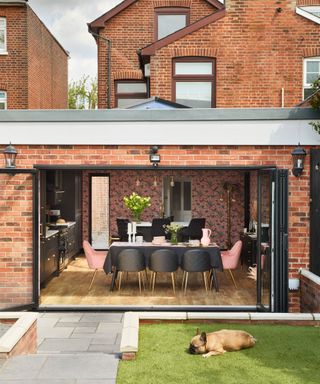 A much-dreamed-about kitchen extension went smoothly and work began on the rest of the house. However, the two bathrooms ended up taking eight months to complete. "The freelancers working on them only came at the weekends — we think because they knew we weren't living there they took on other jobs and just squeezed us in as and when," says Sophie. "Then we found a wall of asbestos in our bathroom, which paused everything for a few weeks until we could get a specialist in to safely remove it."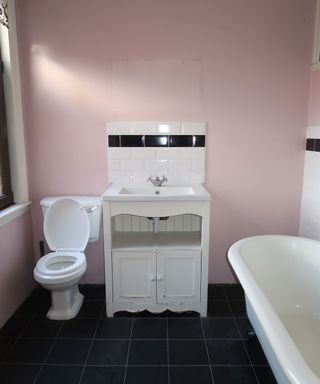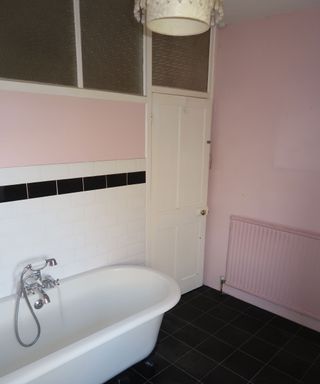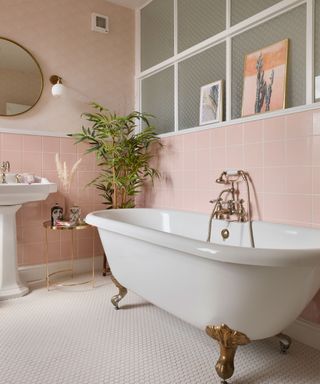 "We also didn't factor in that the house would need a full electrical rewiring, so that cost us more than we had budgeted for — and then we had the holes to fill in," says Sophie. "All of this did delay us being able to move in, but in September 2019, just under a year after we got the keys, we were finally in. So, a few problems — but all worth it."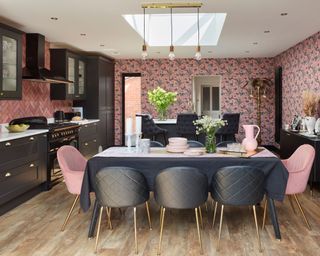 Sophie and Robin's personalities are reflected in their colourful décor choices. From the moment you enter the bright and airy panelled hallway, you're introduced to fun palettes, unexpected accessories and individual quirks that make this Victorian townhouse feel like a modern classic. The rich hues and jewelled tones used throughout feel on-trend yet timeless, especially in the kitchen, with its sleek black cabinets and eye-catching pink tile.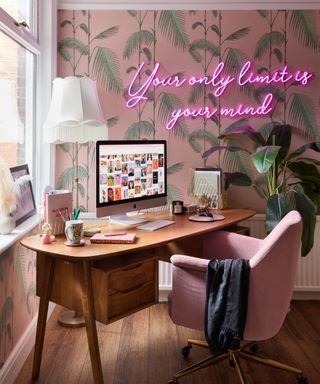 Before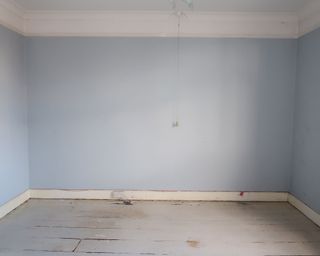 After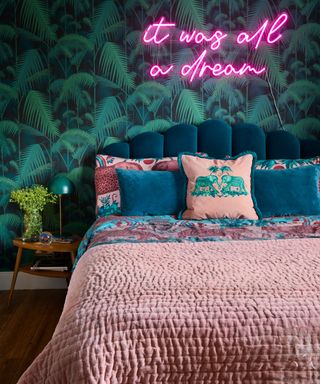 As works on the house began to slow down, it was time to tackle the overgrown and uneven garden. Intrusive bushes were ripped out and overgrown trees trimmed and pruned. The couple breathed new life into the garden, furnishing it with a tiki bar, a swing and on-trend outdoor furniture.
Before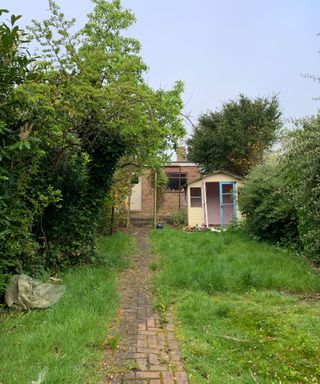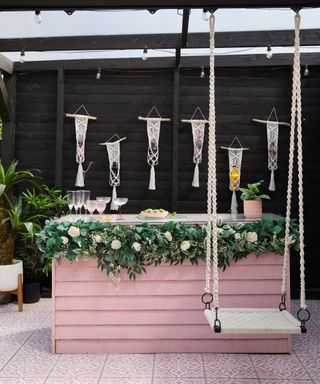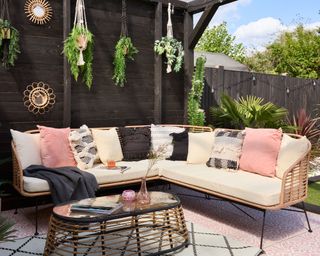 Although Sophie had the vision for the majority of the house, Robin was still involved in final decisions. "I actually really enjoyed designing all the rooms," says Sophie. "It allowed me to be super creative and it was amazing seeing each one come to life."
"We love our house now — it's a space that feels like it's truly ours. It oozes with our personality and personal style, it's fun but homely, and we're still so appreciative of having more room."
Before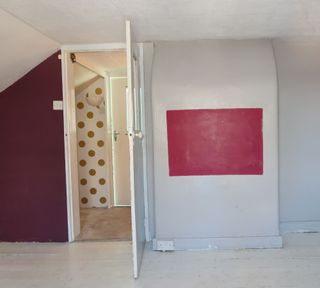 After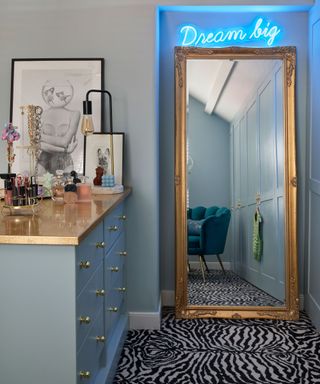 With the house now complete, would they take on another renovation? "I always said no while we were in the middle of this," Sophie admits. "But now it's finished, I've got the itch again!"
Before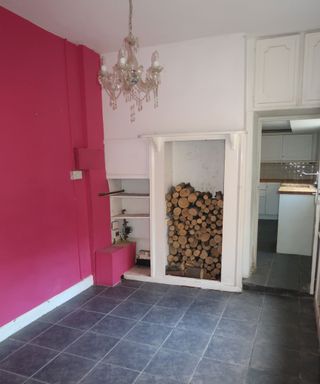 After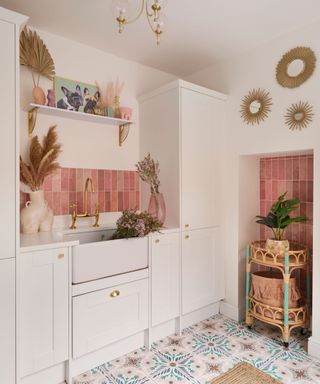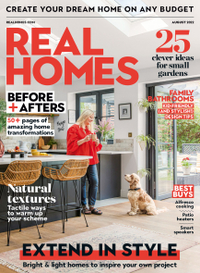 Subscribe to Real Homes magazine Want even more great ideas for your home from the expert team at Real Homes magazine? Subscribe to Real Homes magazine and get great content delivered straight to your door. From inspiring completed projects to the latest decorating trends and expert advice, you'll find everything you need to create your dream home inside each issue.