James Brett was brought up near the cottage where he now lives, on the beautiful Northumberland coast. His parents still live in the village, and once he graduated and became established in his career, which involves a lot of international travel, he realised he wanted a base near home. His mother had worked with interior designer Cathy Dean, of Studio Dean, on some projects and introduced James to her.
'I'd bought a dated cottage and wanted to revamp it into something a bit more unique', he explains. 'It was pine lined with lowered ceilings and lino on the floors. An architect had come up with a solution that gave me the three bedrooms I wanted, but it didn't quite work for me; it was filled with lots of corridors and very little storage. I wanted the house to flow better, and when I met Cathy, her ideas sounded as if they had a lot more potential, so I was delighted to engage her.'
The resulting house renovation (opens in new tab) is a masterclass in dark and moody design that's cosy and welcoming all year round. Scroll on to take the tour.
The kitchen
Profile
The owner James Brett, a geologist
The property A three-bedroom semi-detached stone cottage in Northumberland
Project cost £85,000
Cathy came up with a simple solution to the unsatisfactory layout of the cottage – adding a porch and extending the kitchen. 'Immediately I could see the benefit of having somewhere you could take off muddy boots and store coats,' says James. 'We rearranged the parking outside so that you enter the house through a welcoming porch and step into the dining area of the kitchen.
The kitchen is beautifully laid out so James can enjoy the views while cooking at the peninsula. Studio Dean added scorched reclaimed wooden doors to the Ikea cabinetry for an industrial edge. Through a sliding barn door, you reach what was originally the old kitchen and some lean-to outhouses. These have all been fully incorporated into the property and turned into a third bedroom and a utility room, with a useful adjoining linen store and a boiler room.
The dining area
Suspended ceilings were removed, beams and rafters were exposed, and original features reinstated but with a contemporary twist. 'I didn't want to go all-out country cottage,' says James. 'I wanted my home to be a masculine space, but comfortable. Cathy totally got that and removed all fake, pastiche-y, non-original details, added lots of industrial contemporary elements, and chose colours that I really like, letting light into the kitchen-diner but otherwise keeping the palette relatively monochrome.'
'The extension includes a wall of glass that leads out onto a raised patio and the views, which you can enjoy inside while cooking or from the new outside balcony, are stunning,' says James. He tackled the landscaping himself. 'I love gardening in my spare time, so it was a joy – and beyond the garden, there are views of fields for miles around,' he says. 'The interior, however, was completed by Cathy and her team, over a period of 12 months. It passed very quickly, though. I travel a lot and the progress whenever I came home was amazing!'
The living room
The living room is at the front of the house and only has a couple of small windows, so Cathy and James agreed that this should be a dark, evening space where you could enjoy the fire and withdraw at the end of the day.
James wanted to add drama to this naturally dark room, creating an evening space with the focus on the fireplace. Natural materials, warm paint colours and cosy fabrics are a soft contrast to the bold black elements.
The bedroom
James chose his own builder, electrician and plumber, but used Cathy's team of specialists for the tiling and joinery. She installed timber latting in a few places and embraced the history of the building, using sharp contemporary joinery to add a modern interpretation.
The bedrooms have a deliberately moody palette and, again, are places where you want to retreat. 'Cathy introduced me to Benjamin Moore paints, which include a number of rich, warm shades – perfect for the setting of the north Northumbrian countryside,' says James.
The guest rooms
Simple timber latting behind the bed in one of the guest rooms sets off the gorgeous Feather wallpaper by Woodchip & Magnolia. In another room (below), Cathy painted the wood of the bunk beds charcoal, to match the monochrome scheme, but left some exposed as a trim to add interest.
Though James was happy to splash out on a few items, in general, the renovation was done on quite a tight budget. James was keen to maximise the space rather than overextend the house and resisted adding extra rooms. 'I didn't want to over-capitalise,' he says. Materials were kept simple: for example, the same dark engineered wooden floor was laid throughout the house for continuity.
The bathroom
Costs & contacts
Building work £25,000
Fixtures and fittings £19,000
Furniture £15,000
Kitchen £12,000
Professional fees £10,000
Bathrooms £4,000
Design Studio Dean (opens in new tab)
Aluminium sliding doors The Bi-folding Door Company (opens in new tab)
The bathrooms are small. 'I really wanted an en suite for myself and a separate bathroom for guests,' James explains, 'so one large bathroom wasn't going to work. I presented Cathy with a bit of a challenge here, but she rose to it brilliantly. Her solutions are ingenious: both bathrooms honestly feel like a miniature but luxurious spa.' The bath in this compact space, below, is tucked away behind a corner and doubles as a shower.
'With Cathy's help, I've managed to achieve exactly what I wanted – a convivial, comfortable base from which to explore and enjoy the amazing Northumberland countryside,' says James. 'There are stunning beaches minutes away and it's just a short drive to the Cheviot Hills. The cottage is a wonderful haven to share with family and friends.'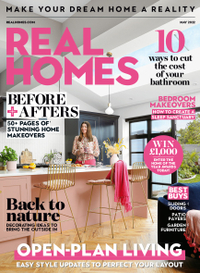 (opens in new tab)
Subscribe to Real Homes magazine (opens in new tab)
Want even more great ideas for your home from the expert team at Real Homes magazine? Subscribe to Real Homes magazine and get great content delivered straight to your door. From inspiring completed projects to the latest decorating trends and expert advice, you'll find everything you need to create your dream home inside each issue.