When Rob and Claire Colwill bought a dilapidated old stable complex by the sea, they took a 'half-a-million-pounds leap of faith'. Most people wouldn't have given the assortment of run-down buildings a second glance, let alone gambled a small fortune on them, but the rusty old farm outhouses contained a golden nugget — a Grade II*-listed medieval barn.
Although it was on the verge of collapse, the barn's stunning cruck frame was still intact, and Rob vowed to save it from wrack and ruin. 'Our family was growing and we wanted to move to a bigger home,' he says.
'We were living in an Edwardian house by the beach in Bude, and didn't want to move far. The barn was less than a kilometre away, and also had land for a large garden. We knew that we were taking a huge gamble, but we were confident we could make it work.'
Fact file
The owners: Rob Colwill, who owns an estate agency, and his wife Claire, a graphic designer, live here with their daughters Isabelle, eight; Eliza, five; and Esme, two
The property: A four-bedroom detached house, with five bathrooms, converted from a 700-year-old, Grade II*-listed medieval tithe barn with a raised cruck frame roof
The location: Bude, Cornwall
What they spent: The couple bought the land and farm buildings for £500,000 and spent around £700,000 on renovations. It has recently been valued at around £1.25million
Gaining planning permission
The land and buildings, which the couple bought for well over the asking price, came with a 10-year-old house that also had a manager's occupancy condition attached to it from when it was a riding school. This stipulated that it could only be built for the manager to live in. Luckily, the family were able to have this lifted, and it gave them a place to live in during the conversion — if they could get planning permission.
Rob and Claire also agreed to wait six months for the previous owners to move out before eventually taking over the house. The delay gave them the chance to assess the site, seek advice from an architect and structural engineer, and prepare the planning application to renovate and convert the barn into one large dwelling.
'The previous owners had unsuccessfully tried to turn it into a holiday let or several dwellings, but we wanted to turn it into one single family home for us,' says Rob.
Their plans were wholeheartedly supported by English Heritage, who had placed the barn on its national risk register and were keen to see it given a new lease of life, under the right circumstances.
Backed by the architects' carefully considered approach, and with assurances that they would respect the integrity of the ancient building, Rob and Claire were finally granted planning consent to transform the barn into a 120ft-long upside-down house with high-vaulted ceilings. The main living area would be on the first floor to maximise the impact of the timber frame.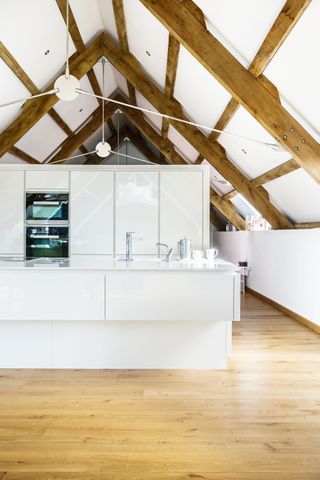 Design ideas
The barn was essentially in two halves — one side containing the medieval roof structure, and the other covered with a practical corrugated roof. The two sides would be united by a modern glass-and-steel mid-section — bridging the centuries. Building work began in January 2013, and the couple hired a local contractor they had known for years.
'No one could guess what problems we would face, so it was impossible to work to a fixed contract,' says Rob. 'Fortunately, we had complete trust in the builder and paid by the hour.'
By this time, they had sold their previous home for £500,000, most of which went straight into the renovation budget. Rob project-managed the build between running his estate agency and, with Claire, raising their three children.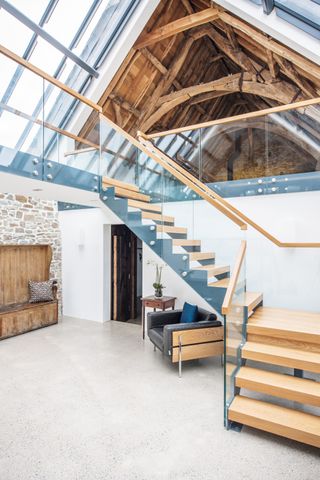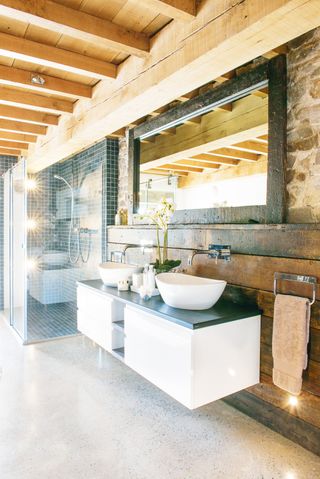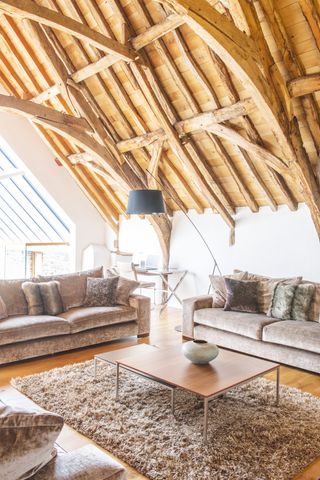 Finishing touches
Rob and Claire resisted moving in until all the snagging was completed, 'or we knew it would never get done', but it was worth the wait. 'It's exceeded all our expectations,' says Rob. 'Our living space is compartmentalised, but with an open-plan feel. We felt obliged to save the barn and to do it right, so it was always going to be a zero-compromise project. As a result, we not only have an extraordinary, stunning home, but have also saved a beautiful building from crumbling away.'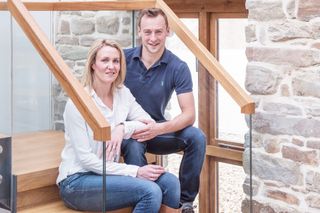 Project notes
Claire shares her tips for transforming a farm building into a contemporary home
My favourite spot
'The living room is warm and comfortable and features the stunning roof above. I can sit and gaze for hours at the intricacies of the oak.'
My top tip
'Find an excellent architect who really understands the building, what you are trying to achieve and how to work effectively with your local planning authority.'
Our best buy
'It wasn't something that we bought, but we found some old boards from the stables, which were covered in horse dung. We cleaned them up and have used them to clad the bathrooms — they look fantastic!'
Go-to website
'Houzz is great for interior inspiration and visual ideas.'
What we've learnt
'We are very passionate about the property and wanted to get it right, but there were times when we felt very exposed and, in some ways, controlled by outside organisations. That took some adjusting to. We also learnt that you can never plan too far in advance — for example, I knew what bathroom fittings I wanted before we had even started the renovation.'
Future plans
'In June 2014, we were granted planning permission to demolish the manager's house and build a modern house in its place, which we will eventually move into. In the meantime, we love every minute of living in the barn.'
Swipe to scroll horizontally
| | |
| --- | --- |
| The costs | Row 0 - Cell 1 |
| Landscaping | £150,000 |
| Materials and labour | £130,000 |
| Garage and roundhouse | £75,000 |
| Internal and external joinery | £60,000 |
| Electrics | £55,000 |
| Plumbing and sanitaryware | £55,000 |
| New roofs and steel | £55,000 |
| Medieval roof repair and slating | £40,000 |
| Kitchen and utility | £35,000 |
| Fees | £30,000 |
| Polished concrete flooring | £15,000 |
| TOTAL | £700,000 |