Ellie and Oliver got lucky with the bathroom they inherited with their two-bed Victorian terrace in Leicester, England. It was a large space, complete with double sinks and a roll-top bath. "It always felt like this space had potential — it was just very beige and a bit bare. We wanted to do more with it," Ellie explains
Central to the project was kitchen and bathroom designer Joel LaRosa, who the couple hired to help them find their feet. "This is our first house — we had a complete lack of experience and no DIY skills," says Ellie. "Joel project-managed the whole thing. He was good at listening to what we needed."
Profile
The owners Ellie Rowley-Conwy, a museum conservator, and her partner, Oliver, an archeology lecturer, plus cats Teddy and Maggie
The property A two-bed Victorian terrace in Leicester, England
Project cost £11,000/ $13,000
The work took five weeks. Luckily, Ellie and Oliver had a downstairs loo they could use — "and our Spanish friend down the road went back to Spain and left us his keys, so we could shower there," says Ellie. The makeover left her full of ideas for her future project. "We're looking at a kitchen extension. It's given me the bug."
Before
After
"Initially, the shower was in the alcove where the toilet is. I'd assumed it would stay there, but Joel came up with the idea of a walk-through shower in the center of the room, which is a much better use of space," says Ellie. "We kept the old bath, which cut costs, and was more sustainable. We both liked it — so there was no need to change."
"My family have always lived abroad, so I have an eclectic mix of trinkets from overseas. I suppose my style is a bit bohemian — as in, nothing matches! My background as a conservator means I appreciate older things, and we try to buy vintage or second hand — we do quite a lot of antiques shopping. But I also like modern style, and with no period features in the room, it was a good opportunity to bring that in."
"My one non-negotiable was keeping two sinks," recalls Ellie. "The whole bathroom theme stemmed from the ceramic sinks, which I found on Pinterest and tracked down to the manufacturer. Joel and I planned everything else from there. I looked at upcycling a vanity unit, but saw this one on Tikamoon. I didn't want a straight block of tiles behind it, but something more organic. Joel was on the floor laying them out to get them just right!"
"Joel was brilliant and came up with workarounds for most of the issues that surfaced along the way. The only thing I might have changed is the flooring. We love what we have, and we love the slate shower tray, but we quite like walk-through showers where the tiles blend into the floor, too."
"It seems I always like expensive things I can't afford, so when I saw Tadelakt (a traditional lime-based plaster from Morocco) while I was browsing the web, I knew I wanted to use something similar. I found a limewash paint on Abigail Ahern's website that had a similar texture and thought that would work as an alternative. We painted it ourselves to reduce costs."
Before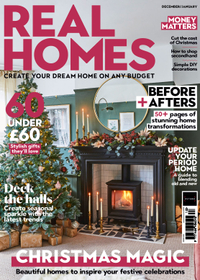 Subscribe to Real Homes magazine Want even more great ideas for your home from the expert team at Real Homes magazine? Subscribe to Real Homes magazine and get great content delivered straight to your door. From inspiring completed projects to the latest decorating trends and expert advice, you'll find everything you need to create your dream home inside each issue.