Loft conversions are often touted as a space-saving solution for families running out of room. But having your very own sanctuary in the roof for purely indulgent purposes is just as valid a reason to take on the work – after all, who doesn't want a quiet space to slip away to when you need a bit of peace?
Nicola Simpson did just that when she decided to extend upwards in the Victorian terraced house she lives in with friends. She's quick to point out that the project was a luxury, not a necessity – but creating a self-contained suite seems like a savvy move, giving Nicola and her friends more space for themselves and making the time they spend together more valuable. We spoke to her about how she created her dream bedroom suite.
If you want to explore the potential of converting your loft, we have plenty of advice on how to do it. For more real home transformations, head to our hub page.
Profile
The owner Nicola Simpson, a teacher turned interior designer
The property A four-bed Victorian terrace in Peckham, south London
Project cost £61,750
'I rent out the other rooms in the house to my friends – it's basically a grown-up house share. This was a bit of an investment property, and because I love the area but didn't want to live by myself, it seemed like a logical solution. We still wanted a bit of separation, though, so a loft conversion made sense. It was quite a luxury for me to do this project, but I wanted to indulge in my love for interior design and see what I could do.
'We're really lucky to live in an area with community forums where people post recommendations for tradespeople. We got a few quotes and Thomas Payne from Benchmark Lofts really stood out. He understood what I wanted to do, and that I didn't want an identikit design. I'm quite particular about details and needed someone patient, and from the outset, I could tell he'd relish the challenge.'
'One thing I wanted from the conversion was loads of light. The builder sourced the glass doors along with the rooflights, and they flood the space with sunshine. The room is south-facing, so that whole wall of glass gets so much light that I had to buy double curtains just to add a bit of shade and privacy when I'm up here in the day. I still haven't tired of waking up to the sky every day.'
'My style is quite clean and classic. I do like the Scandi look, so I wanted to incorporate elements of that without it being too bare. To add warmth, I went for lots of textured fabric, like the linen curtains and rattan furniture, and blush pink colors. It's such a calm and serene space, but it's welcoming at the same time. I love really minor things like the fact there are plenty of plug sockets around the room. It sounds strange, but if things look nice but don't work well, all you can focus on is how annoying it is to use.'
'The en suite was tricky to fit in space-wise. I'm very particular and don't like things that aren't at right angles, and I was keen to make sure the door to the bathroom didn't have a corner sliced off. Everything was designed to the millimeter – I even told the loft team the exact formatting I wanted for the tiles! I love the terrazzo floor. It was expensive, but because it's a small space, it was doable. Plus I opted for a standard pine floor in the bedroom to balance out the cost. I went for the biggest skylight possible to add head height and brighten up the space, too.'
'I really look forward to spending time in my room, which isn't something as an adult I ever thought I'd say! It's changed how we interact as a house, too. We appreciate the time we spend together much more because we have that separation of space – it feels a bit like a set of mini flats within a house. Despite it not being a huge project, it feels really spacious up here – if I'm feeling particularly energetic (which isn't often), I'll do yoga by the doors, and I've even had a masseuse give me a massage here! It really is like my little sanctuary.'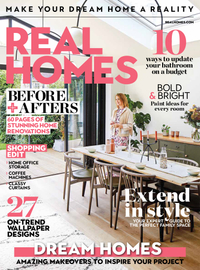 (opens in new tab)
Subscribe to Real Homes magazine (opens in new tab) Want even more great ideas for your home from the expert team at Real Homes magazine? Subscribe to Real Homes magazine and get great content delivered straight to your door. From inspiring completed projects to the latest decorating trends and expert advice, you'll find everything you need to create your dream home inside each issue.