Our interior design choices should be both a reflection of who we are and a springboard for how we want to be. More often than not, the colours and patterns we choose reflect our personality, while it's the architectural choices that enable us to, as they say, live the dream.
Claire's colourful home is bursting with energy, creativity and nature. It was her background in wedding floristry, and a desire to entertain easily at home, that prompted this open-plan kitchen extension. Now, she's shared her decorating choices and how she went about this home improvement to inspire the rest of us planning to extend a house.
1. Staying put
Profile
The owners Claire and Michael Sankey (@notatypicalbrentwoodhome), who both work in property development, live here with their dog, Max
The property A five-bed new build in Brentwood, Essex
Project cost £82,895
'We spent a long time looking to move house, but we couldn't find exactly what we needed,' says Claire. 'This made us question why we wanted to move in the first place, and the answer was not that we didn't love the house, but that the downstairs space wasn't working for us.
'The house was very top heavy, across three floors. Michael and I are really sociable and love hosting dinners – there are always people coming and going – and our old layout, with little communal space, made this difficult. There was nowhere to relax in the kitchen, and we were left separated from our guests when cooking. So with that, the penny dropped and we decided to stay put and renovate instead.'
2. Give and take
'Our garden is really important to us and we didn't want to lose any of it. I had a garden workshop where I ran my own floristry business. As I no longer use this, we removed the workshop, which freed up some garden space and enabled us to take some back for the extension.
'Having lived in the house for a while, we knew exactly what it needed to maximise natural light, so we chose the positioning of the roof lights and picture windows ourselves. We stayed in the house throughout the extension and I must say, it wasn't fun. Luckily my cousin was our builder, so he was very sympathetic to our needs.'
3. A green base
'Having looked at so many potential new homes, I'd developed a serious case of silver, white and grey fatigue. I wanted my décor to be bold and different. We spotted the green sofa very early on in the process and decided it would be the first thing we'd order. We chose the House of Hackney floral fabric for the end, and these shades became our swatch for our other design decisions to revolve around.
'As with foliage in a bouquet, green is a great base colour as it works well with all other colours, so I knew green cabinets would allow me to play around with everything else. We also live next to a country park and this was a great way to connect our space to the outdoors.'
4. Collaborative effort
'As a creative person, everyone said I'd be able to design my own interiors scheme, but I really wanted someone to brainstorm with, so we headed to Bark to hire an interior designer. When I saw Jade Maria Interiors, I just loved her style and knew it would fit really well with us.
'I made a mood board and she put her own stamp on it, being receptive to what we wanted while pushing us outside of our comfort zone. Because the kitchen was only six years old we simply spray painted the doors, and Jade Maria sourced the stunning terrazzo worktops – they're one of my favourite things about the space as we chose the colours of all the stones.'
5. The end result
'I absolutely love our home now and I wouldn't change a single thing about it. We did go over budget, but when you're going through that amount of upheaval, you get to a point where you think, actually, it is worth paying a bit more for exactly what you want – like our bespoke worktops, for example. There was a lot of persuasion there with the husband, but I'm glad we went for it!
'My best interior design advice is to trust your instincts. If you see something and you like it – do it. Don't think, "That's a bit risky" – it pays off in the end if you just push yourself that little bit further. Your interiors should reflect you as an individual, not anybody else.'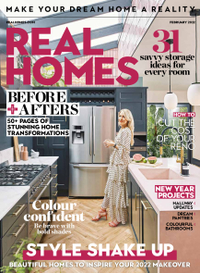 Subscribe to Real Homes magazine
Want even more great ideas for your home from the expert team at Real Homes magazine? Subscribe to Real Homes magazine and get great content delivered straight to your door. From inspiring completed projects to the latest decorating trends and expert advice, you'll find everything you need to create your dream home inside each issue.