I'll be real, bath towels can be seriously expensive. Of course, I totally stan great quality and plenty of softness. But when you can get a bath towel that's got all that, has totally rave reviews, and is only $2.94? Well, you just can't beat that IMO.

The Mainstays solid bath towel from Walmart is made from 100% cotton, which means it's super durable and easy to care for. That means that you can put it in the washing machine, twist the li'l knob, and not stress about it falling apart. Basically, it's a low-maintenance queen.

It also comes in 13 different styles, including pretty much every color in the rainbow, as well as funky patterns. BTW, these aren't always in stock all the time, so it's worth checking the Walmart site on the daily if you've got one that you absolutely want to get your hands on.

There are so many reasons why this cheap and cheerful bath towel should make its way into your bathroom. But, if you're already sold (hey, I can't blame you at that price), I've got all the info you need to know below.
The best Walmart bath towel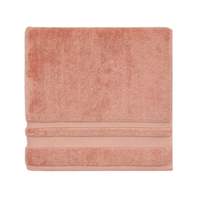 Mainstays Solid Bath Towel

Size (in.): W27 x L52
Made from: Cotton
Colors: 13
Price: $2.94

Looking for a bath towel that gets the job done, all for an incredible price? Say hey to Mainstays bestselling bath towel, which is perfect for everyday use. If you want to go all out and have a coordinating set, you can also get a matching washcloth, hand towel, and bath sheet.
Reasons to love the Mainstays solid bath towel
Let's circle back to the fact that it's made from 100% cotton. Some bath towels are made with synthetic materials such as polyester as well, but there's none of that in here. This means that the towel is super soft and absorbent, so it will dry you off properly and dry itself quickly too.

As if this towel couldn't get any better, it's also Oeko-Tex Standard 100 Certified. AKA, the material has been tested for harmful substances and has come out with flying colors. So, when you're getting clean, you can be assured that your towel is just as clean too.

The fact it comes in lots of different colors means that you can mix and match different shades (FYI: My fave is the lavender purple). I'm a huge fan of switching up my bath towel colors between washes, as it just changes up the vibe in the bathroom and keeps it feeling fresh AF.

It's a fab option for all bathrooms, but if you're moving into dorms, this is an especially great bath towel to have. This is because if your roomie ends up "borrowing" yours, you can grab a replacement without breaking the bank. Plus, those bold color options will make it easy to differentiate whose towel is whose.
What reviewers say about the Mainstays solid bath towel
"Love these towels — not too heavy, great absorbance, and beautiful colors" — Sonia

"Sof and simple. I love the added pop of color this added to my small bathroom" — Tyrone

"Great quality towel for a good price" — Latoya

"The towel was large enough, soft enough, and well within an affordable price" — Eric

Up next: This is the best Target bath towel according to shoppers — and it's only $9