Searching for a spice rack to store your ground garlic, curry powder, dried basil and more, all in style? We can help find a pretty yet practical solution. A spice rack is a must-have for any budding chef, or even if you just love to cook your own meals from scratch. Why? Tucking those spices away in your cupboard can take up quite a lot of valuable space, especially if your collection is large, and it can make it hard to see what you've got in your collection with ease.
We've picked out some of the most practical yet stylish spice racks for kitchen counters and cupboards. From fully stocked rack carousels to basic wire chrome racks, there's something for every type of chef below. Selected spice racks below come with special size jars included, while others can be used with any standard spice jar – be sure to check before you buy. You'll also want some spice jar labels so that you can differentiate between your dried basil and your dried parsley with ease.
For more space-savvy storage inspiration for the kitchen, here are our favourite kitchen storage ideas.
---
The best spice racks to buy for your kitchen
Why you can trust Real Homes Our expert reviewers spend hours testing and comparing products and services so you can choose the best for you. Find out more about how we test.
1. These plastic spice drawers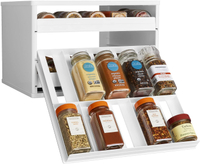 YouCopia Chef's Edition SpiceStack
Use this white spice rack inside a cupboard or atop a shelf, to store 30 full-size spice jars or 60 half-size ones. With drawers for easy access and 96 labels included in the box, this makes seasoning your food an easy task. It's made of white plastic so it's pretty fuss-free, though rest assured it's easy to keep clean.
2. This compact wooden rack with gold jars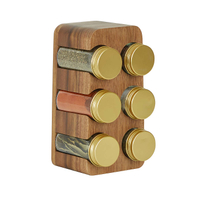 Dunelm Acacia Gold Spice Rack
This stylish spice rack from Dunelm is also a bargain at only £12. It comes with six jars with golden lids included, while you can label these jars on their lid if you'd like to. Perfect for popping next to your hob, these jars fit perfectly into the Acacia wooden stand, and it really is practical for storing the spices you use most at arm's reach.
3. A large bamboo spice rack for the eco-friendly cook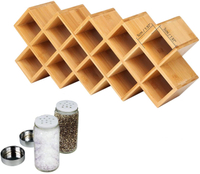 Gunolye Store Bamboo Spice Rack
This 18-slot spice rack is made of bamboo and it can fit most standard jars inside. Pop this rack on your worktop or mount it on the wall if you are tight for space – or if you prefer to keep your worktop free of clutter. You could even buy more than one and stack them to store your entire spice collection.
4. This spinning spice rack to sit next to your hob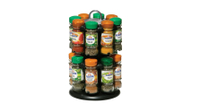 Schwartz Rotating Spice Rack: two-tiered spice rack
This 16-jar rotating carousel provides a variety of herbs and spices commonly used in everyday cooking. It's compact enough to sit on a kitchen counter, beside a hob, without being in the way, and the fact it spins makes it easy to see what's to hand and what needs topping up. You will, however, need to replace or refill the Schwartz jars as that is the shape and size the carousel is designed to hold.
5. This one-tier spice rack for smaller kitchens

Andrew James Spice Rack Wall Mounted or for Cupboard Door
If you want to get organised but don't have the room to display your spices on your worktop, then this hanging rack could be the perfect solution for you. It can be mounted on your cupboard door or wall so that you don't compromise on cupboard space either. It comes in anything from one to five tiers, depending on how much spice you own, and although some may find it a little boring, you could always spray it to spruce it up a tad. You can also use it with your own spice jars.
6. This wooden wall mounted spice rack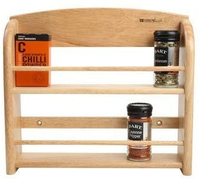 T&G Scimitar Spice Wall Rack
This wall-mounted rack can be attached to your kitchen wall to allow quick and easy access to your herbs and spices when cooking. The wooden design features three shelves to hold 18 jars – plus, the wooden bars are low enough to ensure you can clearly see the labels on the jars when they're on display. This rack does require some DIY, but users have said it's simple to do and although a basic design, looks great when mounted. You could also paint it to blend in with the rest of your kitchen if you like.
7. This handmade rustic rack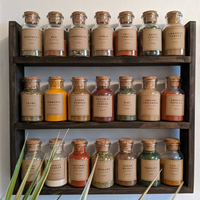 TheOldShelfCo Handmade Rustic Spice Rack
This rustic spice rack has enough space for plenty of spice jars – and you can even add shelves and width to suit the size of your collection. It's handmade using recycled wood, so you can expect each one is different with unique knots and shakes. It comes with fixing materials so that you can hang it on a kitchen wall. Choose from four finishes including natural, stripped pine, light oak and golden oak.
8. A four-spice rack for your favourites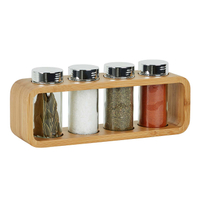 Dunelm Bamboo Spice Rack
Ideal for storing only your favourite, most-used spices, this bamboo rack would slot in nicely next to your hob. And, it comes with four jars included. It's easy to wipe clean, too, and it's even handmade. A bargain for only a tenner.
9. This under shelf spice rack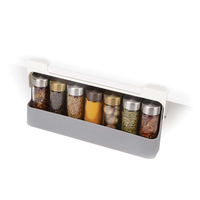 Joseph Joseph Undershelf Spice Rack
Talk about space-savvy, this spice rack slides into the unused space underneath a shelf – clever! It's also easy to instal using tape, it's a bargain and it can hold seven jars at any one time. Buy two or three if your collection is large.
10. 4 minimalist stainless steel racks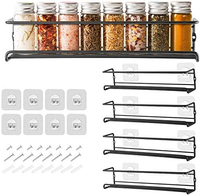 GEEDIAR Spice Racks Organiser
This spice rack is made of stainless steel and it comes with screws and stickers for hanging it on your wall or tiles. It's minimalist and tidy looking, as well as durable. Four come included in this pack, but you obviously don't have to use them all together – you could dot them around your kitchen. We love.
11. This unique freestanding rack from John Lewis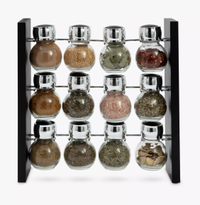 Secret de Gourmet Freestanding Bamboo Spice Rack
This unique design can hold 12 spice jars on your kitchen side, and it comes in black or a natural wood colour. Lift the jars off the rack to sprinkle seasoning over your food, and label them up with the 40 labels that come included in the box too.
12. This black wire rack for your wall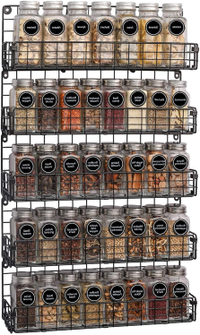 X-cosrack Spice Rack Organizer
This one is great for those who have a few too many spices that are taking up their precious cupboard space. It has five tiers to hold 45 jars, it's made of black metal and it's designed so that you can see the labels on each one of your spice jars. It even folds if you ever want to take it down. It could either be mounted on a wall or hung on the back of a door, but either way, it's definitely space savvy.
Where to buy a spice rack?
Still looking for a spice rack for your kitchen? See where to shop for a new one below, to save space and add some style to your kitchen.
What to look for in your new spice rack?
If you're designing a small kitchen, then racks that attach to your cupboard doors are a handy space saver, but if you like everything to have its place, a rotating spice rack could be a nice and stylish addition to your kitchen worktop. Make sure you buy a spice rack that is a suitable size for you, if it's too small then you'll only end up filling the cupboard again, and if it's too large then it can look a little sad if not fully stocked.
Don't forget to opt for a spice rack that's made of a material that is easy to clean, as this will inevitably get dirty and covered in seasoning while you are cooking up a storm.
You might also need to buy some jars for your spice rack, if your new rack doesn't come with them included. And, don't forget labels – you can find a selection of our favourites below.