Whether you have a tonne of paperwork you need to sift through, or if you're just looking to get your home office more organised, we've rounded up the top five shredders to help you find the best, whatever your budget...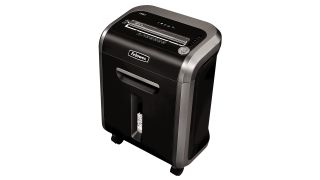 1. Fellowes Powershred 79Ci
A jam-proof machine for high quantities of paper
Specifications
Best for: High quantities of paper
Capacity: 23L
Shred: Cross-cut
Max. Sheets: 14
Reasons to buy
+Pull out bin+Jam-proof technology
Reasons to avoid
-Gets quite hot
This powerful shredder is great for a home office that has a high quantity of documents to dispose of on a daily basis. Not only does it shred paper but it can also cut through staples, credit cards and CDs. It can take up to 14 sheets of paper at a time and the pull-out bin makes it incredibly easy to dispose of the shreds when you're finished. Customers noted the machine can get a little hot and overheat if used for too long, but for frequent everyday shredding in standard quantities this machine holds up well and gets the job done quickly and efficiently. Users also say it is surprisingly quiet which is a desirable factor when shredding so often.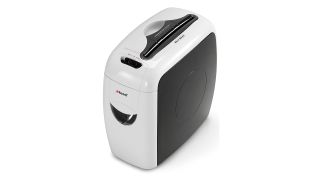 2. Rexel Style+
A compact shredder for small offices
Specifications
Best for: Compact value
Capacity: 12L
Cut: Cross-cut
Max. Sheets: 7
Reasons to buy
+Shreds credit cards+Auto start/stop
Reasons to avoid
- Gets full quickly
If you're working with a small home office, more compact shredder would fit in easy. It can take up to seven sheets at a time and works fine on credit cards and other strong materials such as staples. Users find it easy to feed the paper into the machine and easy to empty with its pull-out bin but it has the potential to jam if not emptied when full. It does tend to get full quickly if you're shredding on a daily basis but for those only shredding occasionally, this is a handy little machine.
3. Fellowes Powershred 99MS
Large capacity machine for some serious shredding
Specifications
Best for: Large capacity
Capacity: 34L
Shred: Micro-cut
Max. Sheets: 14
Reasons to buy
+Quiet+SafeSense technology
Reasons to avoid
-Very expensive
This shredder means business. Not only is it huge, but it is super smart and quiet at the same time. It features specialist technology that can detect when hands are too close to avoid any horrible accidents and it aims to be much quieter than other standard shredders to help minimise disruption to the rest of the house or office. Users find it smooth to feed and have no problem feeding it continuously without any jamming. A little pricier than others but if you produce a lot of sensitive paperwork this shredder will definitely save you time in the long run.
4. Bonsaii EverShred C169-B
This shredder has up to 30 minute's runtime for big shredding jobs
Specifications
Best for: Longest runtime
Capacity: 17L
Shred: Cross-cut
Max. Sheets: 14
Reasons to buy
+Shred continuously for 30 mins+Jam protection
Reasons to avoid
- Not the finest cut
If you've got masses and masses of documents that need to be destroyed, then this shredder will serve you well. It features overheating and overloading protection; something many other shredders don't have. This allows you to shred continuously for up to 30 minutes without the machine going into overdrive. Some users with extra sensitive documents say this machine doesn't cut as finely as they'd like, but for general letters and documents it is efficient and effective in shredding it into confetti-like pieces that can then be safely disposed of.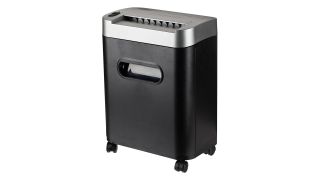 5. AmazonBasics 7- to 8-Sheet Micro-Cut
A great value shredder which cuts into extra tiny pieces
Specifications
Best for: Micro-cut
Capacity: 11.4L
Shred: Micro-cut
Max. Sheets: 7
Reasons to buy
+6 x smaller shred+Robust
Reasons to avoid
- Max. 5 minute run time
This AmazonBasics shredder is excellent value for money and is ideal for anyone who wants extra peace of mind that their information has been totally destroyed. It has micro-cut blades which cut paper into tiny pieces which are 6 times smaller than the average strip shredder, and it also has a special credit card slot to dispose of bank cards. It doesn't have a very long run time, and requires 30 minutes of cool down before you shred again, but for anyone who only shreds occasionally, this is an excellent value for money machine that will hold up well for years to come.
Want more advice on home office tech?