You don't have to be Michel Roux Jr to own a good quality knife set. Whether you're moving house, redecorating your kitchen or you're simply tired of battling with every single ingredient you prepare, a new knife block will make mealtimes a breeze, and also contribute to the stylistic qualities of your kitchen.
Scroll through our buying guide to find the best kitchen knives for quality preparation.
What to consider when buying a kitchen knife set
Most domestic kitchen knife blocks will contain the essential: an all purpose cook's knife for general chopping and slicing; a bread knife for making slicing through loaves less laborious; a small serrated knife for carving through veg skin, rind and peel; a carving knife for prepping the main event of your Sunday dinner; and possibly a Santoku knife, which has a blunt end for fine chopping and dicing.
But the knives are only one aspect of the product. Knife blocks come in all shapes and sizes, with traditional wooden blocks, ergonomic yet stylish blocks and transparent blocks all owning a place in the market.
A good set of quality kitchen knives is a hefty investment, and while you may ask why a basic unbranded set from a high street retailer hasn't been included in our list, we can safely say that you won't receive the same longevity or usability factor.
Typically, knives are forged from stainless steel, which is a strong, durable metal. People that cook regularly will tell you that they require sharpening fairly often, depending on the amount of use they receive. If your experience with stainless steel has you wondering about harder materials, Japanese Damascus steel is of a superior composition, thanks to its carbon steel core and stainless steel exterior, and requires sharpening less frequently.
1. Robert Welch Signature Knife Block Set with Sharpener
The classic combination of silver and black gives this knife block set a stylish edge
Specifications
Best for: Best Investment Set
Material: Stainless Steel
Contents: 22cm Bread Knife, 23cm Carving Knife, 14cm Cook's Knife, 14cm Kitchen Knife, 12cm Serrated Utility Knife, 8cm Vegetable/Paring Knife
Reasons to buy
+ Includes a knife sharpener + Part of an award winning range
Reasons to avoid
- All knives are curved, some cooks may prefer flat blades
Robert Welch is a trusted brand within the world of fine cuisine, so buying this set of stainless steel kitchen knives is more of an investment than a generic purchase. Featuring a black handle embellished with the Robert Welch signature, these knives are elegant as they are ergonomic and have been carefully chosen from the Signature range to ensure cooks have the necessary tools for dicing and chopping to filleting fish. A bonus is the knife sharpener, however users say that there are better ones out there if you're willing to buy one separately.
2. Mercer Culinary Genesis 6-Piece
Avoid the guessing game and reach for the right knife first time with this glass knife block
Specifications
Best for: Value
Material: Stainless Steel
Contents: 8" Chef's Knife, 8" Bread Knife, 6" Boning Knife, 5" Utility Knife, 3.5" Paring Knife
Reasons to buy
+ Great value + Knife block available with a stainless steel or wood finish
Reasons to avoid
- Vertical block is less convenient than a slanted one
This knife set offers great value for money, as its RRP is less than our first pick, yet users can't seem to find anything negative to say about the blades, which makes us believe it's worthwhile considering. They are similar in appearance to the Robert Welch knives, with the Mercer branding embellished on the handle. The difference seems to be in the flat blade, which some chefs may prefer, and the lack of a sharpener. With the choice between a stainless steel or wood finish block, this is certainly one for modern, traditional and professional kitchens - a great all-rounder.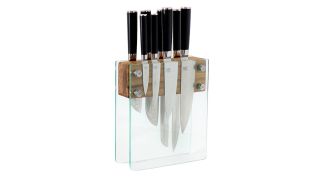 3. ProCook 8 Piece Damascus Knife Set
The cutting edge of knife design
Specifications
Best for: Damascus Steel
Material: Japanese Damascus Steel
Contents: 9cm Paring Knife, 13cm Utility Knife, 13 & 18cm Santoku Knives, 15cm and 20cm Chef's Knives, 23cm Bread Knife, 25cm Carving Knife
Reasons to buy
+ Incredibly sharp and durable + High-quality handle and blade
Reasons to avoid
- Very expensive
The old saying 'you get what you pay for' couldn't be truer when it comes to knife sets. While you may only really appreciate the difference if you work in a professional kitchen, the fact that these knives rarely need sharpening is a homage to the amount of skill that has gone into their construction. Damascus knife sets are preferred for their strength and durability and are designed to withstand the tribulations of peak service in a professional kitchen. With its magnetic oak support and green tinted glass, the block, too, is refined in its design, making the extortionate pricing justifiable.
4. Joseph Joseph Elevate Knives Carousel
A fun to look at, colourful Knife set from homeware favourite Joseph Joseph
Specifications
Best for: Best Budget Set
Material: Stainless Steel
Contents: Paring Knife, Serrated Knife, Santoku Knife, Chef's Knife, Carving Knife, Bread Knife
Reasons to buy
+ Affordable + Ergonomic, compact design
Reasons to avoid
- May need to invest in a sharpener too
Even for domestic kitchens, a quality knife set is still fairly expensive. This stainless steel knife set from reputable brand Joseph Joseph will provide you with all the utensils you need to work your way through your favourite recipe book. The slits that run down the side of the block enable you to easily reach and extract your required knife, while the handy colour coding means you'll always pull out the right one. With a non-stick coating, you should be able to chop with ease, making home cooking less or a chore and more of a pleasure.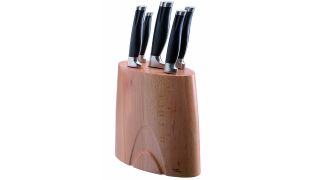 5. Jamie Oliver Filled Knife Block
A professional quality knife set, designed for domestic kitchens
Specifications
Best for: Value Edge Retention
Material: Stainless Steel
Contents: 11cm Paring Knife, 15cm Utility Knife, 19cm Chef's Knife, 20cm Carving Knife, 22cm Bread Knife
Reasons to buy
+ Sturdy wooden knife block great for traditional kitchens + Should retain their edge well
Reasons to avoid
- Lacks a small serrated knife
Any product with a chef's name tagged along with it should be of superior quality, and this Jamie Oliver Japanese steel knife set shouldn't let anyone down. Because of the construction of the steel blades, sharpening shouldn't need to be so frequent, and thanks to the embellished labelling on the tip of the knife, knowing which one is which when you come to use the set shouldn't be a problem. The beech wood block is traditional in appearance, and should complement most domestic kitchens. They're not particularly pricey, too.
What more advice on the best kitchen gadgets? Check out our buying guides...