Keeping up with your fitness can be hard, especially when packed schedules are filled with work and children. While heading out for a quick run is convenient enough to do, gathering up your gym equipment, getting in the car and driving over to your nearest fitness hub can take too much time out of your day. Now, it's perfectly possible to work out in the comfort of your home. Get home from the school run, quickly change, and bash out 30 minutes of cardio and 15 minutes of toning before it's time to cook tea.
With cardio, strength, muscle building and resistance equipment readily available to buy, it's perfectly possible to purchase your own gym for the less than an annual gym membership - the luxury health clubs can charge up to £100 a month.
So what equipment should you be looking at if you're considering building your own gym? Well, what results do you want to see from your training? To build your cardio strength, a rowing machine, exercise bike or even an indoor skipping rope will do a great job of getting the pulse racing. If you're happy with your running schedule but want a room where you can focus on toning your muscles, a set up dumbbells will allow you to up the resistance when it comes to lunges, balancing or bench pressing.
You'll also need to consider how much you're willing to spend. Handheld equipment such as exercise balls or skipping ropes are going to be far more financially accessible than something like a rowing machine, which is why our list covers a mix of both. You'll also need to consider the amount of space that you have to play with. A skipping rope is going to need quite a bit of room, while an exercise bike shouldn't take up too much.
1. Concept 2 Indoor Rower
This indoor rower is used by professional athletes
Specifications
Best for: Everyday use
Type: Rowing machine
Portable: Yes - it folds up
Footprint: 274cmx122cm
Reasons to buy
+ Full body workout + Used by pros
Reasons to avoid
- Can be hard to stay motivated
An indoor rower is a great choice for that first piece of machinery, as it offers both cardio and toning. You can completely control the resistance setting of the machine by raising or lowering your arms as you row, while the back and forth motion of the seat works your legs, your glutes and your core. This particular machine is so good that it's used by pros, and with it come quite a few bells and whistles. The rowing machine isn't the most exciting machine in the gym, but with preset workouts and games displayed on the performance monitor, you can get the most out of your training. It also connects to your smartphone and heart rate monitors so you can collect additional data on your training efforts.
2. ProForm 225 CSX
Keep up your cycling during the cold winter months
Specifications
Best for: Controlled cardio
Type: Exercise bike
Portable: No
Size: H161cmxW54cmxD96cm
Reasons to buy
+ Interval training + Magnetic resistance
Reasons to avoid
- Only 8kg flywheel
This bike will by no means replicate the toughest mountainous cycling conditions but if you're looking to simulate the kind of mileage you were covering during the summer because you don't want to lose your fitness, this bike is a great buy. One of the greatest attractions of this bike is its interval training, which allows you to work and rest to build up strength and stamina. ProForm have loaded 21 programmes into the system, so you can mix and match and not become bored of the same exercise routine. The display monitors your calories, distance, pace, pulse, resistance, speed, time and watts so you can keep track of your improvements as you train.
3. BeMaxx Fitness Skipping Rope
A rope designed for high speed jumping
Specifications
Best for: High intensity training
Type: Skipping rope
Portable: Yes
Size: Length 10ft (adjustable)
Reasons to buy
+ Improves strength and endurance + Quick and convenient exercise
Reasons to avoid
- Requires a fair amount of space
A quick burst of high intensity training to get the heart rate up is a great way to make you feel good, and when all you need to do is grab the rope and start jumping, there's no excuse for not exercising. BeMaxx have equipped this rope with 90 degree ball bearings to give it one of the fastest turn speeds, while the ergonomic handles are very grippy so you can keep control of the rope when things get hot and sweaty. You can adjust the handles to your preference and choose between a heavier or a lighter rope depending on your workout. A bonus feature is the free e-book, which includes a range of workouts incorporating the rope.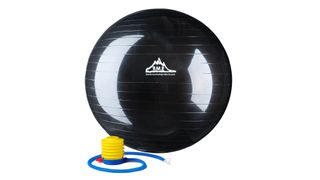 4. Black Mountain exercise ball
Great for resistance, toning and stretching
Specifications
Best for: Stretching
Type: Exercise ball
Portable: Yes
Size: Available in 45cm, 55cm, 65cm, 75cm, 85cm
Reasons to buy
+ Comes in a range of sizes + Great for different workouts
Reasons to avoid
- Not for cardio
Playing with a bouncy ball seems like good fun but using it for exercise is a completely different kettle of fish. If you're looking to improve your balance and your core strength, buying an exercise ball is a no-brainer. Coming in a range of sizes, some are better suited to certain exercises, but starting with the standard one for your height is always a good thing to do. Coming with a pump (which some reviewers find takes too long to do its thing) and a starter brochure, you can get to grips with some of the more basic exercises or throw yourself straight into your usual gym routine.
5. Bowflex 2-24 KG SelectTech Dumbbells (Pair)
Great for varying the intensity of your weight training
Specifications
Best for: Weight training
Type: Weights
Portable: Yes
Size: Length 42cm
Reasons to buy
+ Space efficient + Weight range of 2-24kg
Reasons to avoid
- Warm-up required
The best gym routines blend cardio with weight training as making the pulse race before your start flexing is the most efficient way to see results. That brings us to the only downside - dumbbells require a longer gym session than using any of the cardio machines, which may not always fit into your busy schedule. Compacted into two small cases, these won't take much space up in our gym but should certainly make a stand results-wise. If you don't have an exercise bench, you can work out on the floor or an exercise ball. Bowflex have included an easy selection dial for quick weight changes and there's a plate locking system for extra safety.