Keeping up with your fitness can be hard, especially when packed schedules are filled with work and children. While heading out for a quick run is convenient enough to do, making time to get to the gym can be hard. Now, it's perfectly possible to get in a workout from home buy dedicating some space to a home gym. Get home from the school run, quickly change, and bash out 30 minutes of cardio and 15 minutes of toning before it's time to cook tea.
Looking for more home gym equipment recommendations? Check out our buyer's guides for tons of advice.
THINGS TO CONSIDER
So what gym equipment should you be looking at if you're considering building your own gym? Well, what results do you want to see from your training? To build your cardio strength a fitness step will allow you to get the most out of your fitness DVDs, and even a skipping rope will do a great job of getting the pulse racing. If you're happy with your running schedule but want a room where you can focus on toning your muscles, a set up dumbbells will allow you to up the resistance when it comes to lunges, balancing or bench pressing.
You'll also need to consider how much you're willing to spend. Handheld equipment such as exercise balls or skipping ropes are going to be far more financially accessible than something like a rowing machine. You'll also need to consider the amount of space that you have to play with. A skipping rope is going to need quite a bit of room, while working out with a set of dumbbells shouldn't take up too much space.
1. BeMaxx Fitness Skipping Rope
A rope designed for high speed jumping
Specifications
Best for: High intensity training
Type: Skipping rope
Portable: Yes
Size: Length 10ft (adjustable)
Reasons to buy
+ Improves strength and endurance + Quick and convenient exercise
Reasons to avoid
- Requires a fair amount of space
A quick burst of high intensity training to get the heart rate up is a great way to make you feel good, and when all you need to do is grab the rope and start jumping, there's no excuse for not exercising. BeMaxx have equipped this rope with 90 degree ball bearings to give it one of the fastest turn speeds, while the ergonomic handles are very grippy so you can keep control of the rope when things get hot and sweaty. You can adjust the handles to your preference and choose between a heavier or a lighter rope depending on your workout. A bonus feature is the free e-book, which includes a range of workouts incorporating the rope.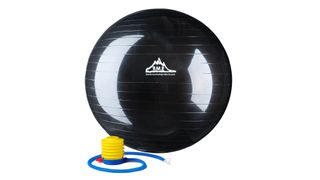 2. Black Mountain exercise ball
Great for resistance, toning and stretching
Specifications
Best for: Stretching
Type: Exercise ball
Portable: Yes
Size: Available in 45cm, 55cm, 65cm, 75cm, 85cm
Reasons to buy
+ Comes in a range of sizes + Great for different workouts
Reasons to avoid
- Not for cardio
Playing with a bouncy ball seems like good fun but using it for exercise is a completely different kettle of fish. If you're looking to improve your balance and your core strength, buying an exercise ball is a no-brainer. Coming in a range of sizes, some are better suited to certain exercises, but starting with the standard one for your height is always a good thing to do. Coming with a pump (which some reviewers find takes too long to do its thing) and a starter brochure, you can get to grips with some of the more basic exercises or throw yourself straight into your usual gym routine.
3. Bowflex 2-24 KG SelectTech Dumbbells (Pair)
Great for varying the intensity of your weight training
Specifications
Best for: Weight training
Type: Weights
Portable: Yes
Size: Length 42cm
Reasons to buy
+ Space efficient + Weight range of 2-24kg
Reasons to avoid
- Warm-up required
The best gym routines blend cardio with weight training as making the pulse race before your start flexing is the most efficient way to see results. That brings us to the only downside - dumbbells require a longer gym session than using any of the cardio machines, which may not always fit into your busy schedule. Compacted into two small cases, these won't take much space up in our gym but should certainly make a stand results-wise. If you don't have an exercise bench, you can work out on the floor or an exercise ball. Bowflex have included an easy selection dial for quick weight changes and there's a plate locking system for extra safety.
4. Bodymax Double Handle Medicine Ball
With two handles for maximum versatility
Specifications
Best for: Conditioning
Size: H22 x W22 x D22cm
Weight: 6kg
Type: Medicine ball
Reasons to buy
+Alternative to the kettlebell +Durable grippy rubber outer
Reasons to avoid
-6kg may be a bit heavy as a starter
If you've never worked out with the help of a medicine ball before, it might be about time you did. They're a relatively compact way to both work out a range of muscle groups and improve stamina, meaning they really earn their space in any home gym. This double-handled medicine ball is particularly versatile, allowing for a wider variety of exercises, and the durable rubberised plastic outer makes it easy to grip, even with sweaty hands. Some even said they preferred this traditional ball to the somewhat trendier kettlebell – high praise indeed!
5. Escape Fitness Deck
Make the most out of those workout DVDs
Specifications
Best for: Aerobics
Size: 205mm (flat),980mm(extended)x330mmx1100mm
Weight: 13kg
Type: Fitness deck
Reasons to buy
+16 configurations +Also transforms into a weights bench
Reasons to avoid
-Cheaper decks are available
Get the most out of your fitness DVDs, do some weightlifting or even complete a BodyPump session with the amount of configurations this fitness deck is capable of. Perfect for home gyms, the deck is easy to store away and even comes with with an internal storage section so you can easily stow away weights. If space is on the small side, you no longer need to worry about finding the room for a weights bench, as this deck does it all, with three angles to choose from so you can form the best position for your workout routine.
Want more home gym inspiration?