Looking to splurge on the best punching bag? Whether it's to go inside your new home gym, or, perhaps you have space for one in your bedroom? We've found five best punching bags for home use. You needn't head all the way to the gym to work out those arms.
When choosing a punching bag, you'll need to decide whether you want something freestanding, or one that needs to be hung up on your wall or ceiling. That and you should choose a weight to suit the fitness level you are at – 12kg ish for beginners, 20kg - 50kg for intermediate and anything more than that is best for those who know what they are doing. We've listed what each punching bag is filled with and made from, should you be looking for a particular material or avoiding leather. Keep scrolling for our top five buys to get sweaty from home.
Find more best home gym equipment in our ultimate guide.
Best punching bags
Why you can trust Real Homes Our expert reviewers spend hours testing and comparing products and services so you can choose the best for you. Find out more about how we test.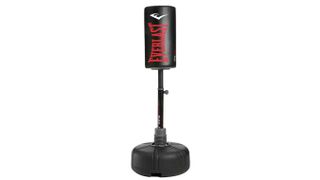 The Everlast Omniflex Freestanding Heavy Punch Bag is our best punching bag. It's well-made from long-lasting high-density polyethene, it sits on a stand so you needn't make holes in your wall, and it's manufactured by a popular sporting brand. This punching bag weighs 60kg by itself, before adding water or sand to its base. Boasting an Omniflex neck to absorb impacts, reduce the base movement and improve the stability of the bag, this is a great pick for those who like to practice quick and responsive strikes. An easy and convenient way to build endurance and agility from home since it's freestanding, this punch bag can be used by any size adult since it's height-adjustable up to 171cm.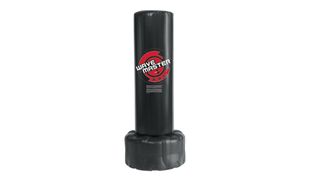 Standing at 5'9 inches tall, the Century Wavemaster XXL Training Bag is perfect for kicking and punching practice and because it doesn't move – it gives you a more intense workout without the need to wait until it has swung back and settled slightly for the next impact. Featuring a vinyl exterior, this option may not be the most authentic, but users report that they are consistently happy with the quality, making it totally worth the price tag. This bag should make the perfect sparring partner outside of the gym: there's freedom to move 360 degrees around it (should your space allow).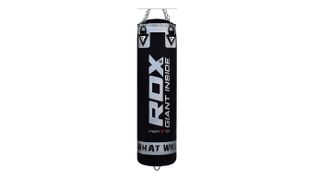 Buying a punching bag for your home gym? The wall-mounted RDX Heavy Punch Bag comes with gloves and a pull up bar so you can start building your fitness levels form home. The bag itself is lighter than others on our list, so it's more ideal for beginners looking to improve the power of their punches, but probably too light for those who are capable of full-throttle impact. The gloves won't be representative of the highest quality (but are perfectly fine for beginners, too) while the pull up bar will allow you to build your upper strength for quicker results.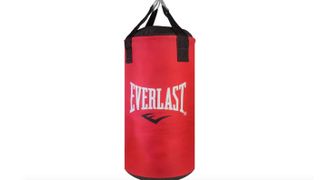 Everlast is pretty much a failsafe brand if you're looking for the best punch bag and this is, without doubt, one of our favourites for beginners and small home gyms. As the same suggests, home gym equipment from Everlast is built to last. The Everlast Junior punching bag comes with pre-formed padded gloves so all you need to buy is a wall bracket. It's perfect for bedroom use or if your home is on the smaller side, too. A great buy for beginners, it can help build muscle and improve agility, all from home. It's also budget-friendly and built to last.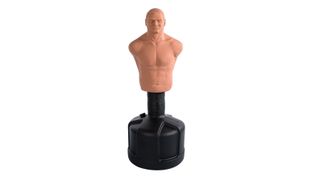 If you're looking to improve the accuracy of your punches or fancy a light and fast workout, the Century BOB Freestanding Punch Bag may just do the trick. With a large base filled with either sand or water, BOB has the weight to withstand fairly strong punches. However, due to less impact absorption, it's not built for power development. You can use BOB to get ahead of your sparring at home; as with our third pick, he's freestanding, so you have the freedom to move 360 degrees around him should your gym space allow.
How to buy the best punching bag
Where to buy the best punching bag
Shape, size and weight
They come in all shapes, sizes and weights, with smaller, lighter ones helping you to develop time and speed and long heavy ones helping with power and conditioning.
Material
It's also worth considering the material of your punchbag. Most standard ones are made using fake leather, giving them the strength to take regular pummelling without showing much in the way of wear and tear. Genuine leather bags are great, too, but they're a bit softer and can often be more expensive.
Filling
Surprisingly, the best filling for punch bags is textile – a posh name for shredded clothing. An alternative filling is foam, which is essentially just as good as textile, just not as authentic.
What is the best punching bag you can buy?
In our opinion, the Everlast 4ft Boxing Punch Bag is the best on the market right now. It's affordable and durable as well as a great for all fitness levels – particularly beginners.
Also see...