Looking for the best punch bag? Home gyms are often compact spaces, so they require you to be savvy with the type of gym equipment you put in it. Punch bags are fairly reasonable in size, and can often be taken down from the ceiling and put away when not in use. Alternatively, water-based punch bags can be moved to the side of the room once you've completed your workout, giving you the space to carry out floor exercises if required.
Here's our pick of the best punch bags so you can create a home gym; find the best home gym equipment picks in our buyer's guide. Head over to our home gym hub page where you'll find design ideas and equipment recommendations aplenty.
What to consider when choosing a punch bag
Punch bags are a great way to keep fit, whether you practise boxing or not, as you can use them to build strength, endurance and get your pulse racing during lengthy training sessions.
Shape, size and weight
They come in all shapes, sizes and weights, with smaller, lighter ones helping you to develop time and speed and longer heavy ones helping you with power and conditioning.
Material
It's also worth considering the material of your punchbag. Most standard ones are made using fake leather, giving them the strength to take regular pummelling without showing much in the way of wear and tear. Genuine leather bags are great, too, but they're a bit softer and can often be more expensive.
Filling
Surprisingly, the best filling for punch bags is textile – a posh name for shredded clothing. An alternative filling is foam, which is essentially just as good as textile, just not as authentic.
THE BEST PUNCHBAGS FOR YOUR HOME GYM
1. Boxing MMA 100lbs Heavy Bag Filled
The perfect training bag for avid boxers, kickboxers and martial arts lovers in general
Specifications
Best for: Heavy hitters
Type: Hanging
Material: Vinyl
Weight: 45kg
Filler: Textile
Reasons to buy
+ Heavy weight for improving power and conditioning+ Authentic shredded textile filling
Reasons to avoid
- Will have to be shipped from the USA
A heavy punch bag should ideally weigh more 70lb, so you can guarantee that this bag will put up some resistance when it comes throwing kicks and punches. The weight will prevent it from swinging as much, giving you greater resistance to improve the power of your impact, and you also have the option to purchase it with a D-ring at the bottom, allowing you to attach it to the floor - great if your home gym is a particularly small space. While it's not made from genuine leather, it comes with a 10 year guarantee to quality, with many reviewers expressing how impressed they are with how it performs. In our opinion, this is the best punch bag you can buy.
2. Everlast Everstrike 5ft Boxing Punch Bag
A popular choice for the budget-conscious
Specifications
Best for: All-rounder
Type: Hanging
Material: Premium synthetic leather
Weight: 28kg
Filler: Shredded textiles
Reasons to buy
+Durable+Affordable
Reasons to avoid
- Surface not as soft as leather
Everlast is pretty much a failsafe brand if you're looking for a punch bag. They're well known, and, as the same suggests, their products are built to last. Encased in premium synthetic leather and filled with shredded textiles, this 28kg bag isn't too heavy, which makes it the perfect choice for a lighter weight boxers and kickboxers. It's also worth noting that it has a double end loop to provide increased functionality.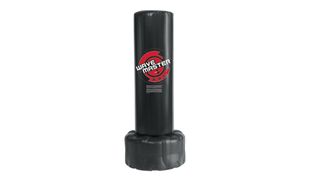 3. Century Wavemaster XXL Training Bag
A heavy, free standing punch bag for intense workouts; this is the best punch bag for movement
Specifications
Best for: Movement
Type: free standing
Material: Vinyl
Weight: 225kg with water filled base
Filler: Foam, base can be filled with either sand or water
Reasons to buy
+ Superheavy + 5'9 tall for kicking and punching
Reasons to avoid
- Slight movement when punched hard
Standing at 5'9 inches tall, this is the perfect bag for kicking and punching practice and because it doesn't move per se, it gives you a more intense workout without the need to wait until it has swung back and settled slightly for the next impact. Featuring a vinyl exterior, it may not be the most authentic punch bag, but users report that they are consistently happy with the quality, making it totally worth the price tag. This bag should make the perfect sparring partner outside of the gym, as there's freedom to move 360 degrees around it, should your space allow.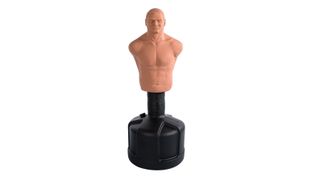 4. Century BOB Freestanding Punch Bag
A popular choice for sparring and target training at home
Specifications
Best for: Sparring/target training
Type: free standing
Material: high density urethane foam
Weight: 122kg with water filled base
Filler: N/A
Reasons to buy
+ Realistic target practice + Full sized
Reasons to avoid
- More for precision work
If you're looking to improve the accuracy of your punches, or fancy a light and fast workout, BOB may just do the trick. With a large base filled with either sand or water, BOB has the weight to withstand fairly strong punches. However, due to less impact absorption, he's not built for power development. You can use BOB to get ahead of your sparring at home; as with our third pick, he's freestanding, so you have the freedom to move 360 degrees around him should your gym space allow.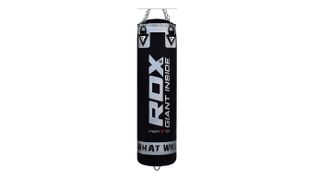 5. RDX Heavy Punch Bag
With gloves and a pull up bar welcome extras, this heavy punch bag is perfect for beginners
Specifications
Best for: Beginners
Type: hanging
Material: Maya hide leather
Weight: 25kg
Filler: T
Reasons to buy
+ Choose from three different designs + Pull up bar will allow you to vary your workout
Reasons to avoid
- Perhaps too light for those experienced in contact sports
If you're a beginner, you're probably looking for a high quality package so you can swing right into it. This wall mounted punch bag comes with gloves and a pull up bar so you can start building your fitness from day one. The bag itself is lighter than others on our list, so it's perfect for beginners looking to improve the power of their punches, but probably too light for those who are capable of full throttle impact. The gloves won't be representative of the highest quality, but are probably perfectly fine for beginners, while the pull up bar will allow you to build your upper strength for quicker results. The best punch bag for beginners, we think.
6. Lonsdale PU Angle Bag
A soft bag for lighter impact while practising upper cuts
Specifications
Best for: Uppercuts
Type: Single angled hanging bag
Material: PU outer
Weight: 28kg
Filler: Soft inner filling
Reasons to buy
+ Designed so you can practice your uppercuts + Cheap and cheerful
Reasons to avoid
- PU outer won't be the highest quality
When you're perfecting your technique, the impact of continuous punching can take it out of your joints. If you're looking to work on your uppercut specifically, this single angled punch bag will enable you to mimic the right movement so you can develop your skills more effectively. While some people may not enjoy the soft inner filling, those who suffer with pain because of the impact on their hands, may benefit from a bag that offers a higher level of absorption.
Want more home gym advice?