If you're searching for the best bath towels to display and use in your bathroom, we can help you make a well-informed choice. We've been working to test a range of bath towels in our daily lives, whether post-shower or after taking a steamy dip in the tub, so that you can buy super fluffy, impressively absorbent and high-quality bath towels online, with peace of mind. This way, you needn't worry about hiding your ragged old towels away when guests come over. You'll want to display these towels for all to see and feel.
Before you dive straight in, first you might want to think about what you want from a bath towel. Which size would you prefer? We suggest going for bath sheets as they are generous in size. Are you fussed about thickness? What about colour? When it comes to GSM (that's grams per square meter), the higher this number the more absorbent and thick the towel is. We've spoken to some experts in the field, Joanna Ross who is General Manager (Product & Innovation) at Sheridan being one of them, for some advice. 'It's important for your towels to be incredibly soft and superiorly absorbent, but longevity is also imperative' warns Joanna. 'Colours are also key and have the ability to transform a room. Whether it's adding a pop of colour with a bold red or toning down a bathroom with a calming blue'.
Wondering where to put your new towels in your bathroom? We've found plenty of towel storage ideas for inspiration.
---
The best bath towels you can buy in 2023
Why you can trust Real Homes Our expert reviewers spend hours testing and comparing products and services so you can choose the best for you. Find out more about how we test.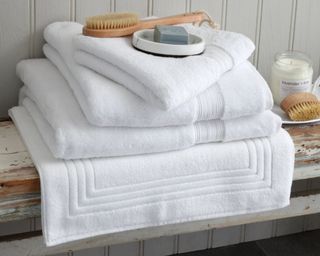 This pair of bath towels from Scooms screams luxury, not just because they are nice and thick and in turn super absorbent, but because they are the softest towel we've ever used. And we don't say this lightly (no pun intended). We can highly recommend the bath sheet size of this towel which is generously sized, and it comes in three colours for you to choose from. We noticed that on first use, the towel is so soft you might find it difficult to dry yourself as it isn't very absorbent. So, give it a wash and hang it to air dry before you use your new towel. It's hands-down one of the most absorbent towels we've ever used and the softest, too. You can freshen it up in the tumble dryer for 10 minutes after air drying for extra fluffiness, but there's definitely no need to dry it in the tumble dryer for the entire time. We've been super impressed with how soft these towels have stayed, and we've had guests comment on them too. They also come with a hook for easy hanging!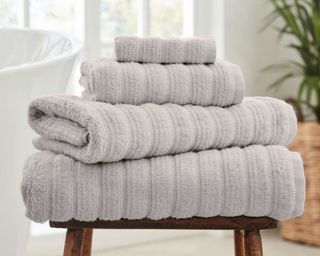 When we say that these towels from DUSK are soft, we really mean it! We have tried and tested (and very much loved) each and every size of this towel, and we have continued to be highly impressed with their fluffiness. The face cloth is super soft on your face whether wet or dry, the hand towel melts in your hands as you dry them after washing, and the bath towel is great for either drying your hair or as a smaller towel wrapped around your body. The bath sheet is an extra luxury as this huge towel can get you dry in no time. All are super lightweight and quick-drying, so they won't go damp after two uses, while they come in six colours. They are 100 per cent cotton, too, as well as 500GSM. We recommend these towels to anyone, especially for use during the summer as they are just so impressively lightweight. In terms of care, you can also pop them straight into your washing machine.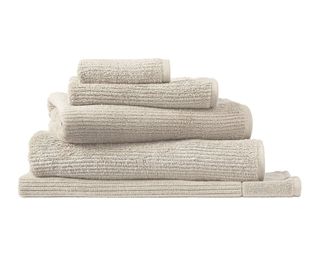 The soft feel of these Sheridan towels means that they scream luxury – plus the bath sheet size is nice and sizeable. We've been very impressed by the absorbency of these towels, not to mention how fast they work to get you dry. Their ribbed texture makes them soft and super durable, plus they are made of 100 per cent cotton. When we say absorbent we also mean fast-drying, so rest assured you can use this towel for more than two washes. They come in four colourways (we chose the Pumice), and they wash and dry to be super fluffy. These are, hands down, the best bath towels that you can buy if you want a luxury option. Just a note: they're quite heavy at 670GSM, just something to bear in mind if you are searching for a lighter towel.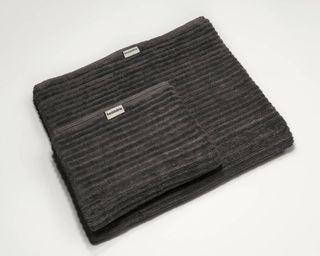 These bath towels come individually in three sizes including a face cloth, a hand towel and a bath towel. The bath towel itself is pretty large and more like a bath sheet, and the entire set is ribbed for faster drying. Though they are soft, they manage to absorb water pretty well, just be aware that they are weighty. We love how fluffy they come out of the wash, and best of all they are made of 100 per cent Turkish cotton. Luxurious is one word to describe these Beddable towels, as well as thick and most of all: impressive. They're brilliant for a guest bathroom, too. But, be warned as you'll probably find yourself pinching them for your own use.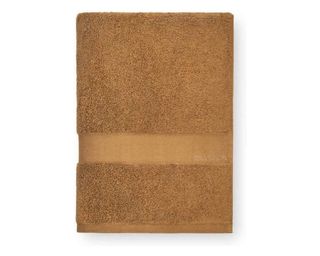 If you after some luxurious towels, maybe for a guest bathroom or you are upgrading your own towels, then these Calvin Klein ones are super soft and they will last for years of use. They are also thick to help dry your body faster, and they are 600GSM. We've been using these towels in our bathroom for years, and so far we've got zero complaints. They are, obviously, 100 per cent cotton, and they do come in four sizes from a face towel to a bath sheet. These towels are rather heavy, so we think they would be ideal for use in the winter – though you can obviously use them in the summer, too. Each one has the words Calvin Klein stitched on them, and you can choose from 10 lovely colours.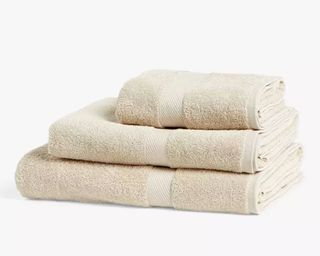 We've been highly impressed with these John Lewis & Partners towels from their budget-friendly ANYDAY range. Not only do they come in a range of colours but they also come in three sizes – hand towel, bath towel and bath sheet. We have tested the hand towel in white, and we think it's impressively soft – and it washes up well. We would say these are the best towels if you don't have a lot of money to spend. They would equally be great for occasional use, for a guest bathroom perhaps, or they would be ideal for a student. At 490GSM they're quite nice and lightweight, just bear in mind that they cannot be ironed.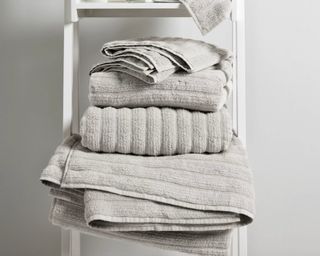 In an elegant range of neutrals, and with a distinctive wide ribbed design, these bestselling hydrocotton towels from The White Company are just the thing if you're after something subtly different from the average towel. If you are searching for a large bath towel, then the Super Jumbo size is your best bet as it measures W115cm x L180cm. However, there are three other sizes available, too. The low twist technology used makes these towels supremely fluffy, and reviewers agree that it succeeds, commenting favourably on the softness and absorbency, and how well they wash. For their cosy factor and easy care, we think these towels are fab for the family home. They are also nice and lightweight, and perfect for year-round use at 500GSM.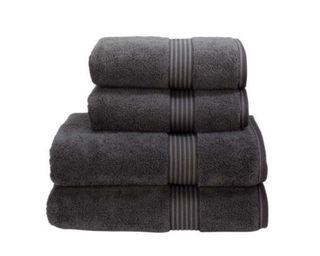 These impressive towels from Christy are Made in Green certified, therefore they are proudly sustainably made. Not only that, but they are absorbent and breathable, so as to lengthen their use between washes and prevent them from going damp after one use. With a 100 per cent Supima cotton construction, they are 650GSM to make them fluffy and a little weighty. These towels come in four sizes and 15 unique vibrant colours, plus you can buy an entire set to make life easier. We say to go for a unique shade, to inject some colour into your bathroom. We're yet to test one of these towels, but rest assured that the 5-star online reviews offer peace of mind.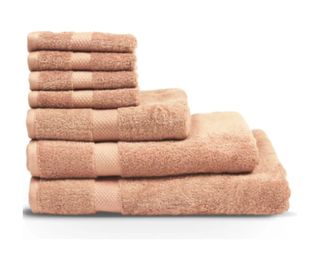 If it's a colourful towel that you are after, whether you are buying all new towels after a bathroom renovation or you've recently bought your first home, these ones are great. Chose from a range of subtle yet pretty colourways, from blush pink to ochre, teal, eucalyptus and even oatmeal. They come in four sizes, including a face cloth, hand towel, bath towel and a bath sheet. These spa-like towels are made of 100% plush combed cotton, with a basket weave band. They are also 650GSM in weight, and the best part is that they are made to retain their gorgeous colour.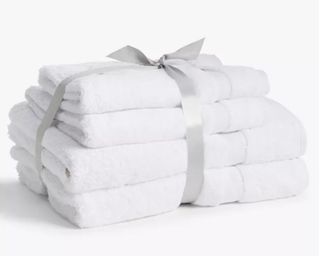 Searching for a set of bath towels? Perhaps to give to someone as a gift, or to live inside your guest bathroom? This set from John Lewis is made entirely from Egyptian cotton to impress, plus it includes two hand towels and two bath sheets. You can select from seven colourways to suit your bathroom decor, and there's the bonus that these towels are among John Lewis' plushest, at 700GSM. This makes them not only thick and fluffy, but also highly absorbent so that you can use them several times before they need to be washed. This set boasts a Life Natural finish, meaning that they are infused with natural peppermint which is antimicrobial. No, they don't boast a minty fragrance, but they will stay odour-free and fresh.
---
How do we test bath towels?
Our Deputy Ecommerce Editor, Annie Collyer, has personally tested all of these towels in this guide for us. This makes it easy for her to compare bath towels by fluffiness, thickness and also absorbency. She has washed all of these towels more than 5 times before reviewing them, and she has been using them for a minimum of 3 months. When it comes to washing, Annie uses her Smol washing tablets with zero fabric conditioner and washes her towels according to label instructions, otherwise at 40ºC. Usually, she will air dry and then tumble dry the towels.
For more information on how we review and test products at Real Homes, see our dedicated page.
Bath towels or bath sheet?
You might be wondering: what is the difference between a bath towel and a bath sheet? Simply put, bath sheets are a lot larger than bath towels. These towels are designed so that you can properly wrap them around your body.
We spoke with towel brand, Beddable, about this, and they suggest 'you should always check the size of towels prior to purchasing. Perhaps not the most important consideration, but there are few things worse than a towel that can barely wrap around you'. We couldn't agree more, which is why we would recommend always going for the bath sheet size if you can. 'The standard bath towel measurement is 65-75cm x 130-145cm', the Beddable experts add.
What are the best quality bath towels?
We've concluded that Scooms' Egyptian Cotton Bath Sheet is the best bath towel out there for absorbency, softness and quality. It gets 5-stars from us.
If you're on a budget, then DUSK's Monaco Supreme Cotton Towel would be your best option as they are fluffy and lightweight, while they come in four sizes and six colours.
Things to consider when buying new bath towels
Material
Towels come in various materials from 100 per cent cotton to Egyptian cotton and Supima cotton. There's no best of the best here as it's mostly down to personal preference. Though there are some things to consider when it comes to particular materials. We spoke with Farah Arshad, Head of Design at DUSK, and asked everything that you need to know when choosing a towel material.
Waffle weave towels
We think waffle weave towels look luxurious, and Farah Arshad from DUSK agrees. 'Waffle weave towels are known to be lightweight and quick-drying. Additionally, these towels are proven to have excellent exfoliating effects. This is due to the texture of the material, which will leave your skin feeling soft.'
Ribbed towels
Another lightweight option, ribbed towels are also a safe bet. Farah says 'ribbed towels give a more luxurious finish as a result of their thicker finish'.
100% cotton towels
You might be tempted to opt for 100 per cent cotton towels, and you would be correct in doing so. This towel material is super popular and for good reason. 'For a cosy towel that's designed to last, look for zero-twist 100% cotton; this method not only creates the fluffiest of towels but it's also extra durable, so it will always feel like new' says Farah.
Size
Towels obviously come in a huge range of sizes, and while it's hard to confuse yourself between a hand towel and a bath sheet, you might want to think about whether you want to spend your money on a bath towel or a bath sheet. We suggest the latter as they are bigger, though with that comes a higher price tag. You might want to measure the bath towels you've picked, and make a decision from there.
GSM
GSM stands for grams per square metre, and this refers to the weight of a towel. The lower this number, the more lightweight the towel, though this can also equate to thickness. Towels with a higher GSM will be slightly more absorbent although thicker. If you want to buy towels for summer and another set for winter, opt for something lighter for the summer and heavy for winter. If you want a decent all-rounder then we say stick to the middle – around 500GSM - 600GSM.
The brains behind Beddable suggest that thickness is commonly the best indicator of how absorbent a towel is. 'The GSM (grams per square inch) is commonly used to identify the density of fibres towels are composed of. The higher the GSM, the thicker and denser the towel'. If you are wondering what a happy average GSM is, Beddable experts say 'whilst towels can range between 300-900 GSM, we found 600 GSM provides the perfect ratio between being super absorbent, yet lightweight and quick to dry'.
Colour
This is a factor that's also down to personal preference, though when speaking with the Beddable experts, they said that you are best to go with a block colour towel. 'We'd suggest avoiding patterned towels. Whilst it may seem as though this could add a pop of fun to your bathroom, it can run the risk of looking outdated. Instead, select plain colours that are in-keeping with your bathroom aesthetic, like a calming blue or neutral grey'.
How to keep your bath towels looking their best?
Once you've chosen your new towels and they've landed on your doorstep, you'll probably wonder how to wash your new towels. It goes without saying that you want to wash them according to their label – most towels say 40ºC wash and tumble dry on low – and don't forget to store them well (folded or rolled) before use, and between uses, you'll want to hang them so they don't get damp and scrunched. Finally, give them a good old shake every now and then to restore fluffiness. To avoid hard towels, put yours in the tumble dryer, as leaving towels to air dry or sun dry is usually the leading cause of hard, crispy towels.
Lots of brands suggest avoiding fabric conditioners whilst washing your towels too. It says on selected John Lewis towels to use only a small amount if you really want to add fabric conditioner to your wash. This is because too much fabric conditioner can reduce the absorbency of your towels. Otherwise, we've seen people add a dash of white vinegar to their machine whilst washing towels to keep them looking their best and to ensure they are clean. Why not give it a try?
Where to buy new bath towels?
If you are yet to find the best towels for your bathroom and budget from our list above, then we've listed more places to shop for best bath towels online. Click through to shop.
Where can I buy bath towels on sale?
We think that the best places to shop for bath towels on sale would be DUSK, House of Fraser and also TK Maxx. Although the latter is mostly great for finding luxury towels for budget-friendly prices.