Looking to replace your old, slightly sad-looking sleeper sofa? Well, now is the time to buy, thanks to all the Labor Day sales happening RN. This year's discounts are also better than ever.
With lots of srsly cute sleeper sofas on sale, it's basically a sign for you to treat yourself to something new. Whether you're after a basic futon bed or a design that's a li'l more stylish, there's a whole host of really great sleeper sofas to choose from.
To help you find the perfect one, we've rounded up a selection of all the best low-cost sleeper sofas that are sleek, stylish, and ideal for (almost) any space. These are all less than $400, and they're ideal for a small apartment living room or even a guest room. Don't miss your chance ahead of hosting season, as sleeper sofas are usually pretty expensive.
Where to shop for a sleeper sofa this Labor Day
This is where to buy a sleeper sofa this Labor Day if you're after a major deal.
6 Labor Day sleeper sofa deals under $400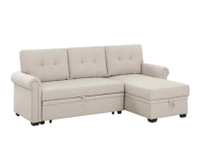 1. Latitude Run 86'' Upholstered Sleeper Sofa | Was $489.99, now $379.99 (save $110) at Wayfair
I have one just like this at home and, honestly, it's the best. Shoppers agree with me, with review after review raving about how great this design is. What's so amazing about it? Well, the easy-to-use pull-out sleeper is fully upholstered in a durable linen-blend material and features ultra-plush back cushions for added comfort. The medium-firm seat cushions are great for sitting and sleeping on, too. Oh, and it comes with built-in storage. What more could you want?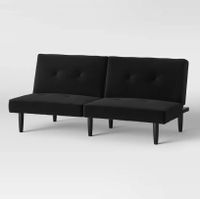 2. Room Essentials Futon Sofa Black | Was $160, now $120 (save $40) at Target
Simple and sleek. This ultra-low-cost sleeper sofa features tapered legs and a medium to firm cushioned seat and back. Quick and easy to set up, it's a great budget-friendly choice for adding an extra sleeping spot to your apartment.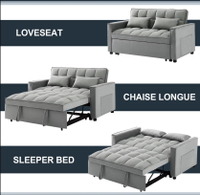 3. Muumblus 55" Pull-Out Sofa Bed | Was $569, now $399 (save $170) at Walmart
This pull-out sleeper sofa is upholstered in super soft velvet and the bed part of it is easy to pull out and use. It has handy adjustable back rests for added comfort, and thanks to its compact design, it should work well in even the smallest of spaces.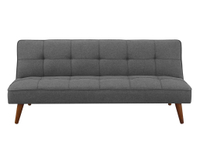 4. Mercury Row Villatoro 66.1" Armless Sofa Bed Sofa | Was $226.99, now $163.99 (save $63) at Wayfair
With an overall rating of 4.4 out of five from impressed shoppers, this armless sleeper sofa isn't something you'll regret buying. With an engineered wood frame and solid wood tapered legs, the faux leather design looks smart and sleek. Plus, it's a really great price. *BRB, just adding one to my cart*.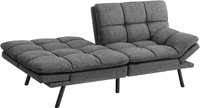 5. Iululu Sofa Bed | Was $349.99, now $259.99 (save $90) at Amazon
Able to be set up in three positions: upright, slightly reclined, and flat, this sleeper sofa can be used as a couch, lounger, or bed. And, get this, it features a split back that allows for one side to be raised while the other is flat. Pretty snazzy, eh? And thanks to its memory foam filling, both the seat and the back rests are super comfy to sit and sleep on. IMO, it's a great buy.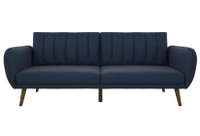 6. Novogratz Brittany Futon Sofa Bed | Was $365, now $237.08 (save $127.92) at Walmart
For a sleeper sofa, there's no arguing with the fact that this design is seriously stylish. With a vertical channel tufted backrest, curved armrests, and tapered solid wood legs, it's nailed that whole "effortlessly chic" look. Not a fan of blue? It also comes in a srsly swoon-worthy green hue.