Many love Dolce Gusto coffee machines for the simple controls and unique designs, but which Dolce Gusto coffee machine should you buy? While many of the best coffee machines come with milk wands for steaming fresh cappuccinos and lattes, but Dolce Gusto machines have milk pods that simply automate a specific type of coffee with the touch of a button. That's why many people see them as the best pod coffee machines, and while the design won't be for everyone, if you like to experiment with different types of coffee these machines are perfect for you.
We did compare Dolce Gusto vs Nespresso machines to make the choice of the top pod models that little bit easier, but if Dolce Gusto is your favourite, which machine should you opt for? Our rundown of the best Dolce Gusto coffee machines is here for you and, as well as our expert advice and links to the best deals around, we'll let you know what reviewers think of their machines.
---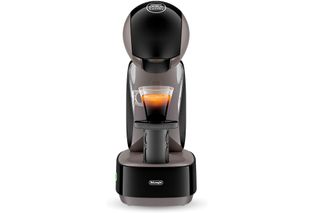 Best features?
It's true of all Dolce Gusto machines, of course, but still worth restating that this capsule system is an easy way to make coffee. The high pressure 15 bar pump means this machine will deliver a tasty drink, too. An auto shut-off when five minutes have elapsed since the last drink was made is an energy-saver, meanwhile.
The verdicts
If you want all the benefits of the Dolce Gusto system and a statement contemporary design on your worktop, this is the machine with your name on it. We enjoyed the espressos and the foamy coffees it made, so it keeps up standards all round.
Reviewers on Amazon rated its value for money most highly of all the features. Its style was also admired, 'this machine looks amazing in a pop-art kind of way', as was the 'fantastic coffee', and the fact that it's 'very easy to use'.
Those who'd bought from Currys gave their best scores to its appearance and ease of cleaning. Coffee that was 'quick and delicious' was also noted. Some people found the water tank fiddly to fit. Others would like the machine to automatically cut off when it has filled your cup to a set measure as it needs to be watched and stopped manually.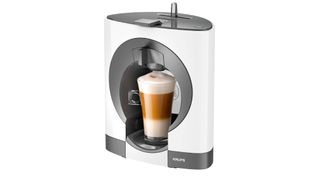 Best features?
It's a piece of cake (with a nice cup of coffee) to use. Pod in, move the lever, stop water when ready. This machine won't demand more than its fair share of the worksurface, either: it's just H31.5 x W24.5 x D18cm. The cup stand is adjustable, so you can put your favourite mug for the drink you're making on there. It also benefits from auto shut-off after five minutes.
The verdicts
We like the look, we like the size, and we like the coffee. It's a very affordable machine, too, plus it's not a hassle to keep clean. It comes in a smart white version, if you want a change from the ubiquitous black.
Amazon's 869 reviewers gave this a commendable 4.4 out of five stars on average with ease of cleaning and ease of use coming out top of the features list. Customers commented that it's 'easy to adjust your coffee to how you like it', 'the machine is so very simple to use', and said that it's 'perfect for a small kitchen'.
It's garnered the views of 832 people at Argos with an overall rating of 4.7 out of five. Highlights for these buyers included the 'delicious coffee', its 'very stylish' appearance, and that it's 'excellent value'.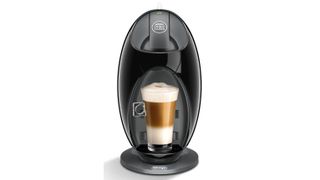 Best features?
It'll brew all your favourite coffees plus everything else that comes in a Dolce Gusto pod including cold drinks. Auto shut-off five minutes after the last coffee, and pump pressure with coffee shop-style power are among its other plus points.
The verdict
Dolce Gusto machines have plenty of great features in common, but with beauty in the eye of the beholder, we think this curvaceous number might appeal to some of you more than other machines. It's a big tick for its coffees and for some of the brilliant deals around, too.
In the best-seller category at Amazon, this model has earned itself 1,910 reviews, and 72% of them are five star with 4.4 out of five overall. For users, it's a winning machine because it's 'the most hassle-free coffee maker we've owned', it is 'easy to operate, easy to clean', and 'the shape of the appliance allows it to take up less worktop space'.
At Argos, the overall score's even better at 4.7 out of five. Here, owners like the 'great coffee and hot chocolate', 'value for money' and are 'really impressed'.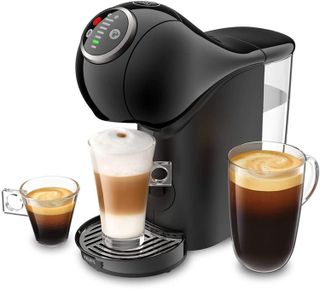 Best features?
Contemporary lines make this machine stand out from the crowd and it won't be a bulky presence on your worktop. The secret? The tech's stored in the base. This machine gets an A+ energy rating as it switches itself off after just 1 minute of inactivity.
The verdict
This is a pricier Dolce Gusto model, but we love its looks as well as its barista-style coffees and like the way you can adjust the size of your drink. It turns out brews rapidly, too, which, as impatient coffee drinkers, we rate highly.
On Amazon, its overall score is a healthy 4.1 out of five stars with top marks given for its ease of use. Its best features according to this circle of critics? It makes 'a good cup of coffee very quickly', it is 'very stylish and easy to assemble' and, when it comes to cappuccinos, 'produces the best we have tasted so far'.
Out of 10 stars, it gets an average 8.6 at Currys. Happy owners like the fact that it is 'not too noisy', 'makes the perfect cuppa every time right down to the layering', and because 'it stops itself, so you can be busy and let it work away'.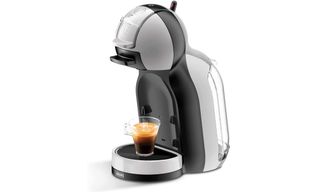 Best features?
A pump that can deliver coffee-shop style drinks? It's a yes. Auto shut-off? Yup – after five minutes for this model. This machine also allows you to set the coffee quantity simply and you can make a long 240ml coffee with the right capsule. And, if you like the idea of adding an accent shade in the kitchen, the interchangeable coloured back panels for this machine will tickle your fancy.
The verdict
A good all-rounder when it comes to coffees, this machine gets our taste vote. It's a shapely design that looks great on show, and the white finish plus the back panel colour options make it striking. It's simple to use, and brews up speedily.
Those who'd bought this model on Amazon praised the flavour it produces most highly. 'No more overflowing cups as it can be set to cup size and switches off automatically' was a feature that was noted, as was the fact that it's 'intuitive to use'.
On ao.com, buyers thought it was 'easy, relatively quiet and fast' ,and 'just right for someone living alone'.