Searching for the best treadmill to use at home? We're here with a myriad of choices for you to browse, whether you've recently cancelled your gym membership or you're on a – hopefully revolutionary – fitness journey in 2022. A treadmill or as some like to call it, a running machine, isn't just for running. You can use this machine at home for slow paced or speed walking, sprinting, jogging or running, but most of all: to up your step count even when it's gloomy outside. Owning a treadmill might be just what you need to hit 10,000 steps a day, no matter what the sky is saying.
We've listed a range of options so that no matter your budget or the size of your space, you're bound to find something to suit your preferences. This includes treadmills that feature programmes to spice up your routine, as well as options that offer an incline to replicate running up a hill. It's safe to say that the treadmill is an important piece of apparatus – in fact, we would argue that it's one of the best home gym equipment buys around.
A treadmill can be used by anyone, no matter your age or how fit you consider yourself to be. You can use a treadmill for anything from 5 to 55+ minutes a day, and you can tailor yours by speed to suit your own needs. Some options are foldable for simple storing, whilst others can be permanent fixtures in your home for motivation. If you are working from home, you could even integrate this machine into your setup to walk whilst you type or talk. Need we really say any more? Sprint straight to it with these best buys. We've also listed specs such as size and maximum user weight, so that you can easily find the best treadmill for you.
---
The best treadmill options for your home
Why you can trust Real Homes Our expert reviewers spend hours testing and comparing products and services so you can choose the best for you. Find out more about how we test.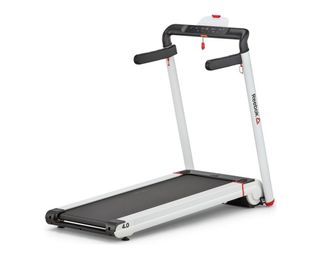 Not all of us are lucky enough to have a spare bedroom, but thanks to this foldable machine you can seamlessly transform any space into a home gym. This foldable elliptical is great for keeping track of how your workout is going too, with a four window display to see all your stats as you run.
What reviewers love
According to reviewers, this treadmill is suitable for walking and running and accessible for any level of fitness expertise. It's easily foldable and great for small spaces since it's compact, and it's smooth when in use. While the incline is permanently programmed at 4%, it's also important to note that this isn't a con by any means. In fact, many reviewers claim it didn't limit their experience, and they achieved their fitness goals just as they would any other option.
Design features
This treadmill looks good, performs well, and it sits under the £500 mark. It's also foldable in seconds thanks to its quick-release mechanism. Oh, and it's on wheels for easy moving. It has 12 pre-set programmes to jazz up your workouts, while it offers console feedback from calories burned to distance, pulse, and more. The running surface measures 125cm long by 46cm wide, and it has an auto-stop system for safety reasons.
Our favourite part? There's a built-in table or smartphone holder so you can power your workout with Netflix or Spotify.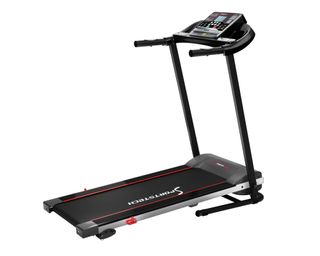 This is one of the best treadmills you can buy for your home, especially for the price. It works at a top speed of 10kph, making it great for both walking and running. Though experienced runners (or those who want to sprint) should probably steer clear, as it might not be able to meet your full abilities.
What reviewers love
Compact and easy to use according to reviewers, this treadmill is great for beginners. It's obviously more basic than other options, but that's to be expected when considering the price tag.
Design features
With a complete LCD display to show stats such as time, speed, distance, and more, this running machine also has 12 pre-set programmes to keep you busy. This is a really quiet model – at just 68dB – so you will be able to hear Netflix over your workout (very important in our opinion). There's also an app you can connect your treadmill to, so you can keep track of your progress and goals and even control your treadmill while you are on it with your smartphone or tablet. It folds down, too, in just one easy motion, making it super easy to store.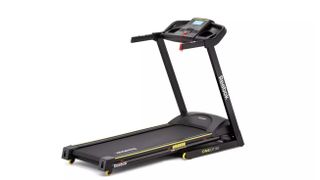 If you want to stay within budget, but enjoy all the features that you would in the gym, then the Reebok One GT40S Treadmill is the one for you. With 36 pre-set programmes, a maximum speed of 16mph, and 12 incline levels, you'll never get bored with this treadmill and be able to change it up if you fall into a workout slump. It's easy to use too, so that you can focus on turning up your music and getting down to it.
What reviewers love
The ease of setup with this treadmill was a huge plus for reviewers, so that they could get started right away, as well as how quiet it is to run to avoid annoying your neighbours. Fans of this treadmill said it was similar to a high-quality machine you would find in the gym and that its design made it ultra-easy to store away once their workout was complete.
Design features
Though it might seem overly technical, if you fancy keeping an eye on your heart rate you'll be impressed by this machine's hand pulse sensors, and able to push yourself to run a little faster as a result. With so much choice with this machine's 35 pre-set programmes, you also shouldn't struggle for ideas with varying your workouts, an age-old problem for everyone. The soft cushioning technology of this treadmill is designed to go easy on your joints (even if you don't struggle now, you'll be grateful later on) making this machine a great all-rounder.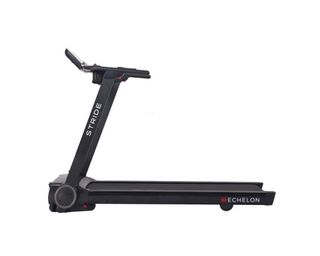 Working out at home doesn't need to be a solo activity thanks to the Echelon Stride. With this treadmill (and an additional membership) you can unlock world-class instructors – in live classes – to really change up your workouts, and link your account up to compete with your family and friends. This treadmill is also a winner for anyone short on space; at just ten inches deep when folded, it can be wheeled up so you can claim your space back in an instant. If you love a HIIT class, then the Echelon Stride could be the answer to all your problems.
What reviewers love
Those who have tried the Echelon Stride love the variation that comes with Echelon's membership scheme, which allows you to tap into hundreds of different classes. It's a real motivation booster to be able to see all of your key metrics on screen, and with 12 running or walking categories to choose from, you should always be able to find something new to do. You can also enjoy themed workouts with this treadmill, and listen to all sorts of music as you go - so if a 90's themed workout sounds like your bag, then this could be the one for you.
Design features
As well as the social aspect, the Echelon Stride is a great purchase because it won't take up too much space in your home; it has auto-folding technology for a quick post-workout clean-up. Its major selling point is the membership that runs alongside it, which is bursting with fun workouts and music. Though it's easy to see why it's a practical choice too - with straightforward controls and a safety bar built-in.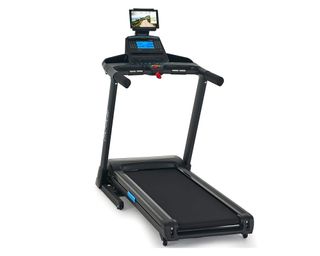 The thought of home gym purchases straying into four figures can understandably be a bit unsettling, so it is fantastic to know there are relatively affordable running machines out there. This running machine comes in at just under £1,000 but doesn't scrimp on functionality with a top speed of 20kph, a 15 per cent incline, and 43 workout programs.
What reviewers love
This treadmill is praised for being easy to use, simple to set up, and sturdy, although that is to be expected when considering the price tag. The machine has a large running platform that reviewers found stable and smooth – plus a quiet motor, too.
Design features
With a heavy-gauge steel frame, this treadmill is built for longevity and is suitable for daily use. It has a cushioned deck, and it has a digital incline from 0-15 per cent, over 15 levels. A seven-inch screen displays stats and more, while you can have up to four different user profiles on this machine at any one time. With a tablet display, bottle holders, as well as built-in speakers, it makes working out convenient and fun.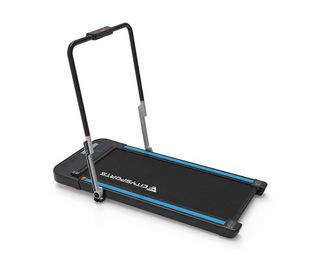 Looking for a treadmill to use for walking, instead of running? You needn't spend an arm and a leg, or waste unnecessary space storing a larger machine. The proof? The CITYSPORTS Folding Motorised Treadmill is great for walking and it'll slide under your sofa after use, ensuring it's easy to store, like many of the best cross trainers. While it doesn't have any handles so it should be used with caution – don't you go sprinting! – it is a total bargain and ticks every box for walkers who may not be able to spend as long as they would like outside their home. It also has a top speed of 6kph.
What reviewers love
This treadmill is praised by reviewers for its convenience size-wise. There are lots of comments on the treadmills' sturdiness – as well as how easy it is to use thanks to the remote control that comes with it. It's also apparently quiet when in operation, for if you are using it while working or watching TV, and there are several comments on its easy-to-see display that sits by your feet.
Design features
This treadmill, unlike others, does not have any handles, making it best for walking – and perfect for storing neatly. It weighs 26.2kg and has a diameter of 15cm, making it perfect for sliding underneath a bed, a couch, or for using paired with a standing desk. It has a 500watt motor and six speeds to choose from, ranging from one to six miles per hour. With a low-noise motor and belt, it can be used inside flats, too. Use its LED display to track speed, time, distance, and calories and control the machine with ease using the remote control.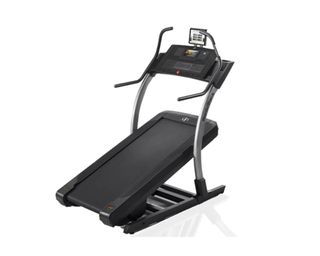 With an incline range almost double that of some of our other picks, this treadmill is perfect for replicating the feel and benefits of hill-walking or all-terrain running, and the range of 40 different programmes also helps keep things varied. It also has an impressive top speed of 20kph.
What reviewers say
The majority of reviewers mention this treadmill's incline, as it really is something to shout about when it comes to burning calories, fast. It's also a powerful piece of kit, and it's pretty sturdy. It's probably not the best option for beginners, however,
Design features
This top treadmill comes at a high price tag, which means it's bursting with features. From a low-impact cushioned deck to one-touch controls on its seven-inch smart touchscreen, it makes exercising fun. You can even use it to join live classes – where trainers digitally adjust your speed to get your heart racing – and it works with Google Maps so you can run anywhere around the world. It comes with a smart Bluetooth chest belt, as well as a tablet holder and integrated workout fans for when things get sweaty.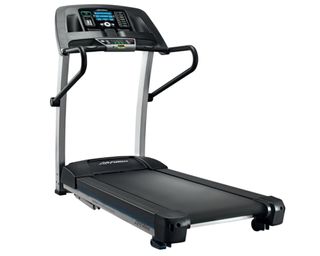 The gym isn't for everyone, but with Life Fitness, a brand known for its quality, you can bring the quality of the equipment home with you regardless. This treadmill is great for making progress thanks to its ability to remember your preferred jog, walk and run speeds, and you can track your heart rate so you'll know when you've been working harder. This treadmill is a win for everyone who prefers to stay indoors for their workout experience, though the iPod connectivity is a little outdated to say the least.
What reviewers say
Though this machine is more compact and easier to pack away than gym-standard models, lots of reviewers couldn't tell the difference between this treadmill and their usual machine. The attention to detail when it comes to quality, especially with the shock absorption materials to prevent joint pain, means that this Life Fitness treadmill is worth the extra cash when it comes to the price for the majority of reviewers.
Design features
The Life Fitness F1 Smart Treadmill isn't a fussy machine and delivers when it comes to the key features. That includes a wireless telemetry heart rate monitoring system to gain advanced insight on your key metrics (to make you go faster!), as well as heart rate hand sensors. This treadmill is also fitted with a clever folding and locking system to make clearing away after your workout a totally seamless experience.
---
What to consider before investing in a treadmill?
Where to buy the best treadmill?
Before investing in a treadmill, there are a few crucial points to consider.
Size
If you're someone living in a large apartment or home, size might not be one of the most important factors on your list; now, if you're in a cramped apartment? You're going to need to know how big or small your potential machine is.
Incline range
Another deciding factor might be the incline range and how high the machine does (or does not) go. Most of the machines on this list feature an incline range of 0% to 15%; however, the NordicTrack X9i Incline Trainer goes up to 40%, making it the best treadmill for hill runs.
Pre-set programmes
Another deal-breaker? What pre-set programmes does your potential machine offer? Pre-set options are crucial for those struggling with motivation or lacking guidance – but those machines come at a cost.
Top speed
Always consider the top speed of a treadmill before purchasing. This will depend on your fitness level and whether you are intending to use the machine to walk, run, jog or sprint.
The best treadmill deals
Should you be searching for a treadmill that's on sale, or a budget-friendly treadmill, then we can help you out. It's our forte to find deals, whether it's Black Friday or Amazon Prime Day – or neither.
See below for a list of cheap yet cheerful treadmills, some of which should be on sale today.
Do I need a treadmill mat?
In short: yes, you should really buy a treadmill mat to protect your floors from scratching. Why? In some cases, a treadmill might move around your floor whilst in use, especially if you are using it at a high speed. Made from rubber and usually nice and thick, a treadmill mat won't only protect your floors, but it should reduce noise (especially for those who live in a flat) and it should prevent your treadmill from moving even a quarter of an inch.
A treadmill mat is similar to that of a yoga mat. Just make sure to measure and ensure that your treadmill mat is larger than the floor space that your treadmill takes up, perhaps with a few inches on either side.
What are the best treadmill running apps to use with my machine?
If you are just starting out with your running journey and you consider yourself to be a beginner, then the NHS Couch to 5K app could be a really great place to start. This app aims to have you running 5k straight, within as little as 9 weeks. This app is designed to be used whilst running outside, although there's nothing to stop you from using it on a treadmill. It works to train you using a mix of walking and running, easing you in slowly. It will just be a matter of adjusting the speed on your treadmill, to suit your preferred pace.
Alternatively, for tracking your running progress, you could use the app Strava. This can help you take note of your performance to help you pinpoint where you can improve. It tracks your route, too, and you can use it along with friends to compete.
For anyone who owns a fitness tracker, you can track your running progress on your treadmill using the app that's compatible with your watch. Just make sure that you select that you are on a treadmill, as opposed to running outside.
Running machines from selected brands such as Echelon, Peloton and certain Reebok models, are created to be compatible with their own app. You can only use these apps if you own one of these machines though, as more often than not, they sync together via Bluetooth. These apps usually require you to pay a monthly membership but in most cases, they are worth it to keep things exciting whilst running indoors on your treadmill. You might be able to do a free trial and try before you buy in some instances.