Finding the best treadmill is a good place to start if you're considering setting up your own home gym, especially when you consider how much it costs for the privilege of belonging to a gym (it's little wonder that many of us are preferring to work out at home these days). The most beloved, or at least, most frequented, machine in most gyms tends to be the treadmill. So if you're looking to create a home gym, we'd recommend shopping for one before you consider other, larger equipment.
You can find the best home gym equipment picks in our buyer's guide. Head over to our home gym hub page where you'll find design ideas and equipment recommendations aplenty.
WHAT IS THE BEST TREADMILL?
The best treadmill you can buy is the Adidas T-16, we think. It folds away when it's not in use, features lots of programmes and levels of incline and it's not too expensive.
HOW TO BUY THE BEST TREADMILL
Where to buy a treadmill
Best for
Depending on what you'll be using the machine for, whether it'll be every day use, once a week use or for hill running only, we've listed what each machine is best for below.
Size
Not so much important if you've your own home gym and lots of space, but incredibly important if you're after something to fit in your living room; a lot of treadmills available fold up to save space. Find the dimensions of each one below.
Incline range
The majority of treadmills on our list have an incline range of 0%-15%, however, the NordicTrack X7i Incline Trainer goes up to 40% making it the best treadmill for hill runs.
Pre-set programmes
A deal breaker for some as pre-set programmes can really help if you're struggling with motivation, even cheaper models such as the Reebok ZR8 have 24 pre-set programmes included, meaning you won't have to miss out if you're on a budget.
THE BEST TREADMILLS FOR YOUR HOME GYM
1. ADIDAS T-16 TREADMILL
Best treadmill you can buy: a great all-rounder, this is our pick of the best treadmill, performance and price included
Specifications
Best for: All rounder
Size: L187cm x W84cm x H135cm
Incline range: 0-15%
Pre-set programmes: 24
Reasons to buy
+Built-in speakers+Folds for storage
Our pick of the best treadmill you can buy, the Adidas T-16 has 24 pre-set programmes, 15 levels of incline and it folds for easy storage. In terms of console feedback, the machine tells you incline level, pulse, calories, time, speed, distance, and programme selected, all on screen. With a cushioned 152cm x 51cm running deck that can reach a speed of 18kph, the machine helps you effectively build endurance performance at home. For those who are concerned about safety, this machine has an auto stop safety system to prevent accidents. Its great features combined with the affordable price tag makes this treadmill worthy of our number one spot.
See more adidas products at Amazon
2. Life Fitness T3 Go Console
Best treadmill for quality: a home-from-home experience for gym goers who aren't ready to let go
Specifications
Best for: Gym quality
Size: L202cm x W88cm x H147cm
Incline range: 0-15%
Pre-set programmes: 14
Reasons to buy
+ Easy to use + Stable and sturdy
Reasons to avoid
- Not great for small spaces
The Go Console treadmill by T3 is a thoroughly professional-looking piece of equipment to have in your home gym, and has the functionality to back it up. Enthusiastic runners concerned about missing out on gym-quality running machines needn't worry, because this is just like something you'd find down your local health club, with a comfortably wide running belt and an easy-to-navigate console. While it's admittedly on the pricier side, this is a clear case of getting what you pay for, and according to users, that's reliability, usability, and a surprisingly quiet ride for such a bulky machine.
Shop more Life Fitness products at Amazon
3. NordicTrack X7i Incline Trainer
Best treadmill for hill runs: a great one for hill walkers, if you're so inclined...
Specifications
Best for: Hill runs
Size: L176cm x W100cm x H183cm
Incline range: -3-40%
Pre-set programmes: 38
Reasons to buy
+ Huge incline range + Large variety of presets
Reasons to avoid
- Need iFit membership to get VR walks
Even if you're lucky enough to live in the country, the most beautiful vistas and quietest lanes sometimes aren't quite enough to make you want to venture out in the cold and dark for a walk or a run, which is where this incline trainer comes in so handy. With an incline range almost double that of some of our other picks, it's perfect for replicating the feel and benefits of hill-walking or all-terrain running, and the range of 38 different programmes also helps keep things varied, making this machine the best treadmill for anyone who finds just running on a treadmill a bit dull.
See more Nordic Track products at Amazon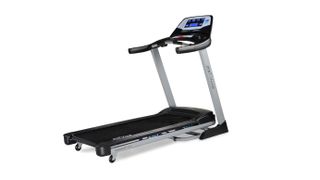 4. JTX Sprint-7
Best treadmill for features: A great value treadmill that walks the line between affordability and function
Specifications
Best for: Range of features
Size: L196cm x W93cm x H153cm
Incline range: 0-15%
Pre-set programmes: 24
Reasons to buy
+ Most affordable on our list + 24 presets for varied workouts
Reasons to avoid
- Still a bit pricey
The thought of home gym purchases straying into four figures can understandably be a bit galling, so it's cheering to know that there are great, relatively affordable treadmills out there. This one comes in at just under £1,000, but doesn't scrimp on functionality, offering 24 presets for a variety of workouts and a running platform that reviewers found stable and smooth. You can also replicate that gym feeling, should you miss it, with the built-in speakers that allow you to stream your favourite motivational tracks.
Find more JTX Fitness products at Amazon
5. REEBOK ZR8 COMPACT
Best treadmill for space-saving: A foldable treadmill for the smallest gyms
Specifications
Best for: Space saving
Size: L165cm x W74cm x H143cm
Incline range: 0-15%
Pre-set programmes: 24
Reasons to buy
+ Folds down for easy storage + Low-impact cushioned deck
Reasons to avoid
- Might not be able to hit top speeds
If you've recently converted one of the smaller spaces in your home into a gym, you might be wondering exactly how you're meant to fit anything in it. If so, you'll no doubt be interested to learn about the existence of the foldable treadmill, and this Reebok number in particular, which is a godsend for compact workout rooms. Users found it easy to put together and thought the cushioned deck, made to lessen the impact of running on joints, was a revelation, although some cautioned that this didn't allow them to build up much speed. However, if you're not a seasoned sprinter, and you're after a low-impact workout or a space-saving workout solution, this is the best treadmill for you.
Shop more Reebok products at Amazon
Want more home exercise recommendations?