Spending your money on the best fitness tracker around? Smart idea – a fitness tracker makes a great Christmas present. Or a gift from you to you...
Whether you are eyeing up a Fitbit or want something that doubles as a watch and a fitness tracker, we can help with this purchase. We've rounded up the top seven buys for tracking steps, health, exercise and more. All of this technology, wrapped around your wrist. Smart stuff.
Check out our guide to the best fitness trackers below if you are in need of some advice. When choosing these trackers, we considered each one's battery life, as well as whether each fitness tracker is waterproof or not. The best fitness trackers usually boast a built-in GPS, while they sometimes have a heart rate monitor inside, too.
Once you are done, be sure to check out our best home gym equipment guide, should you be interested in building your own home gym.
What is the best fitness tracker?
Why you can trust Real Homes Our expert reviewers spend hours testing and comparing products and services so you can choose the best for you. Find out more about how we test.
The best fitness tracker is the Fitbit Inspire HR. Small in size and low in price, this unobtrusive piece of tech can do everything you need it to from tracking your steps to being waterproof, monitoring your sleep pattern. All of that and it will look great on your wrist. Perfect for all fitness levels, ages and budgets.
Click to buy the Fitbit Inspire HR at its cheapest price.
The best fitness trackers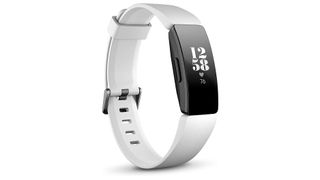 If you are buying your first fitness tracker so don't want to splash out on something really fancy just yet, the Fitbit Inspire HR is perfect. We love the sleek design of the Inspire HR. It sits on your wrist nicely and isn't really bulky like most other models that scream 'Look at me I exercise!' It still has all the features you would want from a fitness tracker – monitors your sleep, exercise, calories and more it's just pretty, which we like. It's also really affordable, one of the cheapest Fitbits available in fact, apart from the Fitbit Inspire, which is another great option if you are after a basic, affordable Fitness tracker.
Looking to buy the best Fitbit? See our intuitive guide for more advice.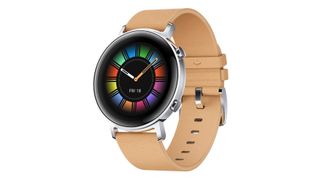 The newest fitness tracker/smartwatch from Huawei, the GT 2 has the best battery life of all our picks, lasting up for two weeks. It also looks fab, which is always an important factor for us. The screen is large making it really easy to use and you can change the design to suit what you want to show and how you like your screen to look. It tracks steps accurately and records all the workout you would want it to, there's even fencing in there and it will track when you use exercise machines too. You can also look at all your past records to see your personal progress. And the sleep tracker is great for making sure you are getting the recommended amount of zzz's. This fitness watch also has a Bluetooth calling feature so you can pick up your phone from the watch and receive calls while you are out and about. Not just for telling the time...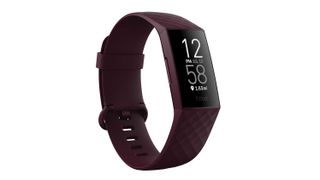 One of the latest releases from Fitbit, the Fitbit Charge 4 offers the latest in health and fitness technology. As you might expect from a fitness tracker, the Fitbit Charge 4 tracks health and fitness in a variety of ways. From providing feedback on activity levels and heart rate, to encouraging you to hit your daily step count, improve your sleep quality and still your mind through meditation, there's very little this handy device doesn't do. Like other smartwatches available, it's also possible to use contactless payment via your Fitbit. This is great news if you like the idea of going out without a phone or wallet. With a battery life of up to seven days, you won't have to think about charging up your device too often. This is great news given that it's capable of helping you co-ordinate your every day.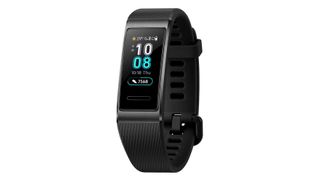 Another great affordable option the Huawei Band 3 Pro, has all the features you would want from a fitness tracker. What we like best about this tracker is the sleep tracker feature, we think it's the best of all our picks. It was developed with Harvard Medical School's CDB centre so the tracker can not only monitor your sleep but can offer suggestions and solutions to help improve your sleep. You can connect your tracker to the Huawei Health app so you can closely monitor all your stats and you'll find all the advice it has to offer on sleep and exercise on there too.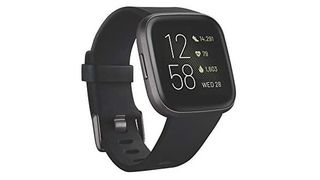 This is probably the most technical fitness tracker around, and it definitely has the most features. This is obviously reflected in the price, but if you are big into lots of different types of sports and like to track your heart rate quite often, the Fitbit Versa 2 would be your best bet. It very accurately monitors your steps, exercise, heart rate and sleep plus it looks really stylish and isn't too bulky. But it has so many more features once you connect it to the FitBit app. There you can use it to create a completely personalised exercise and diet programme – you can set fitness goals and track calories all on your watch. This watch is also compatible with Alexa so you can check the weather, set alarms and reminders as well as ask questions. You can store songs on the watch too – up to 300 – so can keep entertained as you are out exercising.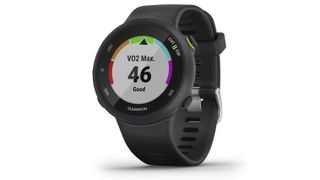 The Garmin Forerunner 45 does all the basics you would expect – monitors your heart rate, tracks all your activities and your exercise – it also has GPS built-in so you can easily track your runs, walks and jogs. But what we love about it is the personal training element. With this tracker, you get a PT on your wrist that will help you reach your fitness goals. Plus the free Garmin app assists with running, cycling, indoor track, treadmill, elliptical, cardio and your yoga sessions. Your texts, emails and notifications can also come through to your fitness tracker which is great if you are running long distances and need to be able to stay in touch with people.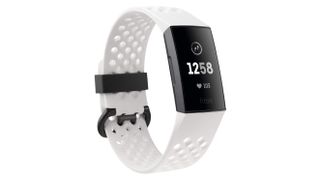 The Fitbit Charge 3 is rated our best fitness tracker for swimmers – its comfortable (and breathable) wrist strap, as well as its slim screen, makes for easy tracking of lengths while in (or under) the water. It's water-resistant to 50 metres, too, while it automatically tracks swimming so you needn't do anything before taking a dip. It can tell you your calories burned from a win, as well as your heartrate while swimming, and more. Essentially, it can do everything all other Fitbit models can – it connects to your smartphone for feedback, too. With seven-day battery life, it's great for those who are busy. Great for swimmers whether you do it for fun or you compete.
How to buy the best fitness tracker?
Battery life
One of the first things to check when buying a fitness tracker is its battery life. Some last five days, others last weeks. Just note how often you'll need to charge yours to monitor your steps, calories burned, heart rate and more, all day every day.
Heart rate monitor
Not an essential but helpful for some, selected fitness trackers offer a heart rate monitor function. This can be used to track your resting heart rate, average heart rate or your heart rate while exercising. Take the guesswork out of checking if your heart is healthy.

GPS
An ideal feature to look for if you are a runner, having GPS built into your smart tracker means you can leave the house without your smartphone, and your distance, speed and more will all be tracked.

Waterproof?
An essential feature in our eyes, it's a smart idea to ensure your new fitness tracker is waterproof. Whether you like to swim and track your lengths or you often forget to take jewellery off when showering, it's an easy way to avoid accidents.
Also read: