Whether you're fixing a crack, filling a hole, pulling up paint or building a wall you need a putty knife to spread your spackle, coat your joint compound, scrap residue and straighten your adhesive. Here are the putty knives you need for each of your projects.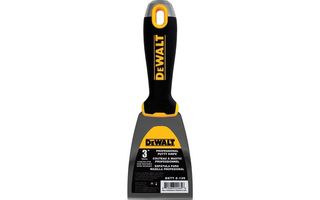 This putty knife is designed to spread spackle when fixing small holes, gouges and crack in walls and other surfaces. It's flexible, steel blade has enough spring to move around protruding objects, like electrical outlets and light switches. The handle of this putty knife is thick with a rubberized coating to help you keep a firm grip on the knife as you work. All DEWALT putty knives come with a lifetime warranty.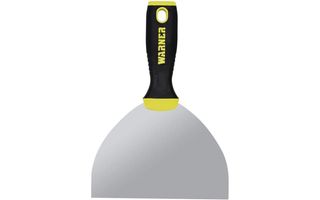 When hanging drywall, you need a lot of mud and the Warner ProGrip 6-inch putty knife is the best for the job. The size of the blade lets you apply a lot of compound at once to get the job just quickly. This knife is also flexible so you can smear compound more easily and evenly as you work. The rubberized handle is easy to grip and keep a hold of, even when the work gets hard and your palms sweaty.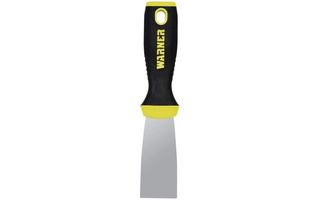 This 1.5-inch knife is the best size for applying adhesives, including drywall tape. It allows you to smooth the tape and adhere it right against corners or to the baseboard to ensure a tight, flat and consistent seal with no air bubbles or bumps. The Warner ProGrip blade is made from carbon steel that needs to be wiped dry in between uses to keep it from rusting.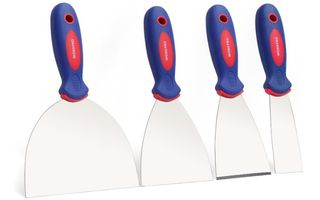 This set comes with the four most common putty knife sizes and is made from stainless steel, the best material to ensure they will last and never rust. This set has three flexible knives that are good for spreading different types of compounds, including joint compound, spackling and grout. A stiff, thicker blade knife is also part of this set. This knife is for scrapping dried paint and mud, or other residues in order to clean and prep an area for refinishing.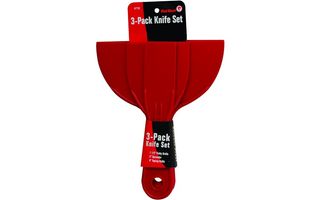 Because they are made from plastic rather than carbon or stainless steel, these putty knives won't last as long, but they are still durable and a great value because you get three different types of knives in one set. This includes a 1.5-inch putty knife, a 3-inch spreader, and a 6-inch taping knife. The Red Devil plastic knife set is great for dangerous jobs where you need to get the job done then clean up quickly and safely because you can afford to toss them and replace them at a good price.
What to know about putty knives
Why you can trust Real Homes Our expert reviewers spend hours testing and comparing products and services so you can choose the best for you. Find out more about how we test.
You can get away with using a 3-inch knife for most projects. Though it's best for small spackling projects, you can use the DEWALT putty knife to spread joint compounds in a pinch or to apply drywall tape. If you want a putty knife designed for a specific job, then check out the WORKPRO 4-Piece stainless steel knife set. For a decent price, you can get all the standard sized putty knives for almost every job including spreading joint compound, scrapping dried paint and applying adhesives.