Looking to spend your money on the best ab machine you can buy? It's easy to understand why: toning the abdominals is one of the hardest exercises around, and let's admit that crunches – bicycle, reverse, knee and high – aren't exactly one of our favourite workouts. And since you're here, we're guessing you feel the same.
Well, with a little help from one of these great ab machines, you can work up a sweat at home – in your gym space, your living room or garage – and start building those abs you've always dreamed about. And, since gyms all over the country are officially shut until further notice, it's a great excuse to buy a new piece of home gym equipment for home use. You'll thank us in a few months time!
Keep scrolling for our top six ab machines to get your abdominals burning from home. You'll feel it tomorrow...
What is the best ab machine?
Why you can trust Real Homes Our expert reviewers spend hours testing and comparing products and services so you can choose the best for you. Find out more about how we test.
In our opinion, the best ab machine you can buy is the Body-Solid Cam Ab & Back Machine – it's a dual-function ab machine that features 26 adjustment settings while protecting your back and improving posture all at the same time.
Looking for an affordable machine to keep your abs strong while your gym is closed? We've done our research and popped a load of cheap yet cheerful machines below. This way you can still work out and keep your bank balance high.
The best ab machines you can buy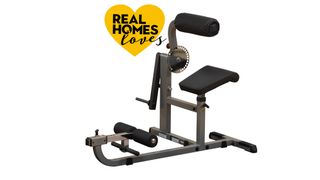 If you're a complete beginner, the Body-Solid Cam Ab & Back Machine may look a little bit confusing. However, what is great about this machine is its dual-function works to strengthen your abs while protecting your back and improving posture all at the same time. When you first start working on your abdominals, it can be very easy to hurt your back, so if you're serious about training, this machine is designed to help you become stronger quicker and with less risk of injury. It's easy to use (despite looking a little tricky), but it is quite large so make sure you have enough room to use this machine in its full range of motion. In our opinion, this is the best ab machine to spend your money on.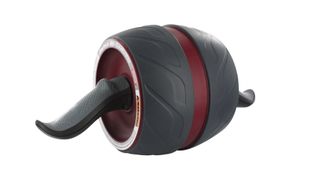 The Perfect Fitness AB Carver Pro Roller is designed specifically to target your obliques, and is a lot harder than it looks! Customers who have this roller say they definitely noticed a difference after regular use, but to be wary that it's not great for supporting your lower back, so beginners may find this ab machine a little tricky to get on with at first. The design of the ball itself is sturdy and strong, with ergonomic handles and a foam kneepad to help make the exercises as comfortable as possible. Its size and simplicity mean it can be used pretty much anywhere in the house, on any type of floor, although carpet is reportedly better for a more controlled roll.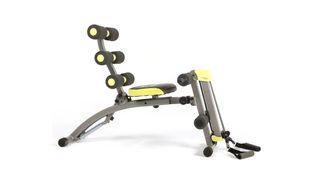 If you're just starting out with your workouts, then the Wondercore 2 might be a little too advanced, but for those who have been into their fitness for a while, they found that the Wondercore 2 is just the thing to really help you tone up alongside your cardio workouts. This device is designed to work your upper, middle and lower abs, obliques and the rest of your muscles including arms and legs. So really you are getting a full body workout from this machine, and the dual resistance ensures that your core is always engaged for maximum results.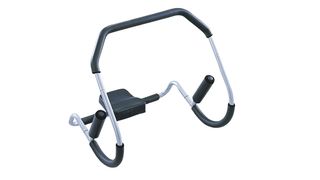 Do you find that you strain your neck when you sit up? If so, then the Body Sculpture Ab Trimmer has a cushioned headrest which will support your head and neck when you sit up, and holding on to the frame helps you maintain posture throughout its full range of motion. The two different handles are designed to help you work the abs differently and more intensely as you build up strength. Beginners should start by holding the top bar which will strengthen the upper body, too, while those who are further along in training can use the side handles to really focus on the core muscles by performing a tighter crunch. The best ab machine for those who need a little more support, we think.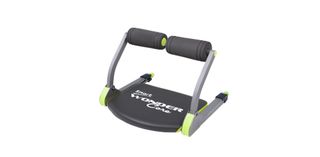 If you don't have the space for the WonderCore 2 or some of the other ab machines on the list, then the WonderCore Smart could be a space-saving alternative for you. You can use this machine to target your upper, middle and lower abs, as well as your obliques and for performing push ups, tricep dips and bridges. Users have found this machine to be just as good as a larger machine, the only downside is with the size it means it is susceptible to wear more than a larger bench, which with frequent use may mean it doesn't last as long. All in all, this is our top pick of the best ab machine if you're tight on space in your home gym.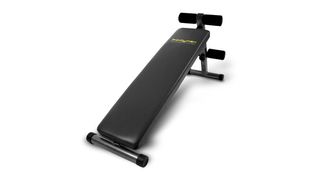 This Bodymax CF306 Adjustable Abdominal Board is a pretty simple tool which allows you to add intensity to your standard sit ups and crunches. All you have to do is change the incline of the bench to suit your needs, which will make the move more difficult when required. Having the bench supports the back, which in turn makes it easier to do more exercises than you would normally. Those who struggle to find motivation in doing crunches may prefer one of the more interactive ab machines, but if you're someone who also uses weights, this bench can be multifunctional and its compact design means it's not too cumbersome for the home.
How to choose an ab machine
Ab machines come in many shapes and forms. They all assist your ab workout in some way, but the type you choose will depend on what kind of exercises you want to do, which muscle groups are a key priority and how much space you have.
For ultimate flexibility at a good cost, we recommend an ab board or bench. You can do pretty much any crunch or sit up using these – as well as other exercises to work your legs and arms – and their use can be combined with free weights to up your game.
If you need a little more assistance, try something designed to support your sit ups. You can also work your obliques with ease using one of these. They are great for a small space too and can often be folded away, but if you have a home gym, you might like a bigger ab machine. They include weights, pullies and resistance bands that give you a full-body workout and guide your movements – brill for beginners and advanced users alike.