The best pregnancy pillow is an essential for all mums-to-be and nursing mums. They will help you to sleep, provide relief when you have been sat down for some time and even go so far as to help with feeding when baby arrives.
You'll probably find your hips, pelvis and back ache – whether you're standing or sitting – while your sleeping position makes for even more of a challenge. The NHS recommends the safest position to go to sleep is on your side, preferably on the left to make sure blood and oxygen flow uninterrupted between you and baby throughout the night. While we are not all side sleepers, these pillows will go along way in helping you to stay on your side by means of their clever designs and all-round support.
I've been really fortunate to be in a position to test and, therefore, review a selection of some of the best pregnancy pillows which are available to buy from your favourite brands and highstreet stores. From the second to the third trimester, I've been sleeping on one of the five pillows featured in this guide on rotation (or near enough) every night so I can share my experience with you and ultimately provide some insight into which is the most suitable option for you.
Keep scrolling to see our top five pregnancy pillows for 2021 which have all scored at least 4.5 out of 5 stars then, check out our best pillows guide for some top choices on upgrading your second pillow.
Best pregnancy pillow 2021: our top 5 favourite buys
Why you can trust Real Homes Our expert reviewers spend hours testing and comparing products and services so you can choose the best for you. Find out more about how we test.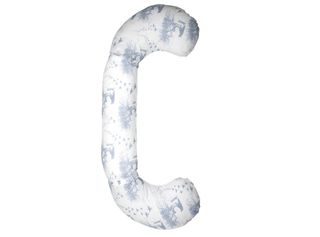 Easy to put together, lovely design and supportive in more ways than one, this is our top choice of the best pregnancy pillow which is available for £85 at Bellamoon.
Easy assembly
It's four-in-one design arrives as three separate pillows which can all be easily zipped together at the ends. This will create a full body pregnancy pillow which can be taken to bed, and doesn't take up too much space. What I would say, however, is that it was a little bit of faff to try line up the zips to start with but I soon got the hang of it.
You'll also need to slip the individual covers over each of the pillow sections, which was easy enough.
Using the pillow
I used the pillow with a C-shape pillow to sleep on. It was really comfortable and was one which I could easily move during the night as I switched from left to right. I also had it draped around me as I sat on the sofa which provided more support for my bump and back.
The pillow can also be used as an individual infant nursing pillow, tummy-time pillow and baby lounger when unzipped.
Anything else?
It's machine washable and has changeable covers. I had the Fairy Tree print which was rather delightful. The price is also relatively affordable at £84, especially if you take into account that it's suitable for use from pregnancy until baby is 18 months old/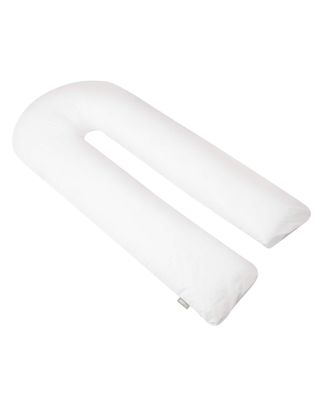 This pregnancy pillow was a very close number one, but it just missed out because of it's size which I feel could put some off unless you have a kingsize bed.
Easy assembly
This one arrives vacuum packed and, therefore, tightly rolled. There's a zippable cover which can be put on easily enough once the pillow has regained its U-shaped form, although you need some help with this due to the size of the pillow which there is no getting away from.
It would have been nice to see some pretty print on the cover rather than it just being plain. And the material is polycotton which again, would have been nice if it was a slightly thicker cotton material.
Using the pillow
Initially I thought there would be an issue fitting it in our kingsize bed but there was just about enough space, although it may be more of a squeeze in anything smaller. If I'm honest, I used this pillow the most during the few months of reviewing this selection of pillows – it's so comfortable, and easy to use because of the all-round body support.
I sleep on my side naturally so it was good to have a pillow to the front and back of me so I could switch between sides during the night, without grabbing a pillow to take with me on the roll. It was also useful to sit on when on the sofa, and sit up in bed with.
Anything else?
This pregnancy pillow doesn't promote the fact that it can be used post-pregnancy like the others in this guide do but still, it's a comfortable pillow whether you're pregnant or not!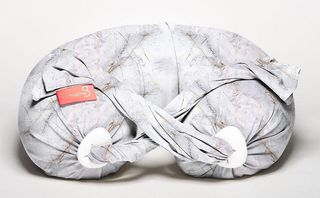 The BBHugMe is a pregnancy pillow which comes as a kit. This means that you'll get a pillow, cover and peebles (silicone clips) for your money. It also arrives beautifully packaged which will make a lovely gift, if you don't mind spending the money.
Easy assembly
Arriving in a neat zipped fabric bag which can be reused for the pillow or something else, there really isn't much to setting up this one.
If you want to make your pillow firmer, you have the option to do this with the matching peebles which are available in a suite of colours to choose from (I reviewed the stone/plum colourway). To do this you'll just need to pop a peeble on either end of the pillow and pull the material (not filling) through. This would be useful if you intend to use your pillow to help you sit up, or generally just prefer a plump pillow.
Using the pillow
Once all satisfied that the pillow was plump enough for me I found that it was better for me to use either when sleeping on my side or sitting up. It was really comfortable BUT being 5ft 8 I found that I could have done with the pillow being a bit longer in length which is just 1.5m (4ft 9) so I could get more support as I sleep on my side. The peebles at the end of the pillow (which are quite hard) and the label (which I cut off) woke me up during the night.
Anything else?
It's an expensive pillow, that's for sure, but it's one which has been created by three chiropractors so a lot of thought has gone in to the design. It can also be used to nurse baby because the peebles can be used to tie around your body to allow you to remove and wash the outer sleeve.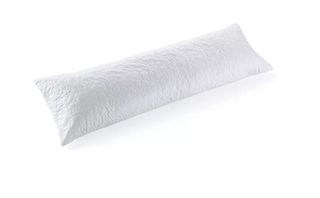 Next up is this pregnancy pillow from Slumberdown which I was pleasantly surprised by, especially with it's very affordable price tag.
Easy assembly
It comes pre-assembled so there's no cover to put on, nor is there any attachments to add or remove.
Using the pillow
Another good choice for side sleepers, the Little Slumbers Quilted Body Support Pillow will easily replace one of the pillows on your bed because it's just so soft. I found it supported my head and bump well but, as with the other pillows in this guide (aside from the Kally Sleep U-Shaped pillow) I had to roll with it during the night to ensure started supported on my side. The cover is also a good one to nestle into which feels like cotton, but (surprisingly) is made from polycotton.
I also used it A LOT when sitting at the dining room table or on the sofa. It's lightweight so can be easily moved around.
Anything else?
The cover is machine washable and suitable for tumble drying (hurrah!). It can also be used as a nursing pillow, unless you want to add to your collection of quilted pregnancy and nursing pillows with coordinating the V-shaped pillow or nursing support pillow.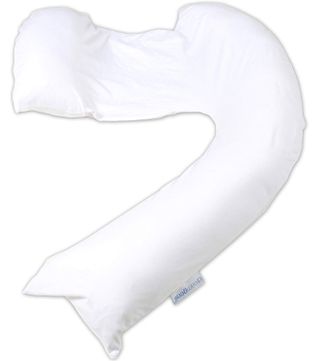 Last up but by no means least is this pregnancy support and feeding pillow from DreamGenii. It's another affordable option which gets our vote for post-pregnancy use although it can be used during pregnancy, too.
Easy to assemble
Zipped up in a transparent bag along with some essential information, this pregnancy pillow arrived already in it's cover with no attachments (or anything) to get your head around prior to use.
Using the pillow
This 2-in-1 pillow can be used as a sleeping aid when pregnant, or as a feeding pillow with baby. For me, I didn't get on too well with it when sleeping because I tend to move around a lot during the night (especially at eight months pregnant) so found the pillow moved around a lot, too, and not with me. The centre panel also isn't particularly generous so you may, also, find that there is not even enough room to move so it's pretty restrictive.
Sitting upright with the pillow, however, is very useful. The back panel (for me) is large enough so the pregnancy pillow wraps around me to support bump but this will also be good to support baby during feeding.
Anything else?
It's a good option to consider for around £30 during and after pregnancy, especially if you're of a smaller frame. The cover is also removable for machine washing.
Is a pregnancy pillow worth it?
Yes, absolutely! I was fortunate to have been bought my first pregnancy pillow as a gift when I was about four months pregnant. Although I didn't have much of a bump then, I found that the pillow was super comfortable to rest my head on and lay on - it was revolutionary.
As the first and second trimesters came and went, the pregnancy pillow came into it's own because it offered me support in more ways than I could have imagined. It not only made night time a lot more supportive but during the day I tended to use one of the five pillows I was reviewing to sit on, put my feet up with or give me some extra back support whilst sitting at my desk (dining room table).
How to buy the best pregnancy pillow
How do you usually sleep and how far along are you?
The position you tend to sleep in and the trimester you're in tend to go hand-in-hand when choosing a pregnancy pillow to suit your needs, and help make the transitions your body will go through more bearable.
For those who usually sleep on their tummies, you'll find sore breasts make bedtime a struggle as early as the first trimester.
Once the second trimester hits, it's time for back sleepers to change their ways, since the weight of your ever-expanding midriff can compromise your circulation.
By the third trimester, even if you hate lying on your side, it's now the right time to make the transition, as your bump gets weighty and your joints get more lax.
Whatever you natural sleeping position, it's recommended that you sleep on your left side from 28 weeks to help uninterrupted blood and nutrients flow to baby.
As the position you sleep in is the one held the longest throughout the night, don't worry if you wake up on your back; it's no biggy – just roll over on your side again.
The size and shape
Pregnancy pillows come in a huge range of different sizes, so it's worth making sure you pick the right size for you by thinking about the following: do you sleep beside your significant other? How big is your bed? Do you have room to store the pillow when not using it?
Dependent on shape, pregnancy pillows are either designed to support your whole body during pregnancy, while some offer support to a specific area, so make sure you find out just what support is offered so you can be sure you buy the right one to suit your needs.
For example, If you suffer from pelvic pain, a U-shaped design - where you can push one leg of the pillow off the bed to get in and out - may work better for those frequent nightly loo trips, compared to a C-shaped pillow that you have to climb into.
The fabric and filling
If you've ever been pillow shopping, you'll know there are a lot of fillings out there, and pregnancy pillows are no different. From memory foam to micro beads, there are so many to choose from.
Think about what type of filling you usually prefer in your normal pillows and the support that provides you to help you decide.
Some pillows also come with removable covers, which tend to come in typical fabrics such as cotton, polycotton, or polyester. Most of these will be machine washable and dryer friendly. If you choose a natural fabric, you'll also find they'll keep you cool for longer on sticky summer nights.
What's your budget?
Prices really vary for pregnancy pillows. Be prepared to splurge at least £40 to £50 for the average rated type. The crème de la crème could set you back in excess of £100.
Can the pillow be used after pregnancy?
Along with being some of the best maternity pillows, U and C-shaped pillows are also excellent long after pregnancy, from supporting you while you feed your newborn to aiding chronic pain in your back, shoulders or hips, as they not only provide much needed support but also cocoon you during sleep.
One pillow does not suit all…
You could spend hours scouring pillow reviews to find the one, but it really boils down to the fact that what works for one woman may not work for you. Every pregnant woman has different requirements, aches and pains and preferred sleeping positions, which will help when it comes to choosing the pillow that ticks all your boxes.
What is the best pregnancy pillow to buy?
Quick links to buy the best pregnancy pillow
To recap... if you want to buy the best pregnancy pillow then we can highly recommend the Bellamoon New Moon 4-in-1 Pregnancy & Nursing Pillow. First up, it arrives beautifully packaged in a combination of recycled plastic, tissue paper and a neat box which will make it a wonderful gift for a friend or family member.
Inside the box you'll (essentially) find three sperate pillows which can all be used in their own right or zipped together to create the larger C-shape pillow for sleeping on. It's this versatility to use the pillow in four different ways - pregnancy pillow, infant nursing pillow, tummy-time pillow and baby lounger - along with it's comfort and affordable price tag which has seen it claim our #1 spot on this best pregnancy pillow 2021 guide.
About this review - and our reviewer
Jennifer Oksien is our Appliances Editor across the homes titles at Future. This means that she spends her days working with appliance (and mattress) brands to ensure that you get the best products for your home. She lives in a Victorian terrace which is undergoing an unintentional renovation so whilst stripping back walls, ceiling and floors (etc!) she visualises how the space can be best used with a suite of gadgets, gizmos and home comforts to make home life that little bit more streamlined.
As with all our reviews, all five of the pregnancy pillows featured in this guide have been tested first-hand in our home, using it just as you would so you know exactly what you are buying. The products are given to us free of charge and we test them for as long as possible before sending them back to the brand, unless we are able to keep it as we are with this mattress. This means that we can continue to use each of the products which gives us the opportunity to return to our reviews for updating, so you can keep up-to-date with how it's fared over a period of time.
You've reached the end of the page. Jump back up to the top ^