All the experts recommend babies sleep in the same room as their parents during the first six months, which means you need a crib design that suits your bedroom décor, not the nursery. The one you choose also needs to fit alongside your bed, so measure carefully, and think about daytime naps, too. A portable crib can often prove more practical than one permanently attached to an unwieldy stand.
1. A fifties style crib
Why you can trust Real Homes Our expert reviewers spend hours testing and comparing products and services so you can choose the best for you. Find out more about how we test.
There's a distinctly grown-up, Mid-century vibe about the (unfortunately named) Troll Retro Crib from John Lewis, which will look super stylish next to your bed. The open-slat sides provide a good view, so you won't need to get out from under your cosy duvet every time you want to check baby is still breathing, which, in the first few weeks, will be approximately 687 times a night (true story). It measures H83.5cm x W94.6cm x D45cm.
2. The award winning crib
Designed with support from leading childcare professionals including the Lullaby Trust, Moba's award-winning Moses Basket comes highly recommended on parenting sites across cyberspace. Made in the UK, it is lightweight, making it perfect for moving around the house during the day, and the soft, flexible material is hygienic and easy to clean. Add a stand for bedside use. It measures H39cm x W82cm x D43cm.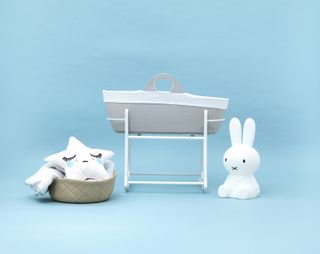 3. A cradle that rocks your baby
Cradles that rock back and forth are for wimps, this Leander Cradle can be rocked in any direction – use with the ceiling hook rather than tripod for total swinging freedom. Naturalmat has created a specially shaped Coco Mat mattress to fit snugly in the oval bassinet. The cradle measures H30 cm x W83cm x D50 cm (the stand is 197cm high).
4. A crib that matches your nursery furniture
Sweet by name, sweet by nature, this adorable crib from Maisons du Monde is part of the Sweet collection, which includes a three-drawer chest, wardrobe and cot with the same distinctive beech legs. Designed to take a 40cm x 80cm mattress, it measures H70cm x W95cm x D46cm overall.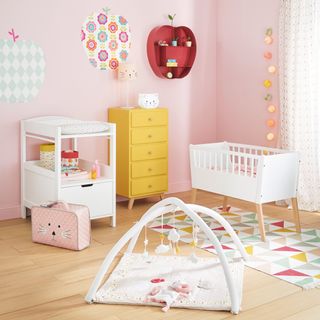 5. The safe way to co-sleep
Packed with clever features, it's easy to see why Mothercare has locked down the exclusive rights to Tutti Bambini's CoZee bedside crib. The zip-down side-panel is a game-changer, as it lets you safely sleep next to your baby, without the squash-danger of co-sleeping. If baby cries out, just reach over and soothe back to sleep. And night-time feeds are far less disruptive when you can just scoop baby to you, rather than having to actually stand up (and trip over the crib legs) to collect. It measures H84cm x W92cm x D56cm.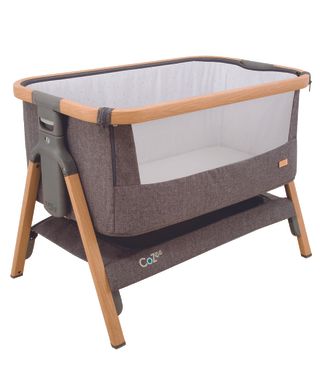 6. The contemporary-looking crib
Working a chic monochrome scheme in your bedroom? Then you need the Fynn Cribb by Kidsmill. We love its simple, Scandi-inspired design and the panoramic sidebars are ideal for eye-balling baby from every angle. It measures H90cm x W83cm x D46cm.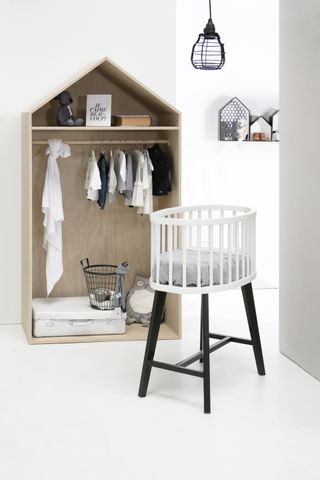 7. A crib that's made to last
Part of the Stokke Home concept, the Stokke Home Cradle slots neatly into the frame of the Cot Bed, providing a calm and safe environment for daytime naps. Once baby moves into the Cot Bed full-time, the Cradle's stand transforms into a play table (using the Stokke Home Changer mat as the top) – so clever, not to mention eco-friendly. It measures H73cm x W81cm x D50cm.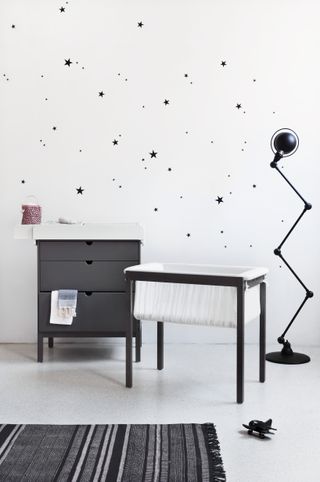 8. The Moses basket that's an absolute bargain
A contemporary grey finish brings a modern twist to wicker with Clair De Lune Whales Moses basket. One of the least expensive options on our list, we think it represents amazing value, especially since the gorgeous whale-print bedding and softly cushioned lining are all included. It measures H27cm x W68cm x D30cm.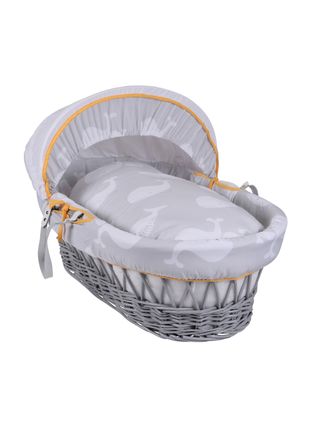 9. The small but mighty cot crib
This pint-sized version of a cot is small enough to fit alongside your bed with ease. Called the Petite Super Compact Cot it fits into a space-saving 0.61m² footprint. An adjustable base makes it easy to reach your little one without the nail-breaking faff of a traditional dropside cot. It measures H89.5cm x W95.5cm x D63.5cm.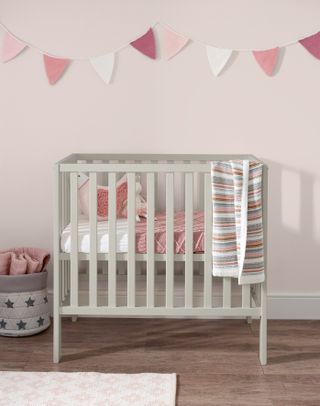 10. Sun shield
The 100 per cent cotton canopy on Wayfair's Waffle Soft Cotton crib could prove a lifesaver (or perhaps just sanity saver) during daytime naps. The rocking cradle should also help hasten your baby's smooth transition into the land of nod. And don't forget, always 'sleep when the baby sleeps'. The dishes/Facebook can wait. It measures H150cm x W150cm x D90cm (with canopy).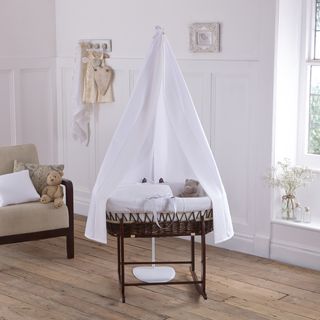 Read more: