Invest in the best home gym equipment and you'll have no excuse when it comes to smashing your fitness goals in 2022. If you're convinced that this will be your year, then invest in some of the ultimate buys out there – including big equipment and smaller apparatus – to help you get to where you want to be.
We've listed home gym equipment buys below, including one of the best exercise bikes, that we think you need to consider adding to your arsenal. Whether your aim is to tone up, lose weight, or to simply be healthier, owning some equipment should help you achieve your goals. You may actually have a dedicated home gym room in your home, or maybe you are planning on working out in front of the TV – whatever your set-up, the most important thing is to get your heart racing and your head sweating.
Buy now to avoid your gym and save money on your membership. See our guide on how to clean home gym equipment once yours has arrived and been used.
---
Which machine(s) should I buy for my home gym?
Why you can trust Real Homes Our expert reviewers spend hours testing and comparing products and services so you can choose the best for you. Find out more about how we test.
When designing a home gym, you will want to make sure that you have at least one piece of large, cardio-based fitness equipment in there. We're talking anything from an exercise bike to a treadmill or a cross trainer. You can choose to use these to warm up or as the main event. Alternatively, a multi gym is also a great choice and one that can be used for numerous activities – and by several family members. Choose a piece of equipment based on what you like to do too, whether that be run, walk, row, cycle...
Best exercise bike: Viavito Satori Exercise Bike
Best treadmill: JTX Sprint-7
Best rowing machine: JLL R200
Best cross trainer: JTX Strider-X7 Magnetic Cross Trainer
Best spin bike: Echelon Connect Sport
Best multi gym: Opti 50kg Home Multi Gym
What are the best smaller home gym buys?
If you have a smaller home gym or you are yet to create a dedicated fitness space, then you will want to opt for equipment that's compact and easy to store. Think dumbbells, a weighted hula hoop, a pull-up bar, kettlebell and even a balance board. Just because you are tight on space, doesn't mean you are limited when it comes to working out at home.
Best yoga mat: Yogi-Bare 4mm Professional Studio Yoga Mat
Best resistance bands: SHREDDY Resistance Bands
Best fitness trampoline: Opti Trampoline
Best punch bag: Everlast Junior 2ft Boxing Punch Bag and Junior Gloves
Best pull up bar: Pro Fitness Door Trainer
Best yoga block: Yogibato Yoga Block Cork
Best ab machine: Wondercore 2
Best exercise ball: Black Mountain Exercise Ball
Best aerobic step: Xn8 Aerobic Stepper
Best medicine ball: AmazonBasics Medicine Ball
Best yoga straps: Tumaz Yoga Strap
Best weighted hula hoop: ResultSport UK The Original Weighted Hula Hoop
Best balance trainer: Core Balance Balance Trainer with Resistance Bands
---
19 best home gym equipment buys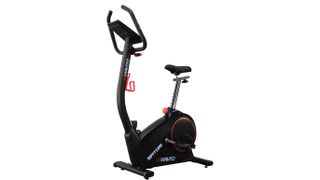 If you are searching for a budget-friendly and easy to use exercise bike for home use, then the Viavito Satori should be it. Not only is it quite compact to store, but it also has a range of workout programmes so you can mix up your workout routine. That, and it has four user settings so more than one person can use the bike in your home. There are also 32 resistance levels to offer a sweaty workout. We tried and tested it, and ultimately loved it.
When in use
We've used this bike in manual mode and tried every one of the programmes. We prefer the programmes as they give structure to our workout and keep us motivated, and it's even better that you can tailor them to suit your needs. By this, we mean that you can input a time or distance, or the number of calories you'd like to burn, and the programme will run until you reach your goal. You can also set the 'load' which is the starting resistance, based on your fitness level or how hard you want to push yourself. This bike automatically ups the resistance for you, though you can change it at any time by turning the button on the console. After your workout is finished, the machine will beep to let you know. From here you can either finish or head to manual mode to cool down.
Workout tracking
You can track your distance and calories, as well as heart rate, all through the machine. Though we have noticed that the calorie tracker isn't the most reliable – instead, we like to use our Fitbit (or other fitness watch) to track our workouts, so this isn't a major issue.
Specs
This bike is completely adjustable – handles and seat. You can adjust the seat with ease, making it higher or lower, or move it to sit further forward or further back. The handlebars can be adjusted, but not with as much ease as you would hope. The bike has an impressive 9kg flywheel, with 32 resistance levels. This bike is on wheels for easy moving around your home, though it needs to be plugged in, in order to work. It has a conveniently placed water bottle holder, though there's no space for your tablet or phone to sit.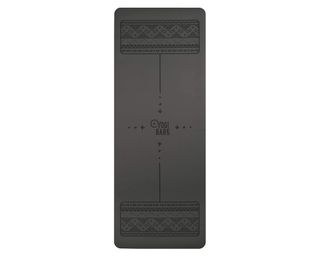 Practising yoga at home? You can't go wrong with this Yogi-Bare mat: it features alignment markers so that you know where your hands and feet should be while posing. It's great for those who usually attend a yoga class and rely on help from their instructor when going from one position to another. It's one of our best yoga mats – and for good reason.
When in use
This yoga mat, as mentioned above, features alignment markers for easy posing. The central line is guidance – place your hands and feet in the boxes at either end. With an extreme non-grip surface that has been praised by reviewers, it's also perfect for use while doing hot yoga or Bikram yoga. Unfortunately, it doesn't come with a carry strap or bag (though these are available for purchase separately).
Specs
Eco-friendly and made from 100 per cent natural PU rubber, it's biodegradable and recyclable. After use, simply wipe clean with a lemon juice and water solution. In terms of size, it measures 180cm long by 66cm wide. It's 4mm thick, and it weighs 2.5kg.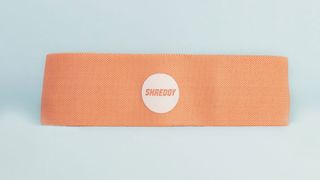 Choose the SHREDDY Resistance Bands if you are looking to tone with minimal equipment – whether that's due to space issues or because you want to be able to work out anywhere. You can take these bands to the gym with you once it reopens, or on holiday, to work out outside and more. You buy the bands based on your fitness level, and they come in a handy sustainable cotton drawstring pouch so you can pop them in your bag.
When in use
Choose a resistance band based on your fitness level – the heavier they are, the harder they will make your workout. They have thick ones for use on your legs, and longer ones for your arms. These resistance bands stay firmly where you want them to be during your workout, and you'll get an eBook with each band for a little bit of help on how to use them. We prefer to use Instagram to find resistance band workouts though – just an FYI.
Specs
Made from polyester, custom cotton and a rubber blend, these bands are latex-free, and completely vegan. Due to their nature, these resistance bands really are suitable for all fitness levels. They come in five different strengths from light to XX heavy. The best part? They all look super cute – to make getting sweaty look good.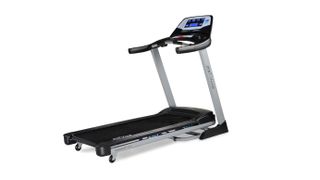 If it's a running machine you are after, then the JTX Sprint-7 is our top recommendation – it's in our best treadmills roundup for a reason. Not only does it feature a cushioned deck for protecting your joints when jogging, sprinting or running, but it features a range of pre-set programmes and adjustable incline for simulating uphill running.
When in use
Boasting easy to use buttons and a seven-inch display, this running machine allows you to adjust speed and incline settings safely, without the need to look down. You can also use this machine for heart rate training, as well as tracking time, pulse, speed, incline, distance and calories burnt. There are 43 workout programmes at different intensities for you to enjoy, and a 15 per cent incline (at 15 levels) to really make you work up a sweat. Use the free tablet holder for watching Netflix while working out, or, Kinomap (a sort of virtual reality screen) allows you to run stunning routes from all over the world, inside your home.
Specs
In terms of size, the running deck of this machine measures 145cm long by 51cm wide. It measures 179cm in length by 88cm wide and 159cm high when in use. This machine folds to be only 120cm long and it has wheels for easy moving. It has a maximum speed of 20kph, and it's powered by a 3 horsepower motor. With a black diamond running belt, it's super durable, even if you are planning on using it every single day – black diamond belts are designed to last up to 50 per cent longer than standard options.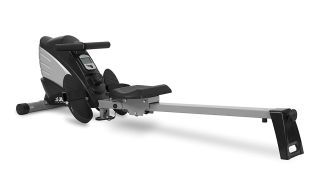 The JLL R200 is a great piece of kit when bearing in mind features and price. This rowing machine is perfect for beginners or occasional use, and it's foldable. It's also a bargain at under £250. Sitting proudly in our best rowing machines guide, we think that this is a no-brainer piece of kit for a home gym.
When in use
This magnetic resistance JLL rowing machine offers 10 different levels of resistance so that you can tailor it to your strength – use the dial at the front of the machine to do this. Boasting a smooth sliding mechanism for a seamless workout, it's not as loud as you'd expect while in operation. It also has a padded seat and ergonomic handlebars which are padded and non-slip. Secure footplates make your workout safe, and a seven-function LCD monitor means you can track time, calories, distance and more.
Specs
Measuring 180cm long, 52cm wide and 49cm high, this rowing machine has wheels on the underside of the seat, and it folds upright for easy storing after use. When folded, it's 127cm high and 71cm in length. In total, this rowing machine weighs 23kg.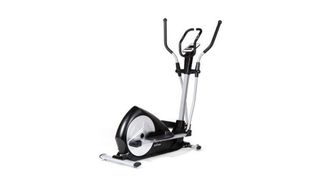 Using one of the best cross trainers will work your entire body – something we can definitely get on board with. And, the JTX Strider-X7 is no different. It's also affordable (under £500) and compact yet packed with all the features you need to get in a great workout. Spending just 30 minutes on a cross trainer should burn around 200 calories.
When in use
Easy to use no matter your fitness level, this cross trainer offers 21 pre-set workout programmes, with four personalised training programmes that can be designed by you. Use the touchscreen to do this and more – track distance, calories, body fat, pulse. Similar to the JLL running machine we listed above, you can use this cross trainer for heart rate training. With a 16-inch stride length, we recommend this cross trainer to beginners or intermediate users; the longer this length the more intense your workout will be. With a 12.5kg flywheel – the heavier the better quality the machine – and 16 resistance levels, it's great for a smooth and stable workout. Use the lower levels for warming up and cooling down.
Specs
Measuring 130cm in length, 70cm wide and 170cm high, this cross trainer is compact in comparison to others and it has transport wheels. It also has adjustable floor pads in case you have an uneven floor. It also has a maximum user weight of 130kg – that's just over 20 stone.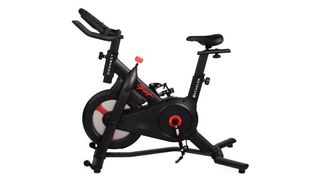 If you ever miss a spin class or just don't want to drag yourself out of the house to do it, buy a suitable spin bike for home use and join in virtually. This one from Echelon is great since it connects with your smartphone or tablet via Bluetooth, to turn it into a console, to watch qualified spin instructors perform classes – and to follow along with them.
When in use
We tested this spin bike at home during lockdown and we loved it, to say the least. While it is admittedly large – the majority of spin bikes are – we did note that it's feature-packed and very easy to use. You will need to download the Echelon app and buy a subscription to take part in classes, but you won't regret it. There's a class for everyone from beginners to pros. There are also live classes, should those be more up your street. It has comfortable handles for sitting and standing whilst riding, and these handles are non-slip and very easy to grip. The bike is completely silent when in use, so you can use it while watching TV or when the kids are in bed.
Workout tracking
You can sync the Echelon app with your Fitbit to track your results, alternatively, you can find all of your results from previous classes in the profile section of the app. While cycling, you can view your results on screen – there is an Echelon leaderboard if you like to get competitive, too.
Specs
With a 7kg flywheel and 32 resistance levels, this bike can prove to be a tough feat. It's also fully adjustable so you can use it no matter your height, and it's pretty sturdy with floor-levelling feet. It is on wheels but it's quite heavy to move and large to manoeuvre, so we suggest finding it a permanent space in your home – or home gym. We didn't find the water bottle holder to be the best we've tried, but it does do the job.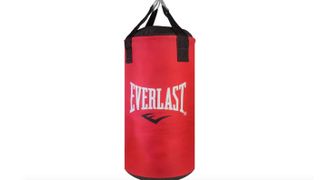 The Everlast punch bags comes with gloves, and though small in size, it weighs 12kg. It's really best for beginner users, and it doesn't come with a bracket – you will need to buy one separately to hang in your home. Other than this, it's great for home use as it's small, measuring 2 foot, which is why it's one of best punch bags.
When in use
This punch bag comes with pre-formed padded gloves for shock absorption for a safe experience. Simply buy a bracket, hang it up and get punching. You'll need to ensure you have enough space wherever you are hanging it, of course – we think it's perfect for a garage.
Specs
This punch bag is made from faux leather for durability purposes. It measures 61cm high and 30cm round.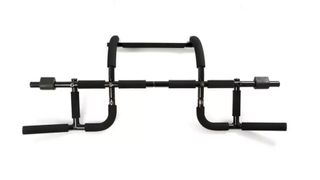 If you don't have enough room in your home for a home gym (same same) then consider a pull up bar. All you need is a door frame and you're set. This Argos one is under £30, too.
When in use
Use this sturdy bar for pull ups, chin ups and push ups, and then pop it away underneath your bed or sofa after use.
Specs
Measuring 8.5cm in depth it's plenty small enough to store away in a cupboard or under furniture. With a maximum user weight of 100kg (15 stone 10 pounds), it's brilliant for the whole family to use. It also weighs just 3.62kg.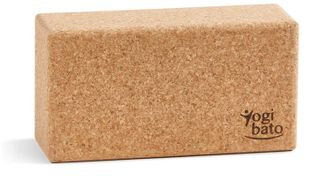 Made entirely from cork, this yoga block is sustainable and environmentally friendly. It'll add a little something more to your yoga class, and you can buy in singles or as a pair. Not just that, but it's portable too, meaning you can take it to the gym, use it outside and more.
When in use
It's also non-slip and easy grip. Use it to help your body settle into a pose, or to support your back, head and hips. It features rounded edges and it can easily be cleaned, too.
Specs
This yoga block measures 22.5cm x 12cm x 7.5cm in size and weighs around 1.3 pounds.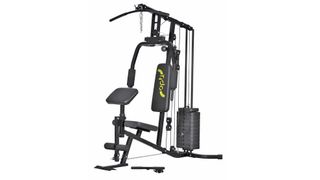 A multi-gym, should you have space for one, may just be the best home gym equipment you can buy. Ideal for beginners and frequent gym-goers alike, this multi gym from Argos' fitness range features a range of exercise options, all at a very affordable price.
When in use
The Opti 50kg Home Multi Gym lets users do everything from front press and butterfly to low rowing, triceps press, ab crunches, leg extension and much more. Its weight stacks are filled with 50kg of cement providing 65kg maximum resistance.
Specs
With a maximum user weight of 120kg – that's 18 stone 13 pounds – this multi gym can be used by almost anyone. Once fully assembled, it measures 202cm high, 98cm wide and 168cm in depth. Oh, and it weighs 88kg. Not only is this machine easy to assemble once it arrives at your front door, but it's also less bulky than other machines making it an ideal piece of kit to have in your spare room.
See our best multi-gym guide for more recommendations.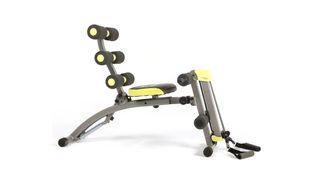 If you're just wanting to focus on your abdominal area while working out, or you are looking for something to really help you tone up alongside your cardio workouts, then the Wondercore 2 is designed for you.
When in use
This device is designed to work your upper, middle and lower abs, obliques and the rest of your muscles including arms and legs, so you can use it to get a full-body workout (almost); the dual resistance ensures that your core is always engaged for maximum results. It has a 9kg maximum resistance, as well as 180 extended range of motion. It comes with a nutrition guide, a seven-day meal plan, a training and exercise guide and a workout DVD.
Specs
This ab machine has a maximum user weight of 120kg (18 stone 13 pounds). It can be self-assembled, and it weighs 10.8kg. In terms of size, once built, it's 25cm high, 85cm wide and 33cm in depth. It's also foldable after use.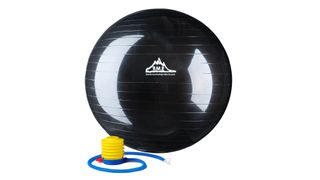 If you're looking to improve your balance and your core strength, buying an exercise ball is a no-brainer – it's one of the best home gym equipment buys. Especially, this professional-grade one from Black Mountain.
When in use
This exercise ball can be used anywhere from your garden to your living room or your home gym. Easy to move around and great at working your core, you can sit on this ball, lay on it and more.
Specs
It comes in a range of sizes from 45cm to 85cm – some are better suited to certain exercises – starting with the standard one for your height is always a good thing to do. It also comes with a pump included and a starter brochure, so you can get to grips with some of the more basic exercises, or throw yourself straight into your usual gym routine.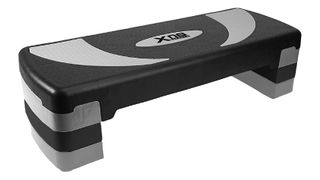 An aerobic stepper can undoubtedly help you get your steps in while staying at home or working from home, but that's not all it can do. This versatile piece of home gym equipment can prove to be handy when warming up, cooling down or mid-workout. You can use it to practice your squats, to perfect your hip dips or even for push ups and sit ups.
When in use
This aerobic stepper is pretty simple to use – just pop it on your floor (you may want to use a mat depending on your floor type) and adjust its height accordingly. It shouldn't move around when you step on and off it, and after you are done you can just push it underneath a bed or sofa – handy! It also has a 115kg weight limit.
Specs
You can set this stepper at three different heights, but we suggest starting with the lowest – 10cm – and then gradually working your way up to 15cm and eventually 20cm. Though admittedly this isn't the prettiest piece of home gym equipment ever, it does help that it comes in a range of colours.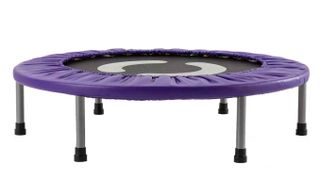 An easy (read: fun) way to get your heart rate up, the Opti Trampoline is our pick of the best fitness trampolines you can buy. Fitness trampolines are smaller versions of your classic outdoor trampoline and are otherwise known as a trampette.
When in use
This piece of fitness equipment has been popular for quite a while now, and it's easy to see why: jumping on a fitness trampoline is considered a moderate to vigorous-intensity exercise. This Opti option is easy to assemble as you only need to attach the non-slip feet on, it has a solid and stable construction that's ideal for aerobic use AND it's super affordable. Just start bouncing!
Specs
In terms of size, this fitness trampoline measures 22cm high and it has a diameter of 91.5cm. With a maximum user weight of 100kg (that's 15 stone 10 pounds) it can be used by almost anyone.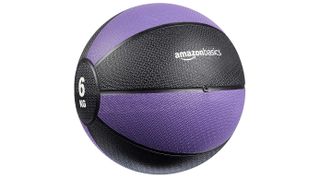 If you've never worked out with the help of a medicine ball before, it might be about time you did: they're great at developing core strength, balance, and coordination. An alternative to a kettlebell, this AmazonBasics one is affordable, sturdy and non-slip.
When in use
A relatively compact way to challenge a range of muscle groups and improve stamina, a medicine ball really earns a space in any home gym since they are super versatile. Great for all different fitness levels, this one has a durable rubberised plastic outer makes it easy to grip, even with sweaty hands.
Specs
This medicine ball comes in at 3kg or 5kg – buy based on your fitness level and don't go too heavy too soon.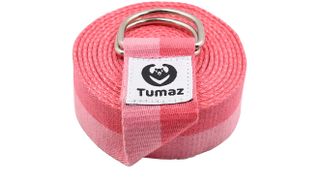 You might need some yoga straps to help you really stretch when practising yoga from home. Since yoga straps are naturally compact in size, you could even chuck this strap in your bag and take it to yoga class, and it can be stored away in a drawer, along with your yoga block, with ease. It also comes in a huge range of fancy colours!
When in use
This yoga strap is super sturdy when in use and it's not elasticated. It also comes in your choice of three lengths from six-foot to eight-foot and 10-foot. Professionals or those who want to experiment with their yoga strap may want to choose a longer size. Use the D-ring buckles to loosely fasten this strap around your foot and get stretching, or double up the strap and wrap it around the soles of your feet, using it to stretch your legs. The yoga strap is pretty versatile, so you can use it in a number of ways.
Specs
These yoga straps boast 4mm welded D-ring buckles, while the strap itself is 2.5mm thick. It also has a maximum load of an impressive 1.079 ton, so rest assured it shouldn't break while using it at any time.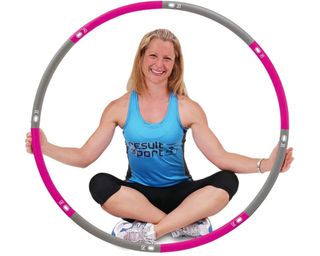 A weighted hula hoop is a brilliant no-brainer for those who are wanting to shift their focus to their abdominal area, and one of the best home gym equipment buys. You can use one of these in front of the TV or inside your home gym, and they are functional as well as space-savvy. Just slide it underneath or behind some furniture once you are done. Alternatively, they can be dissembled into eight sections for easy transporting and hiding.
When in use
Using this weighted hula hoop each day for only a short amount of time should help improve your posture and burn calories. Most of all, though, it will help you tone your tummy. This is thanks to the fact it's weighted, so essentially it's the equivalent of using dumbbells to tone your arms, but this works on your abdomen. You might feel a bit sore after initial use, but it doesn't take long to become a pro.
Specs
Weighing 1.2kg, this hula hoop is made from high-impact graded plastic, which is padded and therefore comfortable. It's easy to wipe clean and you can choose from two colours.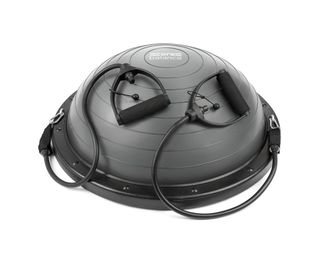 Use a balance board to improve your upper and lower body strength. It's equipped with resistance bands with ergonomic handles in order to help work your arms whilst you work your core. Thanks to its compact size, this piece of home gym equipment can easily be used inside a bedroom or living room, and then neatly tucked away under a piece of furniture when not in use.
When in use
This versatile piece of home gym equipment can be used either way up, with its flat side pressing against the floor or your trainers. It can offer a full-body workout and you can use it to help perfect squats, planks sit-ups, lateral raises – and you can use it along with weights plus more.
Specs
This balance board is supplied with a hand pump so that you can inflate – or deflate – it to your size preference. Its resistance bands are detachable, too, so that you can use the board with or without them. The flat side of the dome boasts an anti-slip platform for superior grip whichever way around you are using it.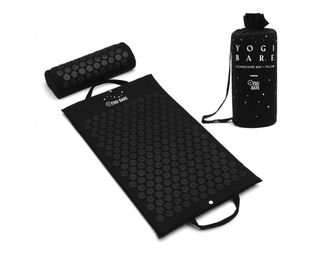 This acupressure set is perfect for those wanting to go a little further with their cooldown routine. Acupressure works by restoring the body's energy flow, and can positively impact your mood and much more.
When in use
This set uses gentle, painless pressure in order to allow the body to relax. For best results, you should lie on your mat 20-40 mins several times a week for maximum benefit. Make sure to find the most comfortable position for you whilst using it too, for maximum relaxation.
Specs
This set is the size of a regular yoga mat, and is made with a soft cotton outer and a foam inner. The pressure points which are so essential for relaxation are made from plastic, and there are 210 pressure points in total.
---
Home gym equipment deals
We've rounded up some of the best deals on the best home gym equipment that we can find every day in the handy table below. Click to read more about each of the items.
What home gym equipment to buy based on your needs?
Where to buy the best home gym equipment
If you're not sure where to start when it comes to choosing the best home gym equipment for you, you've come to the right place. We'll talk you through the best solutions based on the results you want to achieve from your training.
To tone
If you're happy with your running schedule, but want to focus on toning your muscles, some dumbbells will allow you to up the resistance when it comes to lunges, balancing or bench pressing. You could also try resistance bands, an ab machine for focussing on your core, or, a kettlebell or medicine ball.
For cardio
Aerobic exercise is important not only for calorie burning and weight loss but more importantly for maintaining good heart health. Choose a treadmill, rowing machine, cross trainer, trampoline or exercise bike for a great cardio workout at home. Exercise bikes are perfect for those after something low impact, so consider these if you have been told to watch your joints.
For strength
Strength training can be done using your own bodyweight so you don't really need equipment at all, but for a better and more varied workout, you might want to consider adding in some gym favourites. An exercise ball, step block or yoga mat are great for training using your own weight. Upgrade this with the use of weights (dumbbells, medicine balls or bar weights), or go all out with a multigym that helps you work out safely and effectively if you have the budget.