Looking for the best home gym equipment? Keeping up with your fitness and making time to get to the gym can be hard, especially when you're busy with work and children. Dedicating some space to a home gym makes it perfectly possible to get home from the school run, quickly change, and bash out 30 minutes of cardio and 15 minutes of toning before it's time to cook tea.
Here's our pick of the best home gym equipment so you can create a home gym. Looking for more home gym equipment recommendations? Check out our home gym hub page for tons of advice.
How to buy the best home gym equipment
Where to buy the best home gym equipment
So what home gym equipment should you be looking at if you're considering building your own gym? Well, it really depends on the results you want to see from your training? See our guide to home exercise: the 30 best exercises to get fit fast for a beginner's guide.
To build your cardio strength
A fitness step will allow you to get the most out of your fitness DVDs, and even a skipping rope will do a great job of getting the pulse racing.
Better tone?
If you're happy with your running schedule but want a room where you can focus on toning your muscles, a set up dumbbells will allow you to up the resistance when it comes to lunges, balancing or bench pressing.
How much you're willing to spend
Handheld equipment such as exercise balls or skipping ropes are going to be far more financially accessible than something like a rowing machine.
Available space
You'll also need to consider the amount of space that you have to play with. A skipping rope is going to need quite a bit of room, while working out with a set of dumbbells shouldn't take up too much space.
THE BEST HOME GYM EQUIPMENT
Best skipping rope: BeMaxx Fitness Skipping Rope
A skipping rope designed for high speed jumping
Specifications
Best for: High intensity training
Type: Skipping rope
Portable: Yes
Size: Length 10ft (adjustable)
Weight: 100g
Reasons to buy
+ Improves strength and endurance + Quick and convenient exercise
Reasons to avoid
- Requires a fair amount of space
A quick burst of high intensity training to get the heart rate up is a great way to make you feel good, and when all you need to do is grab the rope and start jumping, there's no excuse for not exercising. BeMaxx have equipped this rope with 90 degree ball bearings to give it one of the fastest turn speeds, while the ergonomic handles are very grippy so you can keep control of the rope when things get hot and sweaty. You can adjust the handles to your preference and choose between a heavier or a lighter rope depending on your workout. A bonus feature is the free e-book, which includes a range of workouts incorporating the rope. In our opinion, this is the first thing you should purchase when it comes to getting the best home gym equipment.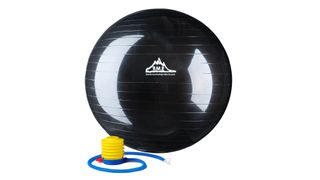 Best exercise ball: Black Mountain Exercise Ball
Great for resistance, toning and stretching
Specifications
Best for: Stretching
Type: Exercise ball
Portable: Yes
Size: Available in 45cm, 55cm, 65cm, 75cm, 85cm
Weight: N/A
Reasons to buy
+ Comes in a range of sizes + Great for different workouts
Reasons to avoid
- Not for cardio
Playing with a bouncy ball seems like good fun but using it for exercise is a completely different kettle of fish. If you're looking to improve your balance and your core strength, buying an exercise ball is a no-brainer. Coming in a range of sizes, some are better suited to certain exercises, but starting with the standard one for your height is always a good thing to do. Most come with a pump (which some reviewers find takes too long to do its thing) and a starter brochure, so you can get to grips with some of the more basic exercises or throw yourself straight into your usual gym routine.
Best dumbbells: Bowflex 2-24 KG SelectTech Dumbbells (Pair)
Great for varying the intensity of your weight training
Specifications
Best for: Weight training
Type: Weights
Portable: Yes
Size: Length 42cm **Weight:** 2-24kg
Reasons to buy
+ Space efficient + Weight range of 2-24kg
Reasons to avoid
- Warm-up required
The best gym routines blend cardio with weight training as making the pulse race before your start flexing is the most efficient way to see results. That brings us to the only downside - dumbbells require a longer gym session than using any of the cardio machines, which may not always fit into your busy schedule. Compacted into two small cases, these won't take much space up in your gym but should certainly make a stand results-wise. If you don't have an exercise bench, you can work out on the floor or an exercise ball. Bowflex have included an easy selection dial for quick weight changes and there's a plate locking system for extra safety. Some of the best home gym equipment you can buy, in our opinion.
Find more of the best dumbbells in our buyer's guide.
Best medicine ball: Bodymax Double Handle Medicine Ball
With two handles for maximum versatility
Specifications
Best for: Conditioning
Type: Medicine ball
Portable: Yes
Size: H22 x W22 x D22cm
Weight: 6kg
Reasons to buy
+Alternative to the kettlebell +Durable grippy rubber outer
Reasons to avoid
-6kg may be a bit heavy as a starter
If you've never worked out with the help of a medicine ball before, it might be about time you did. They're a relatively compact way to both work out a range of muscle groups and improve stamina, meaning they really earn their space in any home gym. This double-handled medicine ball is particularly versatile, allowing for a wider variety of exercises, and the durable rubberised plastic outer makes it easy to grip, even with sweaty hands. Some even said they preferred this traditional ball to the somewhat trendier kettlebell – high praise indeed!
Best fitness deck: Escape Fitness Deck
Make the most out of those workout DVDs
Specifications
Best for: Aerobics
Type: Fitness deck
Portable: No
Size: 205mm (flat), 980mm (extended) x 330mm x 1100mm
Weight: 13kg
Reasons to buy
+16 configurations +Also transforms into a weights bench
Reasons to avoid
-Cheaper decks are available
Get the most out of your fitness DVDs, do some weightlifting or even complete a BodyPump session, all with the various configurations this fitness deck is capable of. Perfect for home gyms, the deck is easy to store away and even comes with an internal storage section so you can stow weights inside. If space is tight, this deck can double up as a weights bench, and can be configured to create three different angles. Easily the best home gym equipment you can buy if body weight training is your thing.
Best yoga mat: Yogi-Bare 4mm Professional Studio Yoga Mat
A bare necessity for the beginner yoga enthusiast
Specifications
Best for: Yoga
Type: Yoga mat
Portable: Yes
Size: 180cm x 66cm
Weight: N/A
Reasons to buy
+ Very grippy + High-end feel for a reasonable price
Reasons to avoid
- A little narrower than the average
This non-slip, ultra-grip yoga mat is ideal for beginners trying out trickier yoga poses, staying put no matter what. This user-friendly feature is also what makes it great for hot yoga, ensuring sure there are no sweaty palm-related incidents or potentially injurious slippage. At 4.2mm, it's thick enough not to irritate sensitive joints, but not so thick that it'll hinder your flow. Great all round, if perhaps a little pricey for first-timers. It's the best yoga mat you can buy in our opinion.
Want to see more yoga mats? Head over to our buyer's guide.
Best treadmill: Reebok ZR8 Compact
A foldable treadmill for the smallest gyms
Specifications
Best for: Running
Type: Treadmill
Portable: No
Size: L165cm x W74cm x H143cm
Weight: 67 kg
Reasons to buy
+ Folds down for easy storage + Low-impact cushioned deck
Reasons to avoid
- Might not be able to hit top speeds
If you've recently converted one of the smaller spaces in your home into a gym, you might be wondering exactly how you're meant to fit everything in it. If so, you'll be interested to know you can buy foldable treadmills, and this Reebok number in particular, which is a godsend for compact workout rooms. Users say it's easy to put together and that the cushioned deck, created to lessen the impact of running on your joints, is a revelation. The downside? Some users cautioned that it didn't allow them to build up much speed. However, if you're not a seasoned sprinter, and you're after a low-impact workout or a space-saving workout solution, this is the best treadmill for you.
Find more great treadmills in our buyer's guide.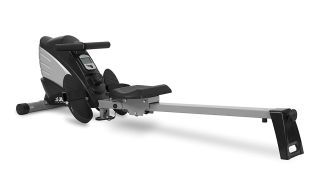 Best rowing machine: JLL R200
A budget rowing machine that's great for beginners
Specifications
Best for: Rowing
Type: Rowing machine
Portable: No
Size: L180cm x W52cm x H49cm (max adjust)
Weight: 23kg
Reasons to buy
+ Very inexpensive + Sturdy and comfortable
Reasons to avoid
- Not many features (understandably)
Coming in at under £200, the JLL R200 is far and away our best budget rowing machine. It's sturdier and considerably more solid than most machines at this end of the price range, but is still easy to fold down or move using the wheels at the base if space is too limited to have it out permanently, and the pedals and foam-filled padded seat are comfortable enough to use for long periods of time. The 10 levels of magnetic resistance may not be enough for more experienced rowers – for that matter, if you are an experienced rower, you'll wish to go for something with more frills – but if you're just starting out or won't be in your home gym all day every day, it's a superb buy.
Fine more rowing machines in our buyer's guide.
Best exercise bike: ProForm CSX Exercise Bike
A smart bike for those who want a smart workout
Specifications
Best for: Cycling
Type: Exercise bike
Portable: No
Size: L140cm x W61cm x H131cm
Weight: 32 kg
Reasons to buy
+Connects to smartphones+Integrated fan
Reasons to avoid
-Not for technophobes
If you're looking for a bike with all the features then the ProForm CSX Exercise Bike is the one. It uses Bluetooth and iFit so you can sync up your bike with your smartphone (Android & iOS) app for unlimited online training options. You can also attach your tablet to the integrated stand to use for either tracking your workout or as an entertainment system. There are 20 resistance levels and a workout fan to keep you cool for the most comfortable workouts even when working hard. In our opinion, this is the best exercise bike you can buy if you're after the best home gym equipment.
For more exercise bikes, see our buyer's guide.
Best Multi-Gym: Marcy Eclipse HG3000 Compact Home Gym
A professional looking piece of kit, this is the best multi gym for beginners
Specifications
Best for: Multi-gym
Type: Multi-gym
Portable: No
Size: L168cm x W98cm x H202cm
Weight: 117 kg
Reasons to buy
+ A range of controlled exercises + Looks smart
Reasons to avoid
- Only a 68kg max weight
If you are new to weight training, then opting for a machine with a slightly lower maximum weight is suitable. This machine has a max weight of 68kg which is perfect for those who want to start off slowly and gradually build up their strength. You'll still have all of the comprehensive exercises for upper and lower body and the machine itself is relatively compact for those who are short on space.
Find more best multi-gyms in our buyer's guide.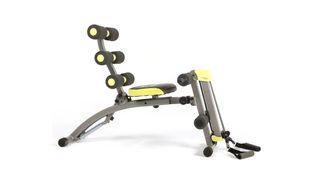 Best Ab Machine: Wondercore 2
Get super toned thanks to this ab machine
Specifications
Best for: Ab machine
Type: Ab machine
Portable: No
Size: H25CM x W85cm x D33cm
Weight: 10.8kg
Reasons to buy
+ Folds away for easy storage+ Workout DVD included
Reasons to avoid
- For the more advanced
If you're just starting out with your workouts, then this ab machine might be a little too advanced, but those who have been into their fitness for a while say the Wondercore 2 is just the thing to really help you tone up alongside your cardio workouts. This device is designed to work your upper, middle and lower abs, obliques and the rest of your muscles including arms and legs, so you can use it to get a full body workout (almost); the dual resistance ensures that your core is always engaged for maximum results. We rate it.
For more of the best ab machine recommendations, head to our buyer's guide.
Best Turbo Trainer: Elite Qubo Power Fluid
An ultra-realistic replication of road conditions
Specifications
Best for: Turbo trainer
Type: Turbo trainer
Portable: No
Size: N/A
Weight: N/A
Reasons to buy
+ Realistic response to input + High resistance at low speeds
Reasons to avoid
- Some of the plastic parts could be more robust
This affordable turbo trainer uses fluid resistance for a unique experience that, according to the manufacturer, is best suited to road racers. That's because the weight of the user, and the power they put into the workout, influences the resistance, which means it's a good way of training up for your next race, letting you feel a realistic imitation of what you'll be getting up to out on the road. The extra-large flywheel is immersed in oil, which sounds weird, but it's all in the name of resistance: namely, offering high resistance even at lower speeds for a really good workout.
Find more of the best turbo trainers in our buyer's guide.
Best Punch Bag: Everlast Everstrike 5ft Boxing Punch Bag
A popular choice for the budget-conscious
Specifications
Best for: Punch bag
Type: Punch bag
Portable: No
Size: 5ft bag length with a diameter of 33cm
Weight: 28kg
Reasons to buy
+Durable+Affordable
Reasons to avoid
- Surface not as soft as leather
Everlast is pretty much a failsafe brand if you're looking for a punch bag. They're well known, and, as the same suggests, their products are built to last. Encased in premium synthetic leather and filled with shredded textiles, this 28kg bag isn't too heavy, which makes it the perfect choice for a lighter weight boxers and kickboxers. It's also worth noting that it has a double end loop to provide increased functionality.
Looking for more of the best punch bags? Head to our buyer's guide for advice on what to buy.
Best Spin Bike: NordicTrack GX 5.1 Indoor Cycle
A sturdy, well built spin bike
Specifications
Best for: Spin bike
Type: Spin bike
Portable: No
Size: H88cm x W115cm
Weight: 20kg (fly-wheel)
Reasons to buy
+ 20kg flywheel to simulate steep climbs + Durable and anti-corrosive
Reasons to avoid
- Experienced riders may want to play around with the pedal fittings
If you're looking for a decent low/mid range spin bike, this one should be a solid purchase. Made from durable and anti-corrosive materials, it's been built to last and should manage in damp environments such as conservatories and garages without suffering. Reviewers commend its sturdiness, while the heavy flywheel allows you to power away at the steepest of climbs. With additional features including an LCD backlit display and a bottle holder, this bike has everything you need. Fairly bulky compared to the Keiser, this could be one for the gym room or garage.
Check out our best spin bikes buyer's guide for more recommendations.
More home gym inspiration...