The best hair straightener does so much more than what it says on the tin. We're big fans of this hair tool – we use one everyday not just for slick straight locks, but many can be used for adding curl, texture and wave to your hair, too. They are a great investment if you don't have budget (or room) for a curler and a straightener too.
So we more than understand how important it is to invest in a good model. And, by 'good model' we mean a hair straightener that leaves your hair straight for hours – maybe even days! No flyways, zero frizz and long lasting results are all we want. Oh, and a reasonable price tag. Keep scrolling for 11 top recommendations.
Prefer much more volume? Check out our best hair dryers guide for our top picks for drying your locks.
What are the best hair straighteners?
Why you can trust Real Homes Our expert reviewers spend hours testing and comparing products and services so you can choose the best for you. Find out more about how we test.
The GHD Original IV Professional Styler is the best hair straightener you can buy, in our opinion. It makes an easy job of straightening hair and curling it, too. And it turns itself off if unattended for half an hour – great for peace of mind.
See more top picks below...
The best hair straightener picks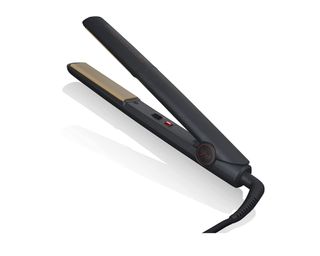 The GHD Original IV Styler is what we have on our dressing table – and we've been using ours for years and years. So much so that they're probably due an update in terms of looks, but they've never failed when it comes to straightening and curling our hair. Truly an investment.
What we loved when testing
First thing's first: this hair straightener is slim and nice to hold, it looks great on our dressing table and it has a long cable for those who are short on plug sockets. It's super easy to use with just one button – an on and off switch. While it is admittedly annoying that you can't change their temperature, it's not the end of the world, especially if you have healthy hair and you don't use straighteners every single day. The temperature they heat to, 185ºC, should be fine for tackling all hair types – even thick, unruly hair like mine! The plates are super smooth to make this job easy, and so that you don't have to tug your hair through the styler. This particularly makes a difference when you're curling your hair, as your hair will glide through this straightener like spreadable butter on toast. Another thing we love? They heat SO fast! They're ready to use in around 30 seconds, and depending on your hair type your style should last for days. I have pretty knotty hair and even for me, my hair will stay straight for at least two to three days.
The important stuff
This hair straightener has a 30-minute sleep mode – if you accidentally leave them switched on they will turn themselves off. It has a 2.7-metre cable and it comes with a three-pin plug.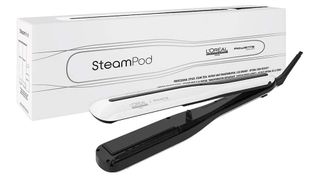 The L'Oreal Professional SteamPod 3.0 is a great product for those with unruly curly or frizzy hair, or if you're worried about causing further damage to already weakened hair. Why? It uses a continuous flow of high-pressure steam to hydrate and straighten each strand of your hair.
What reviewers love
We're yet to get our hands on a pair of these hair straighteners, so (for now) we'll just have to take reviewers' words for the fact that the L'Oreal SteamPod is incredible. Several people mention that this hair straightener is easy to use and worth the money – apparently, it makes your hair look super glossy, regardless of humidity! It's also loved by lots of people who have frizzy or curly hair, especially since it has a built-in comb for untangling strands. Another positive comment that crops up a lot is that it gives long-lasting results – people aren't having to go over strands of hair two to three times. Just the once does it!
The important stuff
With anodized ceramic plates for flexibility, this hair straightener features three temperature settings ranging from 180°C to 210°C. To spread your hair evenly along the plates, the L'Oreal Steam Pod features an integrated comb. Compact with a built-in water tank, it's also lightweight and therefore travel-friendly. That being said, you may find it a little more fiddly having to fill the water tank after each use and of course, they're slightly more expensive than other hair straighteners.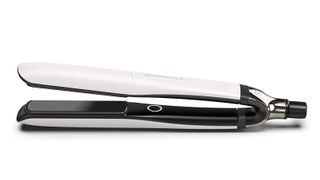 The GHD Platinum+ is the best GHD hair straightener you can buy, but with it comes a larger price tag. Since the Platinum+ is one of GHD's newest straighteners, it features up to date technology to not just straighten your hair, but improve its condition, too.
What we loved when testing
This hair straightener is, without a doubt, better than the GHD Original IV. Looks and performance-wise. Why's it not our first pick? Because there is a drastic £80 price difference. The GHD Platinum+ is ideal if you have the extra money and want the extra features. It really does leave your hair looking shiny (thanks to its plates) and it has a rounded barrel to make curling so easy. The fact these hair straighteners have a glossy finish means that your hair wraps around the barrel with ease, too. A wishbone hinge makes them easier to clamp while spinning. Overall, we suggest buying the GHD Original IV styler if you'll just be using it to straighten – perhaps you have a different pair of hair curlers? And the Platinum+ is best for both jobs; and, if you have the money.
The important stuff
It turns off after 30 minutes of inactivity, heats up in 30 seconds and it features a swivel cord for easy use. Ultra-zone technology personalises the styling experience to you, whether your hair is thin or thick, and it guarantees even heat across the whole plate for consistent results – no frizzy patches.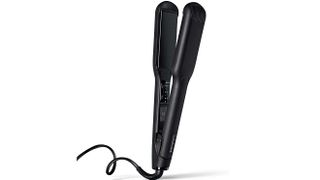 Cloud Nine's Wide Iron is the best pair of straighteners for those with thick hair. Why? This hair straightener has two 1.5 inch wide plates to make a speedy job of straightening and styling.
What reviewers love
We've not yet had the chance to try out a pair of these Cloud Nine straighteners, so until we can give them a test, we're trusting online reviewer's verdict. Obviously, the majority of people love the Cloud Nine Wide Iron, with lots of people claiming they are a better option than GHD's Max Styler which also has wider plates. Not just because they are great for thicker hair, but also because they offer seven temperature settings! It's also claimed, quite frequently, that they take half the time to style your hair in comparison to other straighteners.
The important stuff
With a heat-up time of 20 seconds and a 30-minute auto shut off function, these Cloud Nine straighteners boast seven temperature settings ranging from 100ºC to 200ºC. The plates on Cloud Nine's Wide Iron feature a unique mineral coating to a) add shine to your hair, b) prevent your hair drying up, and c) seal the cuticle layer – ultimately this prevents damage to your hair's natural structure and locks in moisture. In the box also comes a heat-resistant carry case and a protective heat guard for those times you need to pack them away while they're still warm.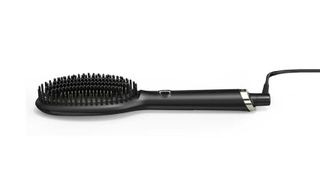 The GHD Glide is amazing at tackling frizz. Not just that, but it somehow leaves your hair looking straight, yet voluminous. With different length ceramic teeth that heat to 185ºC, when your hair glides through the teeth, the heat tames your locks and frizz in an instant – just like brushing your hair.
What reviewers love
We've not yet tested the GHD Glide, but one thing's for sure: everyone we know who has one loves it. Lots of reviewers who have used this brush rate it highly, noting that it leaves your frizz-free without being dead straight (and looking like it is stuck to your head). Lots of people have said it's quick to use, and there are comments on how long the results last – your hair should stay styled for days.
The important stuff
The brush features high density shorter and longer bristles for larger sections of hair to be styled, making sure your roots feel the full effect, too. The GHD Glide features an auto-shutoff mode after being on for 60 minutes. And, since the hot brush doesn't feature plates, it's a lot harder to for you (or inquisitive kids) to burn yourself. Use it as you would use a brush while blow drying your hair for a voluminous look.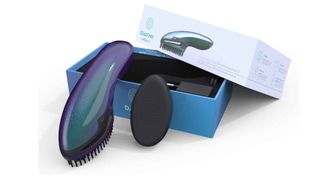 The DAFNI Allure is the best hair straightener brush around. It can be used on all hair types, though it will take longer to use on thicker hair. It's small, easy to pack in a suitcase and cordless for your convenience. Use it the same as a brush and it'll detangle your hair while straightening it.
What we loved when testing
When we tried the DAFNI Allure, its battery lasted for around two heads (on long, thick hair). It also worked great on hair extensions. We tend to use it on holiday (not as our everyday hair straightener) and we definitely find that it does the job of straightening hair. It may take a few times to get your hair straight, but it's very easy to use. Easier for shorter or thinner hair types, and while we do think it's heavy, what it lacks in size balances that out. It can fit inside a handbag and small suitcase. One word: convenient.
The important stuff
Bearing in mind that it works on a battery – it's compatible with USB chargers – it heats up in two minutes and can last for as long as three hairstyles or 30 minutes to be exact. Charging takes two hours. With an auto shut off mode after 15 minutes of inactivity, this straightening brush will never heat to over 365°F to protect your hair follicles. It comes with a pouch and a case to protect its bristles, too.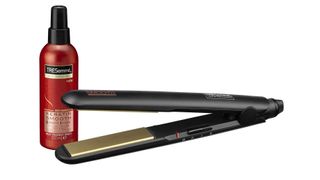 A pretty basic set of straighteners, the TRESemmé Smooth Control 230 hair straighteners do what they say on the tin. They are just under £50.
What reviewers love
Reviewers note that these hair straighteners are easy to use, great value for money and they love that there are three heat settings to choose from. They also comment that the straighteners glide through hair easily. Although, since they are cheap, some admit they don't feel super sturdy.
The important stuff
With three temperature settings, a maximum heat of 230ºC and automatic shut-off after 60 minutes, these hair straighteners are great. Not only that, but they heat up in just 15 seconds and you get a bottle of Heat Protect Spray included in the box, so you can help protect your hair from heat damage – great if you use straighteners every day.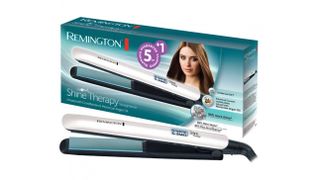 If you want to care for your hair while straightening it, and you're on a budget, the innovative Remington Shine Therapy Advanced Ceramic include special micro conditioners. For sleek and glossy hair, these straighteners have advanced ceramic coated plates that are infused with natural Moroccan Argan Oil.
What reviewers love
We're yet to review these hair straighteners, so while we get this done we are trusting reviewers. Lots of reviewers say this Remington straightener is great value for money, and they are recommended by the majority of people who try them. Some people have even said they are better than GHD. The oil-infused plates are loved by many – apparently, they leave your hair looking super shiny.
The important stuff
When heated, the plates of this Remington straightener emit the oil onto your hair through micro conditioners, so you're giving your hair a salon-style treatment as you straighten. There are nine heat settings so you can tailor it to suit your hair type, even bleached styles on a lower heat and super frizzy styles.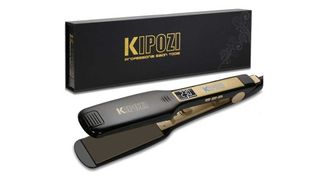 The Kipozi Professional hair straighteners are pretty versatile, so they can be used on all hair types – especially afro hair at a high heat setting. Each wide plate is also precision milled to let hair slide through without any effort required, which is why it's made it to our best hair straightener guide.
What reviewers love
We've not had a chance to try these out for ourselves, so we're trusting top reviewers. Lots of them said they are great value for money, with some rating them even better than expensive straighteners. Also mentioned frequently: they heat up fast and they are easy to use. Reviewers have all different hair types from thick to wavy, long and frizzy, and they all seem to be happy with the results. Most importantly, reviewers with afro hair claim these hair straighteners work nicely to leave their hair straight and silky.
The important stuff
There's an LCD display for easy use, and it has a 15-second heat-up time. An auto shut off mode kicks in after 60 minutes, and this hair straightener boasts intelligent safety temperature reduction. Most straighteners have ceramic plates but these ones have titanium, which is said to give a tighter press and better distribution of heat.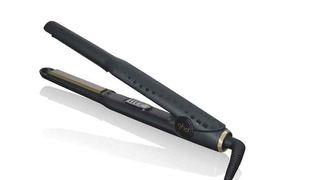 Looking to buy the best hair straightener for your short hair? The GHD Mini Styler boasts plates that are just half an inch wide so that you can straighten smaller sections with ease. And, getting to those baby hairs and short fringes is easy, too.
What reviewers love
We're yet to test these hair straighteners, which, are technically the same as the GHD Original IV styler, just smaller. So, with that in mind, we kinda have tested them, but we're yet to actually touch them. So, while we can't comment first hand on their size, we can say that the technology inside is great. They are easy to use, they give long-lasting results and they glide effortlessly through hair. Not just for those with shorter hair, you can also use them if your hair is fine.
The important stuff
Working at an optimal temperature of 185ºC as all great hair straighteners should do, this option may be small but it packs a punch. It even heats up in 30 seconds for quick use. They glide effortlessly through hair, they have a 30-minute sleep mode for safety purposes and a 2.7-metre cable.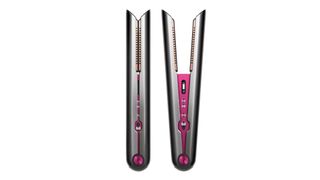 We have this straightener on our dressing table ready for use, however, unfortunately, it doesn't work as well as we would hope. Though it is cordless – a huge bonus! And, it has three temperature settings to choose from.
What we loved when testing
First thing's first: these hair straighteners are good. Though we don't think they are worth £400. They do, indeed, do the job at hand – to straighten hair. However, on our hair (and a few other people we tried them on) results are not long-lasting. This is to be expected since they are battery powered, after all. Straight hair turns back to wavy or curly (if naturally so) within a few hours. However, the immediate results are impressive as they can straighten your hair in one stroke. With flexing plates to gather your hair rather than clamp it, the Dyson Corrale can hold quite a lot of hair, and it really does requires less heat to do so than other straighteners.
The important stuff
The Dyson straightener takes from 25 to 35 seconds to heat to your desired temperature, which is incredible. One of the best features of the Dyson Corrale is definitely that it's cordless – so convenient! A full charge of the Dyson Corrale takes 70 minutes and powers the hair straightener for 30 minutes – two or three uses depending on your hair type and length. In the box also comes a handy charging stand to sit the straightener on while it's charging, as well as a travel pouch. Just be sure to activate flight mode if you are taking it on holiday.
What to consider when buying the best hair straighteners
Where to buy the best hair straighteners?
Heat up time
While some hair straighteners take only 15 seconds to heat up, others take a minute or maybe even two. Something to bear in mind if you're always in a rush or are impatient.
Heat settings and temperature
High heat certainly means faster straightening, but it's not ideal for all hair types, so look for a model with several settings so that you can reduce damage over time. If not, the ideal temperature for straightening hair is around 185ºC.
Auto shut off
For safety purposes, the best hair straightener options should have an auto shut off mode. Usually, these are between half an hour and one hour. This means that if you leave your hair straightener on, it will automatically turn itself off to prevent burning your surface or causing any more damage to your home.
Cord length
Something to bear in mind if your plug socket and mirror are opposite ends of the room. Some hair straighteners are cordless if you can't find a cord that's long enough.
Shape
This is mostly for those who'll be using their hair straightener to curl hair, too. If the plates and outer edges of the plates are slightly rounded, it will be easier to turn your straightener into a curling iron. A flat iron with sharp edges, on the other hand, will be less adaptable but may produce slightly straighter hair.
Plate material and width
These are usually made from ceramic, or in some cases, titanium. Titanium heats up quickly, applying higher temperatures more evenly and tends to cost more than ceramic versions. They are recommended for really curly or coarse hair. Ceramic is great value and really effective with even heat that suits most hair types. The wider the plates, the quicker you'll achieve the result you want.
More buying guides: