Giving food delivery boxes a go could be a real time saver. Sometimes known as recipe kits, they contain pre-portioned ingredients – no weighing out or measuring – and a step by step recipe for the week ahead's meals. They can be a slightly more expensive way to shop, but lead to much less food waste, and will reduce your shopping trips, too.
Another perk is that they introduce your family to meals you might not have otherwise tried. And even if you only use recipe kits one a week, month or even once every few months, they can give you loads of new family favourites and are easy for the kids to help cook.
Like the idea? We've taken a look at what's on offer, how much it costs, and the meal choices you'll get from the top food delivery box providers.
Just be aware that our picks are all subscription services not one-off orders, so you do have to cancel if it's not right for you. Also, while most provide virtually all ingredients save for a bare minimum of staples, one option requires you to shop for the fresh ingredients (it provides flavourings plus the recipes themselves). Also, one is for snacks rather than full meals. So there really is something for everyone.
Do you need to be good at cooking to try a recipe kit? Definitely not. The instructions are so simple that even the least confident cooks can give them a go. You will need to be able to do some light prep – washing and chopping ingredients – and then fry, roast or boil certain parts before assembling. We recommend getting hold of the best blender as some recipes require prep and mixing that is much easier with a bit of power.
Read on to see our top picks and you will be cooking up a feast in no time.
The best food delivery boxes
Why you can trust Real Homes Our expert reviewers spend hours testing and comparing products and services so you can choose the best for you. Find out more about how we test.
What's on offer?
Gousto operates via subscription and delivers a weekly box with measured portions of ingredients to create the included recipes. It promises over 40 of these each week.
Subscriptions can be paused, while a box can be skipped as long as this is done by the cut-off deadline.
You can pick a box for two or four people, but Gousto does suggest that, for example, two adults and three children could try the four serving box as the portions are generous.
Either box can be ordered with either two, three or four recipes in it.
How much does it cost?
The least expensive option is a box with two recipes which costs £24.99 for the two person version, while a family (four person) box is £31.75 for two recipes.
Delivery of the box is free between 8am and 7pm, but they will leave it in an insulated box in a safe place. Need a morning or evening slot? This costs £2.99 extra.
Where is food sourced?
Gousto works with suppliers in the UK and further away. It uses only UK meat and poultry, free-range eggs from Lincolnshire and charcuterie from a Bristol supplier. Fish and seafood promises to be sustainably sourced. They also do great collaborations with the likes of Marmite and Meatless Farm Co.
What's not included?
You will need to keep some basics to hand in your kitchen – that's salt, pepper, butter, flour, sugar, olive oil, vegetable oil and milk.
What about the packaging?
The weekly box is recyclable cardboard (it's from FSC certified sustainable sources, too). The plastic pots inside can be recycled, as can tins. The ice packs contain only water, and the bag can be recycled. Most of the plastic packaging can be recycled via plastic bag collection points, too, but the small sauce and paste sachets aren't recyclable.
Where does it deliver?
A large chunk of the UK mainland, Gousto says. However, some postcodes don't get delivery as yet. Check if this includes yours.
What do the reviews say?
Four and a half stars out of five is the verdict on Trustpilot with 70% excellent ratings. Customers praise the quality of ingredients, the lack of waste, and the tasty recipes. The environmentally aware approach with packaging is also noted. Customers who weren't happy mentioned delivery issues and missing items.
Current offers: Check out our Gousto discount codes.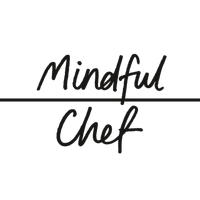 What's on offer?
You'll get a weekly box for one, two or four people containing two to five recipes with Mindful Chef. The recipes are in a little booklet (so you get to see all the other recipes, too) and the ingredients are pre-portioned and packaged into a single bag for each meal. All recipes are designed to take under 30 minutes.
All meals are gluten free and dairy free, and are based on fresh vegetables. The ethos is to reduce sugar and refined carbohydrate intake, so you won't receive any pasta, bread or white rice. There are 16 recipes to choose from every week of which 12 are new, and aren't repeated in 12 weeks, while four are 15 minute meals which change every four weeks. The vegan options are phenomenal.
It's a subscription service but you aren't tied in. The default when you sign up is a weekly box, but you can specify something else. When you're going away you can cancel individual deliveries up to eight weeks in advance. There are set deadlines for any delivery changes you request.
How much does it cost?
A family box costs from £5 per person per portion based on four people; for a two-person box, it's £5.50 per person per portion; and for one, it's £8 per portion. Delivery is free.
Where is food sourced?
Mindful Chef promises that all red meat is 100% grass fed heritage breed and reared on the Yorkshire Dales. Chicken is free range from East Anglia. All fish is sustainably sourced and landed in the UK.
What's not included?
You'll need to provide cooking oil, salt and pepper.
What about the packaging?
The box is recyclable, as are the pots and craft bags. Insulation is made from recycled off-cuts from the cotton industry, and ice packs are made with non-toxic polymer gel. Both insulation and ice packs are reusable and can be returned.
Where does it deliver?
Delivery is nationwide excepting some parts of the Scottish Highlands, Northern Ireland and the Isle of Wight. The boxes are designed to stay cool for 48 hours so they can be left in a safe place.
What do the reviews say?
Mindful Chef gets 4.5 out of five stars on Trustpilot with 82% of reviews rating it excellent. Fans like the taste of what they make, and the easy to follow recipes. The quality of the food also wins praise. The criticisms include issues with delivery, and those not realising they were signing up to a subscription.
Current offers: Get £10 off your first and second boxes with the code AFF10X2, free delivery and look out for offers and discounts for signing friends up.
What's on offer?
Like its competitors, SimplyCook is a subscription service. However, its box is letterbox sized. Each includes four recipe kits and step-by-step recipe cards. You'll need to combine what's in the kit with four to six fresh ingredients you shop for. Pick between kits designed to feed two and four people – if you're feeding four, you use a larger quantity of fresh ingredients as detailed in the recipe cards.
What's supplied includes culinary pastes, infused oils, garnishes, rubs, specialist stocks and herb and spice blends, and SimplyCook says the blends may contain as many as 18 ingredients. Everything has a good shelf life so this is a great choice if you want to expand your culinary horizons, but like the flexibility of changing your dinner plans.
You can have a delivery each week, every two weeks or once a month. You can also pause or cancel the subscription online.
SimplyCook's recipes are designed to take 20 minutes each and promise flavours from around the world.
For the trial (see below), you can choose from 44 recipes, and if you continue with the service after that, there are over 100 to choose from.
How much does it cost?
You can start with a £3 trial box. After that each box is £9.99 with delivery included.
Where is food sourced?
As you're buying your own fresh ingredients, the provenance of these is up to you.
What's not included?
You'll need to put things like meat, vegetables, rice or pasta on your shopping list, although you may have ingredients like the two latter in your cupboards in any case. You might also need cooking oils or flour, depending on the recipe.
What about the packaging?
The box, kit boxes, cards and pots are recyclable, but the film lids on the pots aren't.
Where does it deliver?
The boxes are available throughout the UK, and are delivered by the Royal Mail. They should fit through a standard letterbox and don't need a signature.
What do the reviews say?
It's four and half stars on Trustpilot for SimplyCook, and 81% of ratings are excellent. Subscribers like the recipes and the flavours of the dishes they've produced, and the fact that cooking doesn't take very long. Unhappy reviewers expected the fresh ingredients to arrive, too, while there is disappointment that there isn't a vegan range.
Current offers: Try four recipes for just £3.
What's on offer?
You might know Abel & Cole for its fruit and veg boxes, but the company also offers recipe boxes containing pre-portioned ingredients and recipes to create meals.
You can choose from 15 recipes a week, and order as many as you like from one meal to seven days' worth. Meals are for two, but you can double up to make for more. There are four vegetarian, three vegan and three fish recipes as part of each week's selection.
Recipes are divided into four types: foodie (designed to be more adventurous), light (that's under 500 calories), simple (the company's twist on favourite dishes), and speedy (ready in 20 minutes with just seven ingredients).
It's a subscription service, but you can cancel at any time. You can choose how often a box is delivered and you can skip a delivery when you need to.
How much does it cost?
From £6 per person per portion. A one-recipe box costs between £12 and £14 and there's a £1.25 delivery charge on all orders.
Where is food sourced?
Food comes from the UK and further afield – the company says it can't rely solely on British or local suppliers because of the issues of seasonal availability. Food from abroad is shipped over water rather than airfreighted. Almost everything is organic although some items, like wild game and sea-caught fish, can't be officially certified.
What's not included?
You'll need cooking oil, salt and pepper.
What about the packaging?
The company says most packaging can be recycled or re-used. If your local authority doesn't recycle something particular, you can put it in the box you're returning for the company to deal with.
Where does it deliver?
Check on the website to see if you're in an area to which Abel & Cole delivers. If it does, bear in mind that your delivery day and time depends on where you live and each area is only visited once a week.
What do the reviews say?
It's four and half stars for Abel & Cole on Trustpilot, with 70% rating it as excellent. Reviews aren't specific to the recipe boxes, but overall customers are pleased with the reliability of the deliveries, and the quality of the produce. Criticisms include that customers didn't realise they were subscribing – as with other services – while some do report issues with delivery.
Current offers: Visit the offers page for discounts.
What's on offer?
You guessed it: Graze delivers snacks rather than meals. Both sweet and savoury nibbles are on offer.
There's a choice of three boxes with four sections (punnets) for the snacks. The variety box offers the full range of over 100 different snacks. The light box consists of the lower calorie options, while the protein box offers snacks designed to up your intake of this food group.
You can set up dietary preferences, and decide which snacks you want to try, and the boxes are customised for you. It's actually an algorithm that tailors each box, and learns about your preferences as you rate the snacks you've eaten.
It's a subscription service with the frequency of delivery up to you. You can pause your subscription if you're away, or change an upcoming box, but you'll need to do so at least a week in advance. You can cancel a subscription entirely online, too.
How much does it cost?
A four punnet box costs £4.49, and delivery is free.
What's not included?
These aren't recipe boxes, but snacks, so you'll need to sort out meals separately.
What about the packaging?
Graze says its punnets are made from fully recyclable plastic – it's the same sort as that used for plastic drinks bottles. There's at least 50% recycled plastic in each punnet, too.
Where does it deliver?
You can opt for delivery anywhere in the UK.
What do the reviews say?
Graze gets four stars out of five on Trustpilot, with 60% of reviewers scoring it as excellent. The tastes, variety and portability of the snacks is acclaimed. Customers who weren't happy had encountered delivery issues, while others reported problems when trying to cancel subscriptions.
Current offers: Get your first box half price.
How to choose the right recipe kit for you
We hope the advice above has given you everything you need to know to choose. But if you are still unsure, think about why you are getting a food delivery box. For most people it is about the convenience and cutting trips to the shops – but this can come at a price, so think about your budget. That said, some people find they save money using recipe kits as they are buying the ingredients they need and not wasting and food. It is also a great choice for people who don't like cooking and tend to turn to take out – you could make big savings and pick up some kitchen confidence in the process.
If budget is less of a concern, then your choice will be driven by the types of meals on offer. Gousto have made a name for themselves offering a wide range of exciting meal options. They have also worked in collaboration with companies like Meatless Farm who produce meat alternatives and even Marmite, producing some interesting meals like Marmite mushroom carbonara.
If you are looking at managing your weight or eating a healthier diet, we think Mindful Chef is the best option. They use lean cuts of meat, limit use of highly processed carbohydrates and pack their meals with vitamin rich fruit and veggies. They are really helpful if you are looking to cut out gluten and dairy too as all of their meal options are free from these ingredients.
Just want to learn some new recipes and use your own protein or veg? Simply Cook are not recipe kits as such, but spice kits. They are a great budget option for turning leftovers and bits and bobs in the fridge into something delicious and might teach you some new flavour combos.