An eternity rose is the perfect option if you're looking for a gift for someone special. These immortal flowers symbolize undying love, making them a popular choice for Valentine's Day, Mother's Day, engagements, weddings, and anniversaries. There are plenty of options out there to consider. If you want an eternity rose to be displayed, then flowers in a glass dome are a popular choice. Alternatively, many of the roses we're highlighting come with a stand. Have a look at our elegant selection of the best eternity roses available now.
Staff pick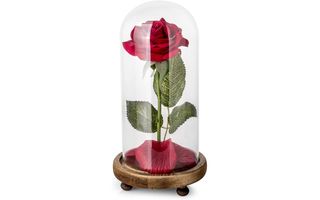 A popular choice for princess fans
Inspired by Beauty and The Beast, this lovely, glass-domed eternity rose is a kit that can be assembled by your recipient or put together before you present it. The kit contains a red silk rose, LED strip lights, rose petals, a glass dome, a wooden base, remote control for the lights, and a gift box. The dome measures 8-inches high, and the USB-powered LED lights measure 6.5-feet long.
Precious metal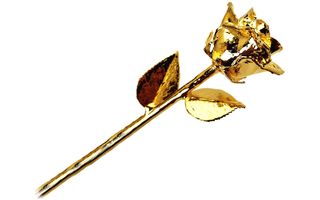 Preserved and plated flower
The Forever Rose company offers real roses, preserved and plated in precious metals. We like the classic 24k yellow gold version, but there are other finishes available: platinum, silver, and rose gold. Each rose is unique, measuring approximately 11 to 12-inches long. The roses come packaged in a gold gift box, complete with a certificate card.
Great color options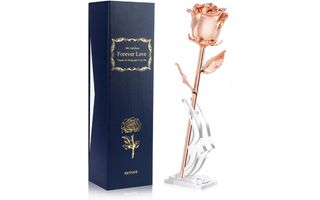 Handmade over four days
Ejoyous offers a large range of dipped real roses. You can choose between a mature, open rose like the flower pictured or smaller, closed rosebuds. The color choice is great too, with a variety of options from simple precious metals, to more colorful resin-coated options. Each rose is picked at its peak beauty, then painstakingly preserved with a 65-step process that takes place over four days. These roses come with a certificate and gift box.
Preserved flower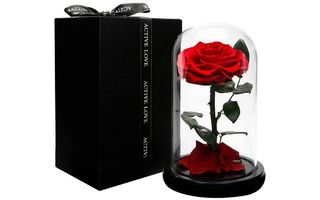 Complete with fallen petals
Dakotan's offering is a preserved rose inside a glass dome. This is a real rose, specially treated to last at least three, but possibly up to five years. Complete with fallen petals, the glass dome measures nearly 9-inches tall. The dome sits on a wooden base. This rose comes in an elegant black gift box with ribbon detail. It is available as a classic red rose or a pretty pink version.
Great value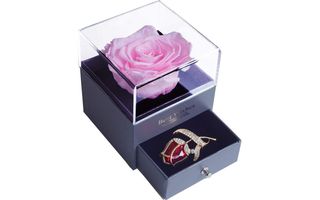 Preserved flower and matching brooch combo
This affordable option makes a great gift as it includes a rose-themed brooch. The preserved rose, available in red, pink, yellow, or blue, sits atop the box in a clear casing. The drawer underneath holds the costume jewelry which matches the color of whichever rose you've chosen. This floral gift comes with a "Best Wishes" gift bag and card.
Gold-trimmed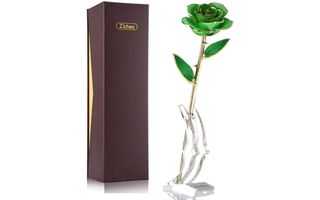 In a wide variety of colors
Zjchao offers a colorful range of eternity roses and rosebuds. Each color represents a different message of love. These roses are preserved in a special process, then the stems and leaves are gold-trimmed to create a beautiful gilt effect. These roses come with a clear display stand and an attractive gift box.
Popular for proposals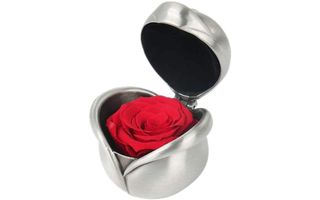 In a beautiful flower-shaped metal gift box
This preserved rose sits inside a beautiful flower-shaped metal box. For obvious reasons, it's a popular choice as a holder for engagement rings. We like this classic red rose in a silver-colored box, but there are other color options available. This flower is delivered in an attractive, padded gift box, so it is well protected.
Complete with stand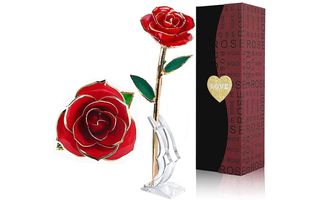 Made from a real rose
This is another life-like option made from a real rose. The preservation process uses a special natural protein resin, which means you can still see the details in the petals and leaves. The stem and the edges of the flower and leaves are plated in 24k gold. This flower comes with a display stand and is shipped in a specially molded gift box that has recessed channels to protect the delicate bloom.
Long-lasting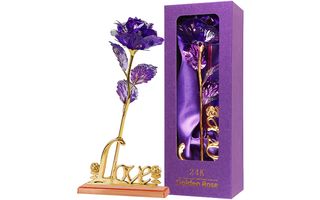 With a love-themed base
This is an artificial option that will last forever. It's available in blue, purple, red, and an iridescent rainbow option. The petals and leaves of this rose are a flexible foil, the stem is made from a golden material, and the stand features the word "love" across the base in a decorative, flower-themed font. This floral gift comes with a window-accented gift box.
Beautiful keepsake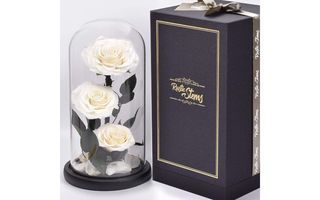 Three large Ecuadorian roses
This beautiful floral arrangement from Rustic Stems is another preserved rose option, lasting for around three to five years, depending on atmospheric conditions. The flowers are large and full, specially sourced from Ecuador. The leaves are also genuine rose leaves. The glass dome measures 6.7-by-12.2 inches and comes in a sturdy gift box. This option is available in various colors, including this elegant luxury white choice.
Eternally yours
Why you can trust Real Homes Our expert reviewers spend hours testing and comparing products and services so you can choose the best for you. Find out more about how we test.
Our overall staff pick for the best eternity rose is the Louis Garden Beauty and the Beast rose kit. This fairytale-inspired display features a beautiful artificial rose and magical twinkly lights.
If you want a real, preserved rose arrangement, then choose the Rustic Stems luxury preserved roses in glass dome. This option features three gorgeous full rose blooms that could stay fresh for up to five years.
Anyone looking for an affordable gift option should look at the Sweetime forever pink rose jewelry gift box. In addition to a lovely preserved rose, this comes with a striking rose-themed brooch, all for a very reasonable price.