The best energy supplier will have the best energy prices in your area, of course – but to really be one of the best, they'll also need to offer the best customer service, and at least some tariffs with renewable energy. There are many companies vying for your business, including both the big six names – British Gas, EDF Energy, E.on, Npower, Scottish Power and SSE – and smaller companies, some of which you may not have come across before, but that are actually giving the big six a run for their money. Out guide will help you choose the best energy supplier for cost, transparent billing, and customer service. While not all are green suppliers as such, most will offer at least some renewable options.
Want a good energy deal right now? Our energy comparison tool will help you find the best offer for your home.
The best energy suppliers
Why you can trust Real Homes Our expert reviewers spend hours testing and comparing products and services so you can choose the best for you. Find out more about how we test.
What they're good at
Bulb Energy makes things easy with just one tariff on offer, so you can save yourself the chore of comparing the pros and cons of various deals. There are no exit fees either, meaning if you find a better deal somewhere down the line, you won't pay. Even better, if your current supplier charges you an exit fee, Bulb will refund it. It's usually among the best deals available.
What else you need to know
Bulb Energy is a green energy supplier: electricity is 100% renewable from solar, wind and hydro sources, while gas is 100% carbon neutral and some of the gas the company buys comes from renewable sources.
Be aware that the tariff offered by Bulb Energy is variable. In other words, if you're after a price you can be sure about for a fixed period of time, this isn't the energy supplier for you. However, if you can accommodate change in what you pay, there is the advantage that if wholesale prices go down, you'll save.
What they're good at
There's a good range of tariffs offered by E.on – both fixed over a specified period and variable versions, so there should be a deal to suit your current situation. All residential customers get 100% renewable electricity so you can feel the green glow when you use the company as your supplier.
What else you need to know
Be aware that E.on's fixed tariffs require you to have smart meters (one for gas and one for electricity) installed. You don't pay for this, however, and if the company can't install the meter you still get the tariff you signed up for.
There's a tariff available for the drivers of electric vehicles and plug-in hybrids.
What they're good at
With frequent appearances near the top of price comparison sites, Green Network Energy can help you get value for your money. There is a choice of tariffs, but not an overwhelming amount to consider, which can make things simpler. If you generate renewable energy and export it to the grid, the SEG (smart export guarantee) tariff will pay you.
What else you need to know
The company – which started in Italy – invests in renewable energy technology, with wind, solar, biomass and biogas projects. Feedback from customers is rated as great on Trustpilot, although some have reported confusion over reporting readings from Economy 7 meters.
What they're good at
Octopus Energy is our number one green energy supplier, but highly competitive prices and glowing customer reviews have made the company – which only launched in 2016 – a popular supplier choice even when the green part isn't factored in. It was Uswitch energy supplier of the year 2020, and garners five star ratings. There are both fixed rate and variable tariffs to choose from, and all the electricity is 100% green, while you can opt to carbon offset the gas you use.
What else you need to know
There's a smart export tariff available for those who can feed excess renewable energy they've generated back into the grid. There's also a tariff for electric vehicle drivers, and a tracker tariff where prices change daily based on wholesale energy costs, which is the price available to all suppliers.
What they're good at
Tonik Energy says it's committed to supplying green energy at an affordable price, and customer feedback shows it's achieving this and keeping them happy while it does so. It has both fixed and variable tariffs to select from if you sign up. You can earn interest of 3% on the first £1,000 of credit balances on some tariffs.
What else you need to know
It can be hard to track down the information you need on the website. Some customers report issues receiving closing credit refunds and final bills.
The company isn't just an energy supplier. It also sells solar panels, electric vehicle chargers and the Tesla Powerwall home battery storage.
What they're good at
The pioneering green supplier that was sourcing renewable energy before everyone else was doing it, Ecotricity remain committed to changing energy supply in the UK. Their most admirable quality is the fact that the re-invest all dividends into building more renewable energy infrastructure, including an ambitious project to generate their own green gas from their own biomass factories. They are passionately anti-fracking, too, which will appeal to many switchers.
Ecotricity is one of the few companies on our list who actually generate some of their own green electricity (15 per cent), as well as buying from other renewable generators. Gas isn't currently green, but they promise that it will be, and are running a carbon offsetting programme.
What else you need to know
Like other energy suppliers that are aspiring to be or are truly 'green', this isn't a cheap option. People also sometimes complain that getting bills in order when they want to leave can result in some issues.
Find the best energy deal for your home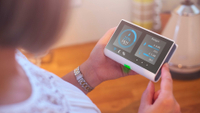 Find the best energy deal for your home | Real Homes and MoneySuperMarket
Use our energy comparison tool to find the best green energy deal for your household in minutes. Simply filter your results to show green energy suppliers, choose your tariff, and we'll take care of the switch for you. Plus, because we've partnered with leading comparison site MoneySuperMarket, you'll get access to exclusive energy deals that you won't find elsewhere.
What is the best energy supplier?
Our top pick of energy suppliers is Bulb Energy. The company wins plaudits for its customer service as well as offering money-saving deals. It's actually a green energy supplier, but it stands out against all-comers. Prefer to get your energy from one of the big six? Our selection is E.on, which offers a wide range of tariffs and competitive deals. No time to read down? Here are all our category champs at a glance.