Looking for the best duvet? Of course you are! A good duvet can change your life – well, it can help you sleep better, and we think that can be pretty life-changing.
We've searched high and low and tried and tested duvet after duvet (hard work we know) to bring you our top choices of the best duvets out there, whether you're looking for a luxurious goose down duvet, an anti-allergy option, or an eco-friendly all-seasons quilt.
The duvets featured in this buying guide have made it onto our top 10 shortlist because they're high-quality, easy to care for, breathable, comfortable, and (for the most part) affordable.
Once you've sourced the best mattress for a good night's sleep, finding the best duvet and pillows to let you relax gently into a peaceful slumber is the next step on the journey to a good night's sleep, so read on to find the best options for you.
---
The best duvet: tried and tested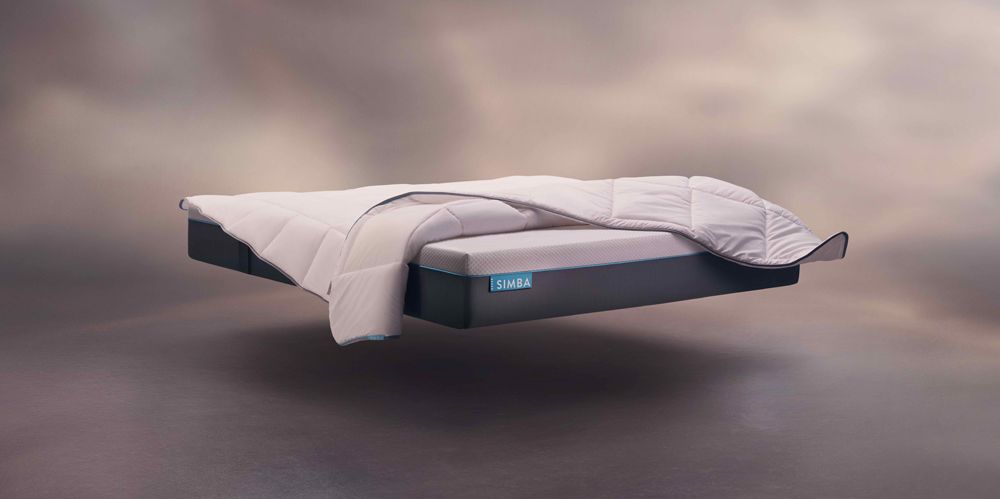 If you struggle to maintain a comfortable temperature in bed - or want the best duvet for all seasons rather than having to swap and change as the weather adjusts - then we think the Simba Hybrid Duvet could be the perfect solution.
Simba has done away with tog ratings on the Hybrid duvet, instead utilising what it calls temperature regulating technology to make the duvet snug in the winter yet cool in summer. How? Firstly, the impressively titled Stratos Active Temperature Regulation layer uses Phase Change technology (also used in space travel for temperature regulation) which is applied to the cotton outer in order to absorb, store and release latent heat when you need it. This is teamed with a breathable cotton layer and wadding made from recycled PET bottles for plenty of soft fluffiness.
The polyester filling is stitched into square pockets for an even distribution of padding which leads to quite a structured duvet. This makes for a slightly heavier feeling duvet, but as long as you like a little bit of weight to your bedding, we think this is the perfect feel.
However, at an RRP of £169 for a double-sized duvet, this option doesn't come cheap. Although, potentially, you will save on buying multiple duvets with different tog ratings by opting for an all-season solution.
You also have the peace of mind of investing in a brand that takes sustainability seriously, with the use of recycled Global Recyled Standard certified PET fibres for the duvet inner, cotton approved by the Better Cotton Initiative, and Simba working to make its impact on the planet minimal by manufacturing using energy from certified renewable sources in an Eco factory accredited with ISO 14001, which means the brand's environmental impact is monitored, benchmarked and controlled.
Real Homes Rated: 5/5 stars
---
If you're looking for the lightest weight duvet (that will still keep you warm) then we think we've found a top contender in the Fogarty Light & Lofty Warm Waffle duvet.
This good-value duvet is available in 4.5 or 10.5 tog, depending on if you're looking for super light and super cool, or light and fluffy but still with enough heft to keep you warm.
We tested the 10.5 tog and were instantly impressed by how lightweight this duvet was. The dimpled cover is super soft to the touch, with undulating 'wave' seams that run from top to bottom to keep the generous polyester filling in place. On lifting it up this duvet really does feel as light and soft as a cloud, but the thicker tog still has enough substance to it to make you feel that you're sleeping under something soft, substantial and cosy.
Considering the outer fabric is polyester, we also found this duvet to be pleasantly breathable, allowing air to circulate nicely rather than trapping heat under the covers. Although, compared to other 10.5 tog duvets in this round-up, we did feel this duvet was a better summer than a winter option, as it felt significantly cooler to sleep under than the equivalent tog in the Panda duvet for example.
But, if you're looking for a super lightweight duvet that you will barely know is touching you - and for a very affordable price point - we think this is a great buy, performing almost as well as similar lightweight duvets that are more than quadruple this price.
However, the downside for some will be the non-sustainable materials used. Considering this is a 100% polyester duvet we would have liked to see Fogarty utilising more recycled PET fibres in its manufacture, although on the plus side the UK manufacture does mean reduced shipping miles.
Real Homes Rated: 5/5 stars
---
If you're someone who prefers to sleep under a duvet that has a bit of weight to it, then - despite its name! - we think the Panda Cloud duvet offers the great blend of being a substantial feeling duvet that remains pleasantly breathable; stopping you from overheating in the night.
First impressions of this duvet are particularly good, with it arriving in a branded recyclable cardboard box packed carefully into a handy reusable fabric drawstring bag to eliminate any single-use plastic. The duvet itself is also smart, with stylish black piped edges and Panda's distinctive black and white panda face logo (of course) embroidered onto one corner.
The panda denotes the brand's main premise; the use of the iconic black and white bear's favourite food - bamboo - in all of its products, and this duvet is no exception.
Bamboo is a fast-growing, low maintenance fibre that can be grown organically and pesticide-free, leading to it often being heralded as a sustainable alternative to cotton, which in mass production uses huge quantities of water and large amounts of pesticides in its production. Whether bamboo remains as sustainable an option once it is turned into the fibre necessary for producing fabric is a less clear story, but there is no doubt that the strong and silky material it creates makes it perfect for bedding.
The Cloud duvet's bamboo rayon cover is certainly super soft, whilst the quilted duvet is packed with a mix of 50% bamboo fibre and 50% polyester 'nano microfibre'.
It's that bamboo fibre that gives this duvet its weight, but the same fibres also deliver good breathability, meaning despite its substance, the duvet's airflow still remains good to prevent overheating.
The duvet also features corner loops - a really useful feature that more duvets could employ - that allow Panda's own brand duvet covers to be fixed into place securely. (You'll find a review of Panda's 100% Bamboo duvet cover set in our guide to the best duvet covers).
Plus, the duvet's OEKO-TEX Standard 100 certification means that the Cloud duvet has been tested to an environmental standard that ensures there are no harmful chemicals are present in the end product - sadly not an across-the-board standard, and definitely something worth considering when a product will be this close to your body for long periods of time.
Real Homes Rated: 5/5 stars
Are you someone who really feels the change in seasons? You need this budget-friendly all-season duvet from Slumberdown. It's a dream for those who lack storage space, don't want to own to separate duvets and of course, students.
Tog rating
This three-in-one Slumberdown duvet rids the need of storing both a winter and summer duvet: it can be a 4.5 tog duvet one minute, then, with the 10.5 tog duvet clipped on, a 15 tog duvet the next.
Filling
Both the 4.5 and 10.5 tog duvets feature a hollow fibre filling, which is both washing machine and tumble dryer friendly. The best of both worlds.
Do you suffer with hay fever, asthma or dust mite allergies? The Slumberdown Allergy Protection 10.5 Tog Duvet is the best affordable duvet for you. We rate it the best duvet for allergy sufferers and those who want a buy that's cheap yet very cheerful.
Filling
It comes with a seal of approval from Allergy UK; inside, it's filled with polyester and Allergy Protect fibres that have been specially treated to provide asthma, allergy and dust mite protection.
Tog
It's a mid-weight 10.5 tog, meaning you can use it all year round without getting too hot or too cold. It's both machine washable and tumble dryer friendly, and our favourite part is that it's super lightweight and has a 100 per cent cotton cover.
This luxurious goose down duvet is the ultimate investment for an exquisitely warm and comfortable bedtime. The John Lewis Superior Siberian Goose Down Duvet is our pick of the best goose down duvet you can buy.
Light
While it's supremely cosy, it's also extremely light and lofty, so it won't feel clammy, and it carries the Nomite mark, meaning it's guaranteed suitable for people with dust mite allergies. Reviewers say it's worth every penny, so if you've got it, go for it, but for the luxurious feel of down on a budget.
Tog
Coming in at 13.5 tog, this duvet will be sure to keep you warm during the winter. In the summer you may want to invest in a sheet to pop between you and your duvet, but that's all dependent on whether you're a hot or cold sleeper.
---
How to buy the best duvet
Duvet tog ratings
A duvet's filling will determine how light or heavy it is, but its tog rating indicates how warm it will feel. The higher the tog rating, the warmer it will feel.
Summer duvets fall between 1 and 4.5 togs; spring/autumn duvets between 7 and 10.5 togs; and winter duvets between 12 and 13.5 togs. No one (we know) would want to buy three duvets to cover all seasons, so it's worth buying an all-season duvet: this comes in the form of two lighter-weight duvets (one spring, one summer), clipped together to make a higher tog (winter) duvet.
Couples who prefer different levels of night-time warmth can be catered to with duvets with different tog ratings on either side. Or, you could sleep like the Dutch, and have two single duvets on the same double bed.
Duvet fillings
There are many duvet fillings to choose from: synthetic, microfibre, feather, down, cotton, silk and wool, and each feels different to sleep beneath. Here's a rundown:
Natural duvet fillings feel luxurious to sleep beneath. Duvets with a high feather content feel warm, heavy and enveloping, but are breathable, so you won't feel sweaty. You can check the feather content levels (it's called 'fill power') on the label: the higher the fill power, the warmer it will be. Check, too, that the feather or down comes from a certified farm to ensure the duvet is of good quality. Allergy sufferers should also ensure these natural fillings have been treated and that the duvet cover is woven tightly to avoid dust mite allergens. Wool, silk or cotton fillings, feel soft and comfortable to sleep under, but like other natural fillings are more expensive than synthetic ones.
Synthetic duvet fillings are usually more affordable than duvets with natural fillings. Made from hollowfibre or microfibre polyester, which are non-allergenic and feel lighter than feather or down, they're still warm to sleep beneath. The White Company's Deluxe Down Alternative Duvet is another synthetic option, and if you're looking for an eco-conscious duvet, we have one on our list that's made from 100 per cent PET plastic bottles. Don't judge until you try! Other things to love about synthetic duvets? They can be machine washed, which is another tick in the box for allergy sufferers.
Duvet size
You need to shop for a duvet with your mattress measurements to hand. Too small for the bed, and you'll feel the draughts; too large, and the duvet will feel uncomfortably heavy.
Machine washable?
Most manufacturers say duvets should be laundered every few months. If you don't want to lug yours to a dry cleaner then look for one that's machine washable and tumble-dryer tolerant. Our guide to how to wash a duvet has plenty more advice.
How to turn your bedroom into a sleep sanctuary
Investing in the best duvet isn't the only thing you can do to increase your chances of a good night's sleep.
Finding a duvet cover set that also offers good temperature regulation so you don't wake up too hot or too cold can make a big difference to a comfortable snooze, as can finding a pillow that suits your sleeping position - whether you're a front, back, or side sleeper. You'll find our top picks of both in our guides to the best pillows and best duvet cover and bedding sets available.
And don't worry, you don't need to spend a small fortune to get a better night's sleep, our edit of the best bedding brands will point you in the right direction for finding options to suit your budget, whilst our round-up of the best bedding sales each month can save you some hard-earned cash.
Most sleep experts will also tell you that creating a calming environment in the boudoir is essential for a successful wind down in the evening, which makes the decor you choose in the bedroom particularly important. Get some inspiration in our bedroom ideas round-up, and our guide to how to decorate a bedroom.
A weighted blanket can also help to set the mood for relaxation, delivering serotonin and melatonin boosting Deep Pressure Therapy. Take a look at our tried and tested favourites in our guide to the best weighted blankets for adults.
It's also important not to underestimate the power of a calm mind. Using a mindfulness app like Headspace or Calm, or doing mindful stretching exercises like yoga or pilates before bed can all help you to train your mind and body to relax, helping you to achieve more restorative sleep.