Look, there's nothing glamorous about cleaning your drains, but it's better to get on top of it before it gets on top of you. Tending to your drainpipes monthly, rather than neglecting them, is always wise and means that when you do get around to whipping out your cleaning supplies, it's a far simpler and less grim affair. After all, no one wants to be picking matted hairs and unspeakable dirt from out their sinks or downspouts — it's just not chic.
To start with, there are some immediate actions you can take to prevent smelly odors and clogs in the first place, including scraping leftovers into the trash and doing a kitchen sink clean every month or so. That said, if you're already faced with a blockage, there's still hope. Try some of these unclogging techniques that surprisingly don't require a plunger. Just remember, it pays to be prepared for issues when they strike, which is why I've taken a deep dive into the slightly gross world of drain cleaners so that you don't have to. I mean, you're totally welcome.
From heavy-duty cleaners to ones for the kitchen, bathroom, and outdoors, I've featured solutions, powders, tablets, and cleaners. Only sourcing affordable and highly rated designs — nothing less than four stars, darling — I've pulled together a list you can trust. Your landlord will thank you later.
The best drain cleaners that actually work
Why you can trust Real Homes Our expert reviewers spend hours testing and comparing products and services so you can choose the best for you. Find out more about how we test.
The prices in this guide were correct at the time of publishing.
Drain cleaner for kitchens
When it comes to drain cleaners for kitchens, you need to consider your issues. If it's thick grease — perhaps caused by pouring the remains of last night's dinner down the drain (never advised!) — then something a little stronger should do the trick. However, a quick freshen-up might be enough. Luckily I've covered both.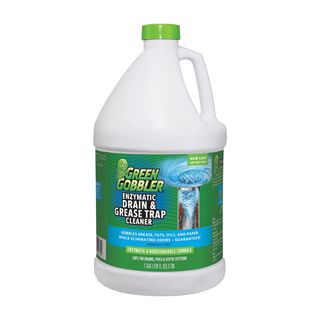 1. Green Gobbler Grease Trap and Drain Cleaner
Size (fl oz): 128
Application: Pour 2–4 cups into the drain
Price: from $22.97
Containing special enzymes and bacterial culture, this gobbles up the grease, starch, proteins, oils, and fats that often clog our precious drains. To be used on a monthly basis, it's safe for household pipes and drains, as well as septic tanks. Unlike other caustic chemicals, this is a far safer alternative, dissolving waste in its wake. Oh, and it's non-corrosive and kinder on the environment than bleach or sodium hydroxide. Where reviewers are concerned, this works wonders, eliminating odors after one use.
2. Compac Home Plink Fizzy Drain
Pack of: 6
Application: Dissolve in hot water
Price: From $6.99
For fresh kitchen sinks without the elbow grease and scrubbing, these fizzy tablets are a must. Suitable for use in any plumbing or septic system, the phosphate-free tablets should be used twice a week for best results. Thanks to its fast-acting, fizzing action, it deodorizes and blitzes the drain, using enzymatic technology to ward off unwanted blockages. The shoppers' verdict? Smells great, and it works almost straight away.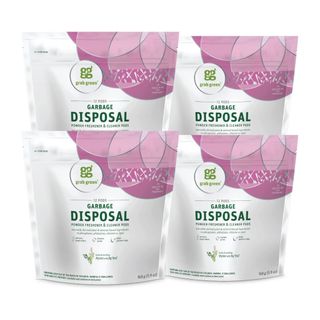 3. Grab Green Garbage Disposal Freshener and Cleaner Pods
Pack of: 4
Application: Dissolve powder pods in water
Price: From $19.80
If there's one drain that really takes a beating, it's the garbage disposal drain. Fortunately, this handy pack of four works its magic with great success, loosening grime and keeping clogs at bay. Plus, it leaves a soothing thyme and fig leaf scent, relying only on naturally derived plant and mineral-based ingredients. In short, that means no phosphates, chlorine, or nasty toxins. As for users, they all agreed on one thing — it smells amazing.
Drain cleaner for bathrooms
In your bathroom cleaning arsenal, you'll be wanting something to take down those grisly hairs that build up in the tub, but also a lighter solution for the sink. Fortunately, I've delivered the goods, bringing tried and tested classics that work safely and efficiently.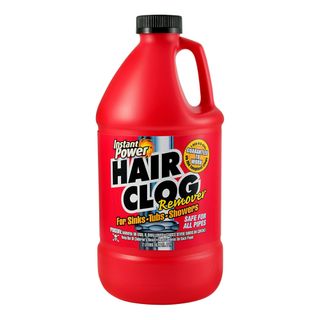 4. Instant Power Hair Clog Remover
Size (fl oz): 67.6
Application: Pour 2 cups into the drain, leave overnight
Price: From $6.76
Ten times stronger than common drain openers, this liquid clog remover works a treat in showers and bathtubs, using an acid-free formula that destroys hair particles and drain-blocking debris. Safe for use in sinks and all pipes, too, this scores highly among buyers, who praise its effective results on uber-bunged-up systems. It's important, however, to leave it for a good period of time to really work miracles. Oh, and it's one bulky bottle, so you won't be running out any time soon.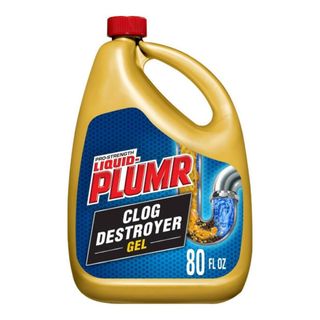 5. Liquid-Plumr Pro-Strength Clog Destroyer
Size (fl oz): 80
Application: Pour 16oz down the drain and flush with hot water
Price: From $10.39
This three-in-one gel powers through standing water, unblocking gridlocked drains, and warding off issues in the future, before finally eradicating nasty smells. In fact, if used every month, it should stop blockages from happening ever again. Appropriate for everything from bathtubs to sinks, it's appropriate for use in septic tanks but should be kept away from toilet bowls. Oh, and reviewers were delighted with its results — quick, effective, and powerful.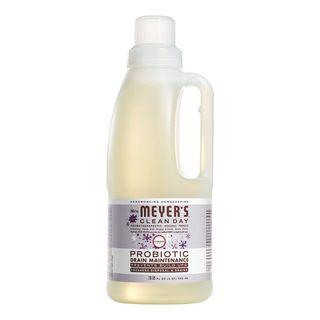 6. Mrs. Meyer's Probiotic Drain Maintenance Liquid
Size (fl oz): 32
Application: Pour recommended amount into the drain and leave for the prescribed time
Price: From $12.26
An ingenious idea, this cleaner is made especially for pipes and drains, acting as a long-term solution to drain blockages. Yep, its probiotics eat away at fats and starchy substances, remaining in the drain for days after your application, thereby preventing other issues. While it won't unblock your drain immediately, it's exceptionally handy for anyone trying to get into good, sustainable cleaning habits. Just pour down your drain once every two to four weeks and enjoy the results. Spic-and-span sinks, this way. Oh, and reviewers *LOVE* the smell.
Drain cleaners for outdoors
Sometimes, we need to get a little down and dirty. In this case, I'm talking about downspouts and outdoor drainage systems, which often require a more physical approach. It's here that the drain auger comes into play, smashing through blockages with ease and opening up your drains once again.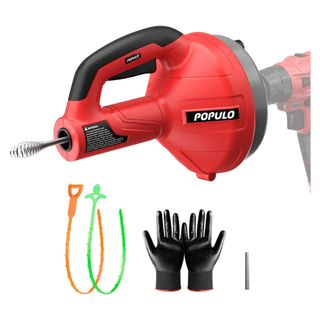 Cleaning cable size (ft): 23
Operation: Pump action or drill attachment
Price: From $43.97
With a special top for downspouts, this handy design unblocks drains with ease, rotating the pipe cleaner to loosen up debris and clogs. Plus, it's a high-quality piece of kit, featuring a flexible spring that can bend more than 90 degrees without snapping under pressure. Rather than calling a plumber, just pull this out, feed the cable into the drain, hold the switch, and begin turning the handle. For an even quicker clean, put out the drill attachment. Reviewers found it a breeze to use and more than competent in firing through stagnant water. Oh, and gloves are included!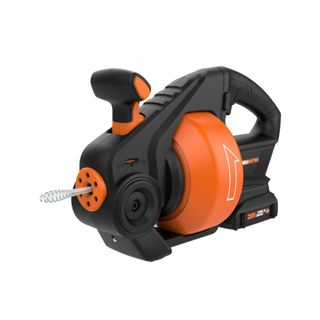 8. Worx Nitro Cordless Drain Auger
Cleaning cable size (ft): 25
Operation: Battery powered
Price: From $129.99
Unlike manual drain augers, this Nitro device gets to work at super speed, offering up to 560RPM to smash through the most stubborn of blockages. Indeed, your downspout will be pleased when you pull this out. Plus, with an uber-long steel cable that extends and retracts automatically, this doesn't require you to feed it down the drown, either. Unlike using chemicals, there is less risk of caustic reactions, although you should always be careful when operating machinery. As reviews go, this has made a lasting impression, making the perfect substitute for a rental or a plumber.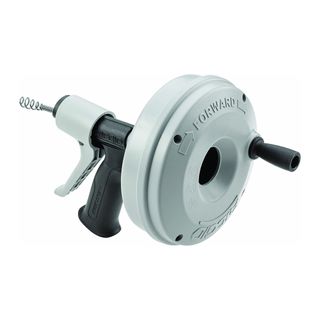 9. Ridgid Kwik Spin Drain Cleaner
Cleaning cable size (ft): 25
Operation: Pump action or drill attachment
Price: From $36.98
Just when you think a drain blockage will never budge, you come across a hero like this. With an integrated trigger that feeds or retracts the cable without any mess, this is a clean and easy way to sort out that drain. Plus, it's got serious length and can, should you wish, be attached to a drill or electric screwdriver. Not only that, but it's extremely sturdy, with a well-fastened coiled cable. And yes, shoppers were suitably pleased, touting its faultless operation and all-around strength.
What is the most effective drain cleaner?
It's a good question, but one that has no black-and-white answer. When thinking about cleaning your drains, the key thing to keep in mind is your own circumstances. For example, if it's for a bathroom sink that just needs a little maintenance, something like Mrs. Meyer's Probiotic Drain Maintenance Liquid (from Amazon) should do the trick. However, for a major kitchen-based blockage, you'd be better off turning your hands to Green Gobbler Grease Trap and Drain Cleaner (also from Amazon), a potent and effective option that cuts through grease and fat almost immediately. As for outdoor issues, where the downspout or floor drains have taken a bashing, you'll want to get a drain gauger down, like the Worx Nitro Cordless Drain Auger from Target, guaranteed to break through deep blockages with its sizeable cord.
How we chose these drain cleaners
While I haven't been able to test each and every product just yet, you can rest assured that shoppers never lie. If the reviews tell us they didn't improve their users' lives, they didn't make the cut. So, without further ado, these are the drain cleaners that deliver on performance and price.
Where to buy a drain cleaner
Still not settled on your chosen drain cleaner? Don't stress. We've done the honors and rounded up some go-to retailers for seriously effective drain cleaning.