A draught excluder is one of the most cost-effective buys to help insulate your home, ready for minus temperatures. It requires zero electricity to work its magic, and more often than not they are affordable and can last for years of use. They are especially great for anyone with a spare bedroom, too, which you might not be heating due to obvious reasons. This way, you can keep the cold air confined to one space with ease.
For anyone who would rather not compromise on how their living room, hallway, bedroom – or wherever else that's draughty – looks, then you can browse stylish draught excluders from our favourite brands, just below. From neutral-style excluders to festively decorated ones and even a luxury sheepskin pick, we're sure that you'll find one that works with your interiors. The nine draught excluders below have been selected based on their quality, and price, and all have positive user reviews (where available).
If you're still feeling the cold afterwards, then see all of the electric blankets that we've already reviewed, to keep you snug through the cold winter nights. Otherwise, we've got plenty more energy-saving buys for you to browse, to save a few extra pennies and pounds this winter.
9 stylish draught excluders to warm your home
Why you can trust Real Homes Our expert reviewers spend hours testing and comparing products and services so you can choose the best for you. Find out more about how we test.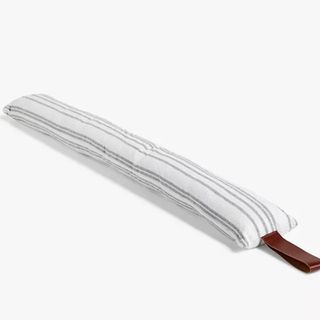 1. John Lewis Stripe Draught Excluder
Material: Cotton / polyester
Length: 100cm
+ Real leather strap
+ Neutral colour
+ 100% cotton cover
This lovely draught excluder is nice and subtle, should you want something that your guests may not even notice. And for less than £30, you won't have to break the bank to secure one for your living space. It also has a handy real leather strap, for easy manoeuvring in your home.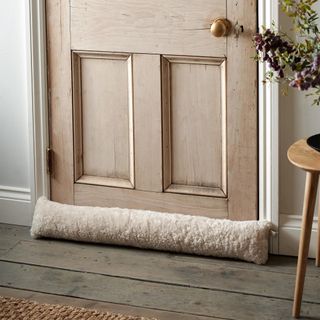 2. The White Company Sheepskin
Material: Sheepskin / polyester
Length: 90cm
+ High quality
+ Handle
+ Super soft
- High price tag
Does it get any more luxurious than this sheepskin excluder from The White Company? Not only will it look the part, but it's super durable and soft, and it'll definitely keep those draughts out. A matching doorstop is available, too.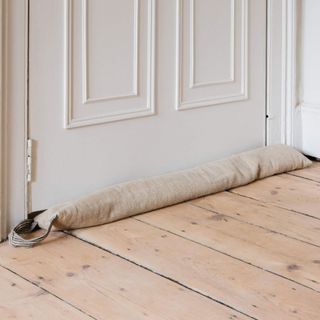 Material: Linen
Length: 90cm
+ Linen cover
+ Handle
+ Made from fragmented pea gravel
This stylish option from Graham & Green is wrapped in a luxe linen cover, with a linen handle too. It's nice and subtle so as not to distract eyes away from your decor, whilst it's surprisingly affordable at less than £40, considering its high quality. It'd definitely be great for a bedroom. Heart eyes!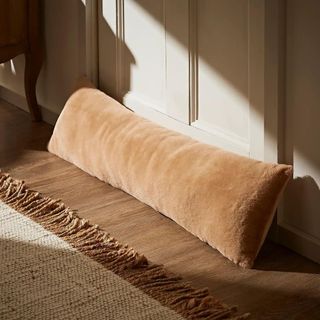 4. Dunelm Lenon Draught Excluder
Material: Polyester
Length: 90cm
+ 2 colours
+ Affordable
+ Soft
- No handle
This basic yet brilliant draught excluder from Dunelm does what it says on the tin. It comes in two colours and it's super soft, whilst it comes in at just over £15. It doesn't have a handle, but it's cosy (and stylish) enough to be used elsewhere after winter.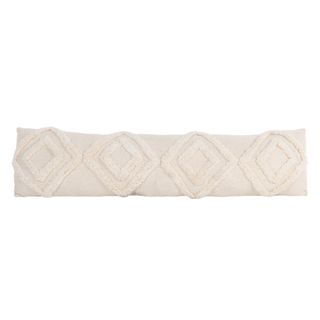 Material: Cotton
Length: 85cm
+ 2 colours
+ Boho design
+ Machine washable
This excluder is definitely one that puts style at the forefront, and if your home is slightly boho-themed then this will blend in seamlessly. It comes in ecru or grey and it's an ideal pick for neutral homes. Otherwise, it's student-friendly too with a price tag of just £11.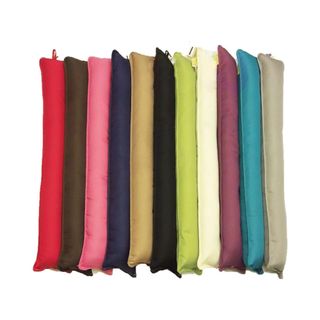 6. Comfy Nights Draught Excluders
Material: Poly-cotton/hollow fibre
Length: 90cm
+ Pack of 6
+ Range of colours
+ Super affordable
- Plain
Arriving in a pack of six, these plain draught excluders from Amazon are great for dotting around your home. They also come with a hook for easy storage, making them the ultimate affordable purchase for warming up your home this winter.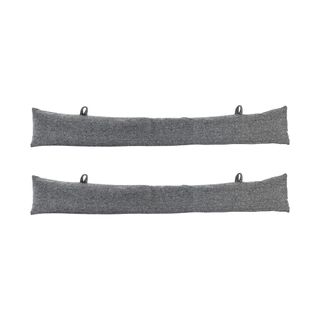 7. Nicola Spring Door Pair
Material: Cotton/polyester/sand
Length: 78.5cm
+ Herringbone pattern
+ Pack of 2
+ Hanging hooks
+ Suction cup to doors
+ Not the most stylish
If you love a life hack that makes your life easier then this draft excluder is fitted with hanging loops on either side to be attached to your door, so you never have to shuffle it out of the way as you leave or enter the room. Even better, these excluders come in packs of two, so you can insulate your rooms even more efficiently.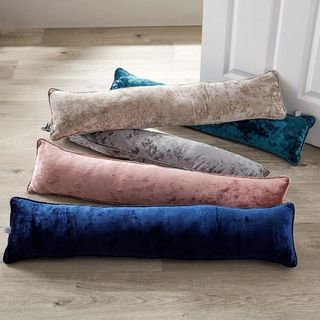 Material: Velvet / polyester
Length: 90cm
+ 3 colours
+ Affordable
+ Eco option
- No hook
Affordability meets style with this draught excluder from Dunelm. It's wrapped in velvet fabric with a self-piped edge, and it's filled with recycled polyester fibers. Use it to add a pop of colour to your rooms, and you could even buy matching cushions if it's for your living room or bedroom. It's a steal for £10!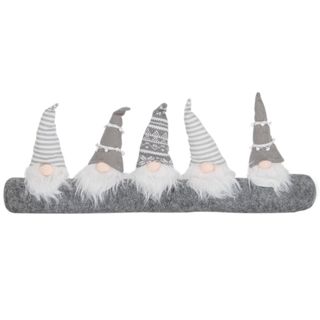 5. The Range Gonk Draught Excluder
Material: Polyester
Length: 89cm
+ Festive design
+ Also in pink
- Only really for Christmas
- Might become a dog toy
This draught excluder is sooooo cute! It's a quirky take on an accessory that can feel a little joyless, with a practical design and a guarantee to keep your rooms cosier. Snap up these adorable little Gonks with festive hats for your space now.
---
4 things to consider when buying a draught excluder
Before clicking pay, here are a few things to think about:
1. Length
If your doors are wider than most, then be sure to choose something that is longer or even the same size width as your door. Avoid anything smaller as it'll defeat the object of having a draught excluder all in all.
2. Filling
The majority of draught excluders are filled with polyester. This makes it easy to open your door even when they are on the floor. They'll just move as you push the door open. If you want something heavier, then we've found a draught excluder that's filled with sand.
3. Cover
Since this will be on the floor in your home, it might be an idea to pick a draught excluder that is washable, or easy to spot clean. Otherwise, going for a draught excluder with a naturally-thermal cover, such as sheepskin, is also smart.
4. How many do you need?
If you've got several draughty doors in your home, then you might want to buy a pack of draught excluders to save money. This pack from Cosy Nights on Amazon comes with six in total included, in all different colours.
Are draught excluders worth it?
The short answer is yes. So much so that sales of draught excluders have risen by approximately 378 per cent recently*. In fact, Jordan Chance who is a heating expert from PlumbNation claims "using a draught excluder is one of the quickest and cheapest ways to keep your home warm, preventing cold air from entering and warm air from leaving under your doors".
* Research provided by online marketplace OnBuy.com
Where to buy a draught excluder?
Still looking for the perfect draught excluder to blend with your interior style? You can continue your search at the retailers below.