Let's face it, sometimes your daily grind can be stressful, but your workspace doesn't have to be. Simply dressing your desk with a couple of fun tchotchkes will add a little character to your 9-to-5 destination. There are plenty of desk toy options to achieve that light-hearted atmosphere, the subject matter ranging from silly and pop culture-related to stress relief. Though there are plenty of desk toys to make your space special, we've collected the perfect assortment. So, get to it, compliment your computer set-up with the mood-lifting accessories it deserves.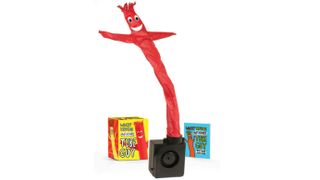 You've probably seen a friendly face like this one outside a car dealership or two on your travels. Why not make this inflatable marketing mascot a part of your desk layout? This small inflatable tubular guy fills with air to wave in all of the good vibes with a cheerful disposition. Your potential desk mate's air-filled moves are made possible by a working battery-operated fan. And, don't worry, you won't be strangers for long. Your new tiny acquaintance is accompanied by an equally tiny informational book.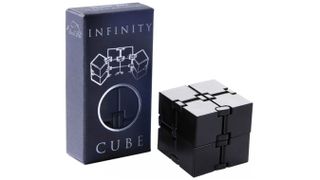 Sometimes excess stress and anxiety is distracting, but you can channel nervous energy with this relaxing fidget cube. This compact cube is comprised of eight blocks, shaped in sturdy plastic and linked by metal rivets. The smooth rivets offer fluid movement helping the connected blocks fold and unfold to help you focus. At it's largest, this fidget device measures 3.1-by-5 inches. With such a small profile, it won't take up much room on your desk. So, why wouldn't you want to keep this useful square at arms-length?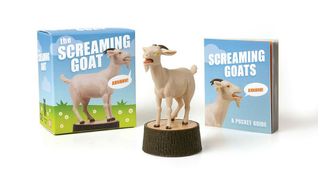 Surely you've heard the shrill sounds of a shrieking goat in plenty of YouTube videos. You can capture the unexpected hilarity with this mini screaming goat figure. This boisterous goat is poised mid-yell and perched atop a stump, demanding attention and laughs. With a simple push, it comes alive, releasing a hearty shout. As you might imagine, this noisy goat as a lot to say, so much that it also comes with a pocket guidebook. Placing this goat on your desk is the perfect way to inject a little humor into your workday.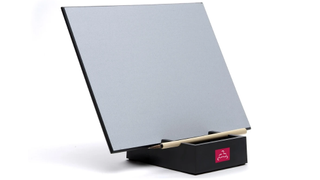 You can let go of stress and harness your creativity with this desk-ready artboard and stand. The Buddha board, measuring 12-by-9.5 inches, is a serine canvas designed to capture the soothing painterly strokes of your sketches. Each sketch, made with the included bamboo brush, is meant to be temporary because the medium is water, not ink or paint. Your stress will evaporate with every doodle because this board seeks to offer relaxation by providing a new beginning and a blank slate once the water dries.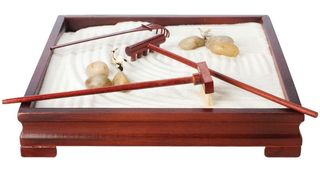 Rake and brush away workday stress with this serine zen garden. This desk-sized, 9-by-9 inch, sand-filled garden is the perfect item to achieve meditative bliss during the workday. It's shaped in warm rosewood accompanied by a matching bamboo rake and broom. These tools can be swept across the sand to draw replenishing meditative patterns. This garden also includes polished stones and two cranes for additional atmosphere, and a book of meditations to promote calm. Don't hesitate to make room on your desk for this soothing sandy square.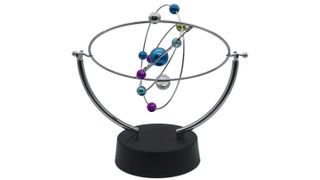 Make room for a little space on your desk with this celestial-inspired kinetic desk toy. The tiered galaxy-inspired gadget swings, rings twisting and spinning to offer a mesmerizing display of kinetic movement. This battery-powered office accessory gives the relaxing illusion of perpetual motion as you work. The eye-catching gadget, measuring at 9.2-by-9.1-by-4.3 inches, is the perfect choice to provide your office space with a little something extra.
No more desk distress
Why you can trust Real Homes Our expert reviewers spend hours testing and comparing products and services so you can choose the best for you. Find out more about how we test.
Most desks have the essentials a computer, monitor, mouse, mouse pad, and the like, but there are not-so-crucial items that can offer a little personality and make your workspace the place to be. Desk toys customize your down-to-business zone with a laugh or even a little relaxation. Our first choice when is the Running Press RH Minis Wacky Waving Inflatable Tube Guy. This mini-sized air-filled companion will decorate your desk with joyous enthusiasm. This waving marketing mascot, popular with many car dealerships, will dance a little happy into the mundane. It's powered by a small battery-driven fan and comes with a tiny informational book.
If you're looking to relieve a little stress, the Buddha Board The Original Buddha Board is the perfect desktop addition. This artistic board captures doodles for a short time to calm your mind and release anxiety. Each temporary drawing, painted with a bamboo brush, is made with only water. As these drawings dry and erase, there is room for new strokes and a new beginning.