A coin display is indispensable to service members, budding numismatists, or anyone with a decent coin collection. The thrill of hunting for coins and building a personal collection is only part of the challenge — the other being how to organize and preserve your collection. There's no reason to leave your coins hidden away when you can choose a great coin display to show them off. From rustic wood displays to modern floating ones, there is a perfect style for you.
Staff pick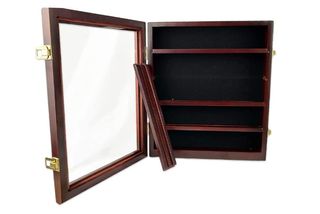 Middle shelf is removable so you can display larger coins
The Indeep military coin display case features two-line grooves per row so you can display all your coins with ease. The glass door adds a nice contrast to the wooden antique finish. You will not need keys to keep the case closed; two clip catches and elegant latches suffice. This coin display can house about 60 regular sized coins. You can opt to prop it up on a desk or hang it on the wall using the metal hangers at the back.
For desktops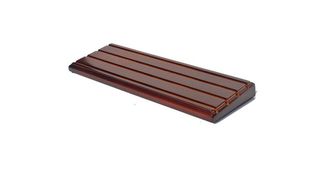 Open display for all your memorabilia
The open design makes this option a good alternative to closed display cases. The back is slightly higher than the front so that you can proudly display all your coins with minimal obstruction. The solid wooden rack has a beautiful walnut finish and four rows that hold about 28 standard coins.
For that special coin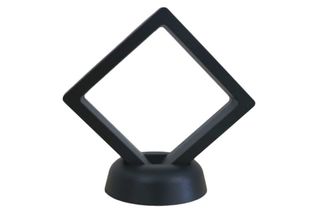 Show off both sides of the coin
If you have that one special coin you'd love to display, this floating 3D case is a perfect choice. Two flexible silicone membranes clearly display either side of the coin, the sturdy frame offering a unique levitating illusion. These membranes will conform to the shape of most coins out there. The clean lines give it a modern feel. Place this display on a desk or bookshelf for a lovely, decorative touch.
Handcrafted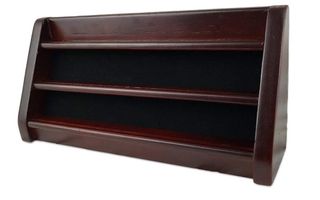 Grooves on shelves secure the coins from sliding
Handcrafted accessories make thoughtful gift ideas. This Indeep display looks like a tiny bookshelf but for coins. It can be wall-mounted using two sturdy metal hangers, or you can have it sit elegantly on your desk or shelf. The stand has built-in grooves on each shelf to keep all 21 standard coins in place.
For avid collectors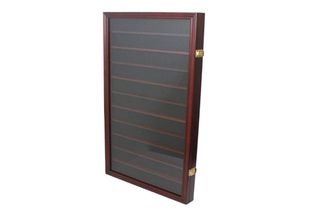 Beautifully crafted to match classic furniture
If you have a large coin collection, this coin display stand will help keep things organized. It's made of solid beechwood and polished with a beautiful mahogany finish. Every other shelf is removable to create space for larger coins or flat collectibles. The hinged door comes with crystal clear glass to protect your coins from dust and scratches.
Dream displays
Why you can trust Real Homes Our expert reviewers spend hours testing and comparing products and services so you can choose the best for you. Find out more about how we test.
Coin collecting is a fun and exciting hobby; don't keep it to yourself. Use coin displays to preserve and show off the value achieved from your effort and time. Even if you only have one coin that you want to show off, there is a display for you.
If you have several coins that you'd love to showcase, the Indeep military challenge coin display case is the best pick. It's a beautifully hand-crafted display that can either be wall-mounted or elegantly propped up on a desk or shelf. It comes pre-built, so no assembly is required.
The HS floating 3D display case is a creative and unique way of displaying that one special coin. The diamond shape and streamlined look fit in perfectly with any decorating style. You can view both sides of the coin with this display.