Chaise covers keep your outdoor chaise lounges clean and safe from weather agents. Elements like wind, dirt, water, and sun can damage the fabric of your chaise, significantly reducing its life span. A high-quality chaise cover will protect your furniture from all these elements, so you can enjoy lounging any time without having to clean off the cushions first. Here are some of the best chaise covers to help you keep your furniture in tip-top shape.
Staff pick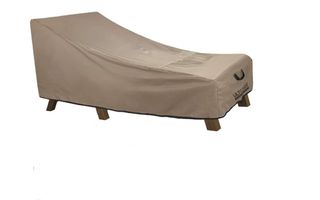 Tough enough to survive severe weather
ULTCOVER's waterproof chaise covers are constructed to fit a range of lounge chairs up to 84-by-32-by-32 inches. The covers are 100 percent water-resistant and made from breathable polyester with open, structured air vents. The vents prevent wind lofting during severe weather, and the handy straps secure the cover in place. It comes as a pack of two—so you have a spare one for a rainy day.
Sizeable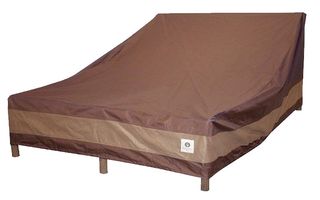 Protect your double-wide chaise from all the elements
If you have an extra-wide lounger, this double-wide chaise cover will ensure that it stays safe and clean all year long. The cover is made from a thick waterproof fabric and enhanced with a seam sealer tape to minimize the chance of water seeping in. It also features thick nylon straps and side buckles to secure the cover firmly. The cover is also UV resistant, which means it doesn't fade, and it will protect your chaise from discoloring.
Best versatile option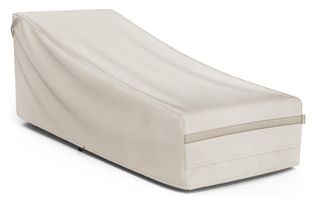 Everything stays completely under wrap
This chaise cover is made to fit a variety of lounger styles. Its design is fairly basic, but that's to allow for a perfect fit over a wide variety of chaises. The fabric is made of thick polyester that keeps out dust, moisture, and insects. Its clever vent system minimizes moisture on the inside of the cover. The cover also has buckling straps and a drawstring to help ensure a tight fit, preventing it from shifting or blowing off in windy weather.
Easy-fit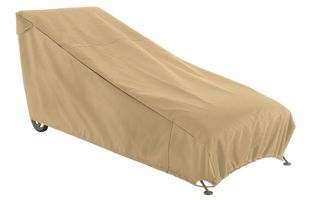 No straps, just easy elastic loops for quick covering
This no-frills cover uses elastic loops instead of straps and buckles to secure the cover onto the lounger. The cover layers over the lounger and the elastic loops go around the legs for an excellent fit. An added drawstring tightens for additional security. It's simple but thoughtfully designed with air vents that prevent moisture build-up—you won't have to ever worry about mold.
Great value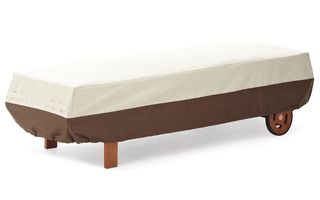 Reliable strength and durability
The AmazonBasics cover is one of the cheapest options available, but you get more than your money's worth. It's made from heavy-duty waterproofed material and designed to be used on near-flat lounges. So, make sure you measure your lounger in this position to see if the cover is the right fit. Click-close straps help to hold the cover in place, while the water-resistant polyester keeps moisture from damaging your patio furniture.
We've got you covered
Why you can trust Real Homes Our expert reviewers spend hours testing and comparing products and services so you can choose the best for you. Find out more about how we test.
Don't let the elements ruin or fade your expensive patio furniture. Chaise covers can keep everything wrapped up and looking great all year round. If you have more than one chaise, or love to have a spare for a rainy day, the ULTCOVER waterproof patio lounge chair cover will keep you covered. It's available in a range of sizes to fit different chaise lounges.
If you have an oversized patio lounge, you can still find the perfect chaise cover. The Duck Covers option is built to fit extra wide couches. The cover combines a waterproof fabric and seam sealer tape for reliable water and weather agent proofing.
If you don't want to spend a fortune on your cover, but want to protect your patio furniture, don't overlook the AmazonBasics chaise cover. It's all you need to keep your chaise lounge in great shape in all kinds of weather.