Blush is such a beautiful and subtle shade of pink. Using blush curtains as part of your window treatment will bring a sophisticated yet calming vibe to your space. While curtains are inexpensive decorative pieces, they do tie together home decor and bring out your style. From sheer to light-blocking options, there is no shortage of stunning blush curtains to help you spruce up any room. Wondering where to start? We have gone the whole nine yards to find you the very best blush curtains.
Staff pick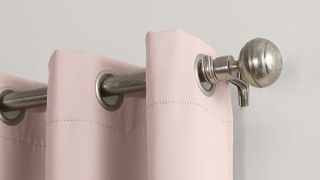 Block out a significant amount of light
The Sun Zero panel curtains are made from tightly woven yarn to achieve superb light-blocking properties. From sunlight to those blinding streetlights, the curtains block out a significant amount of brightness, creating a well-darkened room. The lovely color and quality fabric give any room a stylish and pulled-together look. Also, the curtains are energy efficient. During winter, they retain heat and keep the outside chill at bay. And, in the warm weather months, they block out heat from the sun.
Textured linen look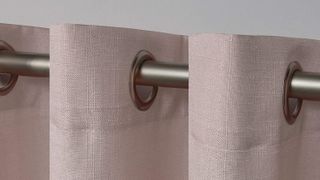 Add a touch of elegance and sophistication to your space
Although the Loha curtains are made from polyester, they have such a soft textured linen look and feel. Each of the two panels comes already sewn with a 3-inch bottom and a 4-inch heading hem. Besides, you get about eight gorgeous, matte silver grommets that can fit any curtain rod measuring up to 1.6 inches in diameter. These blush curtains will look stunning in a living room or bedroom, especially if you are looking to block out almost all the light.
Shabby chic style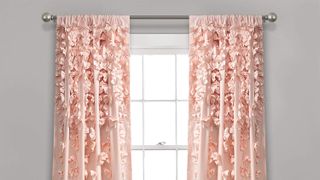 Offers decent privacy while allowing in plenty of natural light
The overall construction of these curtains adds to the beauty and gentleness evoked by the color blush. The cute little handmade bows detailing the soft brushed panels amplify the craftsmanship of the design. Perfect for a variety of decorating styles, including shabby chic or fancy and frilly, these curtains will look great in a bedroom, living room, nursery, or anywhere else in the house. Since the curtains feature a semi-sheer design, they allow a decent amount of light to filter in while still maintaining privacy.
Classic sheer voile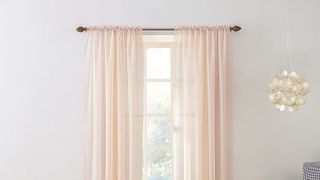 Enjoy an airy break from heavy curtains
These beautiful sheers can be used as stand-alone window treatments in rooms that need a lot of natural light or installed as the base layer under another curtain to double down on privacy. The sheers feature a rod pocket design for ease of hanging on a standard rod. Since the curtain is sold as a single panel, you may want to buy two of them for better aesthetics.
Best shower curtains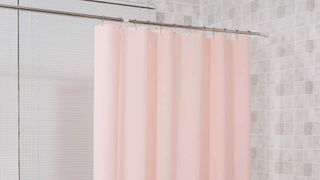 100 percent waterproof
Spruce up your bathroom with this beautiful blush functional shower curtain. Since the curtain is 100 percent waterproof, you can use it as a stand-alone shower curtain, or as a liner to protect cloth shower curtains. There are three heavy-duty clear stones at the bottom to give the curtain some weight for better water control. Installation is straight forward as it comes with precut, rust-resistant metal grommets.
Let's recap
Why you can trust Real Homes Our expert reviewers spend hours testing and comparing products and services so you can choose the best for you. Find out more about how we test.
Used in moderation, blush window treatments create a beautiful and relaxing ambiance. Blush curtains are super light and soft in color, and you may want to pair them with metallic grommets and rods. An all-round curtain like the Sun Zero has excellent light and noise blocking properties. And, the curtain is heavy enough to keep the summer heat and winter chill out of your home.
For a bold shabby chic statement, go with the Riley sheer ruffle textured bow curtain. The handcrafted bows delicately flow from top to bottom, showcasing excellent artistry. The semi-sheer construction lets in natural light while maintaining privacy.
AmazerBath shower curtain comes ready for all the splashing and cleaning that goes on in the bathroom. It's 100 percent waterproof, making it a good fit as a stand-alone curtain, or a liner for a cloth shower curtain.