There are dozens of ways to incorporate artificial sunflowers into your home. You can create a pretty wreath for your front door, a stunning arrangement in a vase, or make sunflower garlands to hang over doorways or windows. While we tend to think of sunflowers as giant yellow beauties, faux ones come in a lemon-yellow spectrum with hints of red and brown at the center. Unlike live flowers, faux options need minimal care, especially if you aren't ready to be a plant parent. Here are our best artificial sunflowers.
Staff pick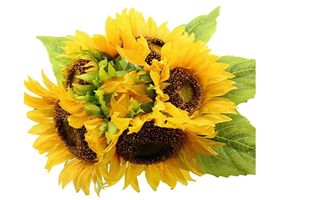 Vivid and realistic
Every inch of these flowers looks so real, they'd make all spaces feel warm and anyone happy. Standing slightly over 14-inches high, these large sunflowers come in a 7-flower bunch. They are stunning enough to be used in a wedding bouquet, part of a floral arrangement, or a table centerpiece.
Best garland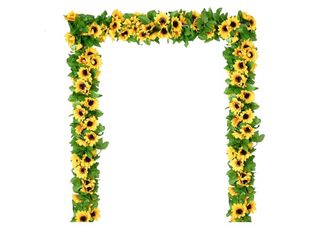 Flexible and easy to work with
This terrific sunflower garland is made from high-quality silk and plastic to achieve a more natural look. You can hang it over door frames, over cabinets, drape it over curtain rods, or out in the garden. They are also perfect for decorating wedding arches. The garland comes as a pack of four vines, each is slightly over 8-feet long with 12 flower heads. Use multiple strands if you need something longer and fuller. The sunflowers are a vibrant yellow color with light green leaves. The stems are plastic so they can be molded and shaped to suit your needs.
Bright and cheery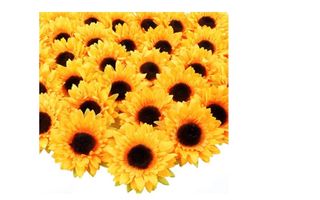 Offers unlimited options for DIY projects
These AGEOMET artificial sunflower heads are perfect for DIY handcrafts. These 32 flower heads are 3.5-inches in diameter, and each has six layers of petals for a full, realistic look. The center of these flowers is brown, while the petals are a bright orange color. Garlands, headbands, hats, photo props, wedding decorations, and favors are just a few of the ways that you can use these beautiful artificial sunflowers.
Perfect for vases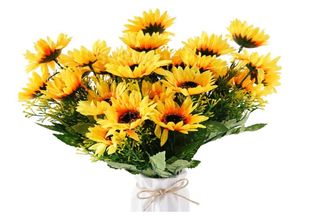 Super yellow with sunny charms
The Beferr artificial sunflower selection features four bunches of sunflowers, with seven heads on each bunch. They have a beautiful, realistic yellow color with green leaves and look lovely in a vase. They'll add a pop of color to your bedroom, dining room, living room, or anywhere else. The flowers and leaves are carefully handmade of cloth, while the stem is made of plastic to achieve a natural look and feel.
Decorative must-have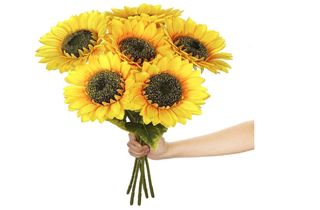 Rustic finish creates a countryside vibe
You can use these Paras artificial sunflowers to add beautiful pops of color anywhere you want it. These sturdy flowers come as a bunch of six. The earthy brown center and slightly faded green leaves and stems create a rustic pop just like real flowers out in the sun. They are perfect for all kinds of home decor.
Beauty without the work
Why you can trust Real Homes Our expert reviewers spend hours testing and comparing products and services so you can choose the best for you. Find out more about how we test.
Artificial sunflowers are as beautiful as their live counterparts, but they don't wilt, lose petals, or dry up. You never have to water them, pull off deadheads, or weed them. They retain their good looks all year long.
The AmyHomie artificial sunflower bunch is lovely as is, just place it in a vase for long-lasting beauty. The flowers are handcrafted with true-to-life colors that will make anyone smile. Unleash your creativity with the AGEOMET artificial sunflower heads. There is no limit to what you can make with these beautiful bright orange flower heads.
For a more rustic and toned-down feel, grab the Paras artificial silk sunflowers. The leaves have a nice lemon-yellow color, while the stem and leaves are a dull green. As such, the sunflowers have a chilled countryside vibe.